Downtown Disney has been undergoing some major renovations, and with it, a variety of new establishments will be popping up. The first addition: Splitsville Luxury Lanes celebrated their grand opening on March 15th, bringing competitive fun, delicious food options and a great place to hang out and celebrate special events. With 600 dining seats, two craft cocktail bars, two bustling kitchens, 20 bowling lanes and a prominent covered patio with a stage that will feature live music 365 days a year, Splitsville will offer visitors a one-of-a-kind, multi-faceted entertainment experience in a California-cool environment.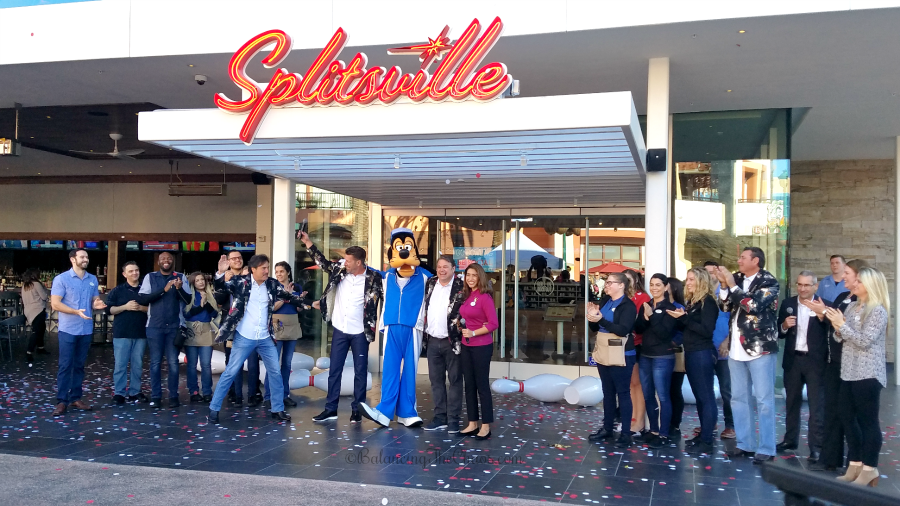 Excited about this new addition to the Anaheim area, I couldn't wait for the grand opening of Splitsville. I was invited to tour the new Anaheim "hot spot", and couldn't wait to bring my family back to experience all that Splitsville has to offer.
When you arrive, the first thing you'll notice is that it has an open bar off to the left of the entrance. Two craft cocktail bars offer a variety of mixed beverage options for guests. At the door, you're greeted by a hostess who will escort you to an open table for dining, or point you in the right direction for bowling.
Splitsville was designed as a restaurant first," says co-owner Mark Gibson. "We then added bowling lanes in small clusters and arranged the lanes in different directions. The result is a unique environment where guests can enjoy drinks and dinner away from the activity or jump into the action and bowl a few frames with their friends while having food and beverages delivered to their lane."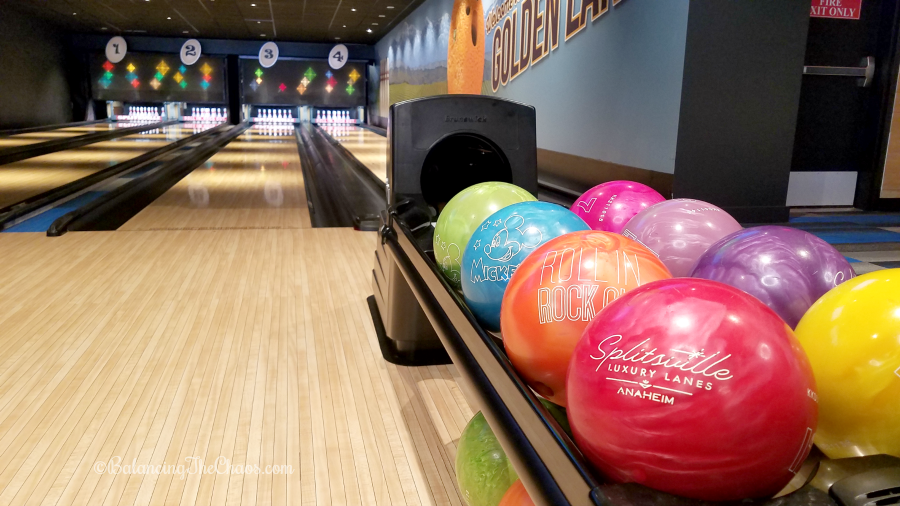 Splitsville isn't your average bowling alley, in fact, their layout is quite unique with clusters of bowling alleys. 2, 3 or 4 lanes offers a private party atmosphere combined with extensive seating. Order your favorite bowling alley fare with a high end flair and dine while you play or step away from the competition and relax and eat in comfortable lounge seating scattered throughout the property.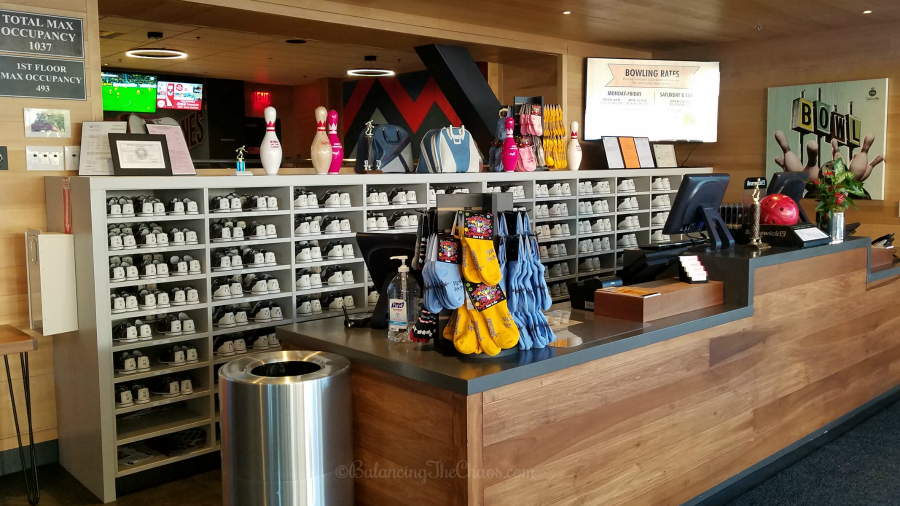 When you make your reservations to bowl, the front desk takes care shoe rental and programing the lanes. Bowling rates include shoe rental and your allotted time on the lane based upon the number of bowlers. Once you're checked in, a cast member escorts you to your designated lane and brings your shoes along for you. Customer service at Splitsville is fantastic.
If you are hosting a special event that includes bowling, you can make arrangements to have your party check in to the upstairs check in booth to expedite the process. If you know the shoe sizes of your guests, you can also have their shoes waiting for them upon check in, which is so convenient!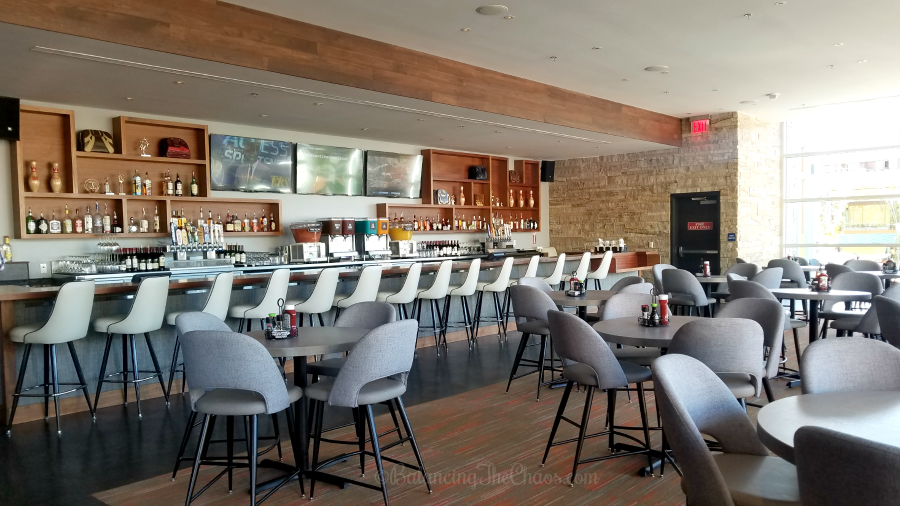 The location itself offers more than 40,000 square feet of entertainment space with two levels, housed in a mid-century modern building with interior decor that gives a nod to California architecture, while remaining comfortable and playful. The upstairs dining area offers an amazing view of the Downtown Disney District and is the perfect setting for private parties, banquets, meetings and celebrations.
The indoor-outdoor bar on the first floor, overlooks the patio, a portion of Downtown Disney, the main dining room, and sushi kitchen. The covered patio hosts a stage that will feature live music 365 days a year. Additionally, Semi-private lounges will allow guests to bowl and enjoy craft cocktails in an atmosphere that is distinctly Disney.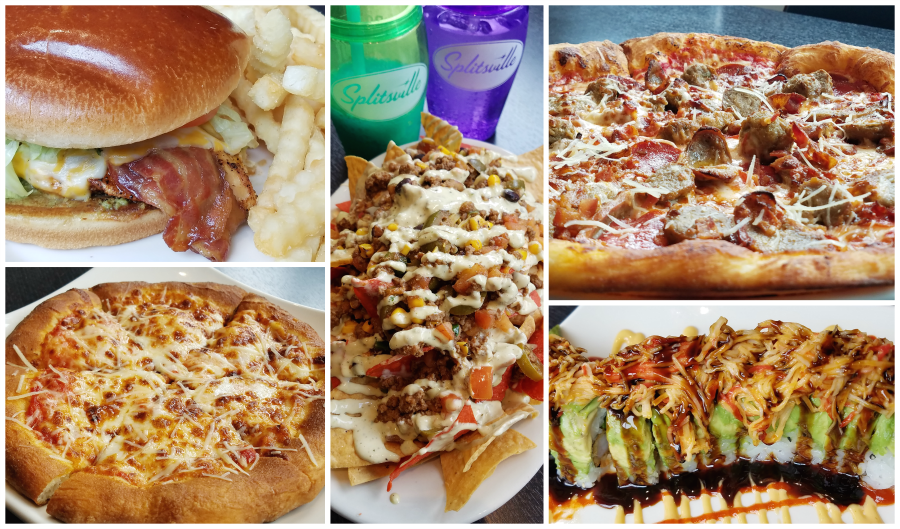 The menu that is a cut above similar entertainment complexes. I was excited to discover while on a tour of the property, Splitsville offers top-notch specialty sushi, freshly prepared on site along with expertly grilled salmon. Honestly, I've never heard of a bowling alley that offers sushi.
We also enjoyed the more traditional bowling alley classics like nachos and pizzas, made with premium toppings and fresh ingredients. The Macho Nachos were a giant mountain of seasoned ground beef, shredded cheddar jack cheese, queso, black beans, corn salsa and avocado ranch dressing drizzled over the top.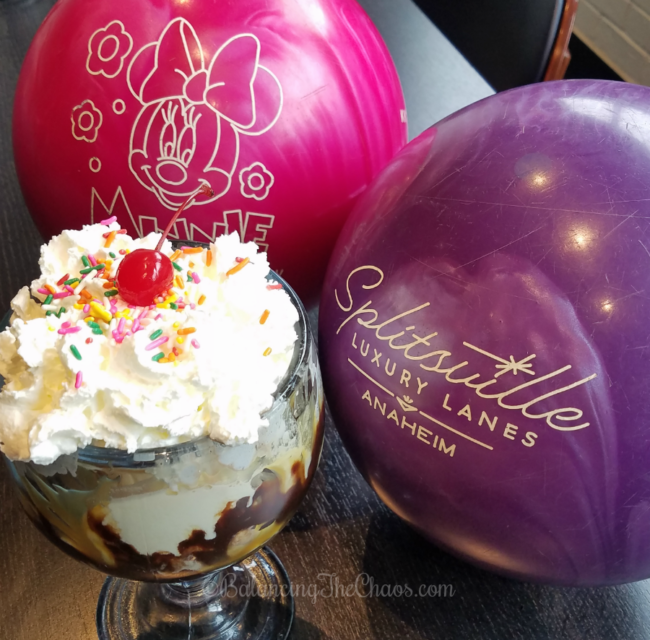 We are so excited about Splitsville, that we're already planning a get together with my husband's softball team. It's a great location for team building and fun while hosting another team from out of town, so we're already working with the catering and sales department to get the details ironed out as well.
Downtown Disney® District at the DISNEYLAND® RESORT
1530 S. Disneyland Dr. Anaheim, CA 92802
https://www.splitsvillelanes.com/location/anaheim/
Sunday – Thursday: 10:45 a.m.- midnight
Friday – Saturday: 10:45 a.m. – 1:00 a.m.