Hey Monster Jam fans, did you enjoy the high flying jumps and stunts from your favorite monster trucks? Get ready for more crazy four-wheel excitement when Monster Jam Triple Threat Series™revs through Downtown Los Angeles with another action-packed weekend of indoor arena events at STAPLES Center, July 12 – 14.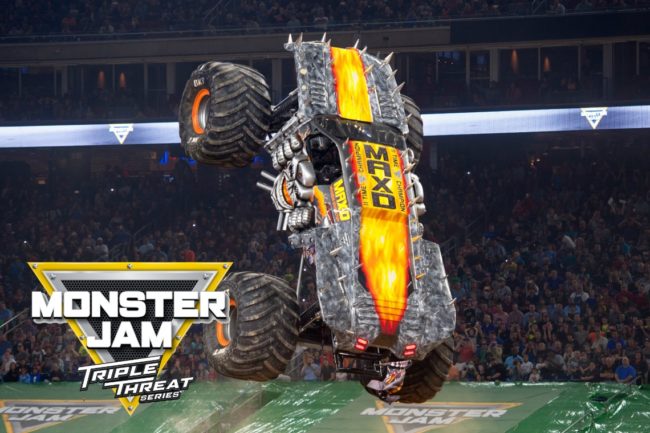 Get our tickets now to this special fan bonus show, when Monster Jam Triple Threat Series™ treats fans to more Freestyle driving segments. You'll also be able to see one Monster Jam truck/driver will be attempt Southern California's FIRST-EVER Monster Jam indoor arena-based truck back flip stunt!
The Monster Jam Triple Threat Series features eight of the most intense Monster Jam athletes in a fierce battle for the championship that tests the versatility and endurance of the athletes as they go head-to-head in a points-based format with seven different competitions driving three customized high-powered vehicles: the larger-than-life 12,000 lb. Monster Jam trucks, Monster Jam Speedsters and Monster Jam ATVs. These extreme athletes battle for points in challenging Racing and Freestyle events that push themselves and their machines to the limit – delivering what fans want to see the most… more trucks, more racing, more freestyle, more donuts, more wheelies, more action!
Monster Jam Triple Threat Series world-class athletes vying to become champions will be:
Grave Digger® driven by Tyler Menninga (2017 Triple Threat East Series champ)
Max-D® driven by Colton Eichelberger
El Toro Loco® driven by Armando Castro (local Whittier hometown driver)
Soldier Fortune™ Black Ops driven by Tony Ochs
Scooby-Doo™ driven by Myranda Cozad
Megalodon® driven by Austin Minton
Zombie™ driven by Bari Musawwir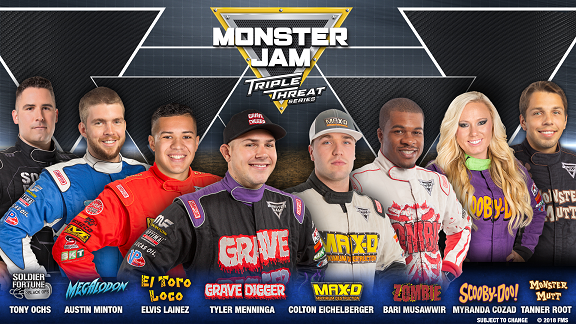 Event Dates:
Friday, July 12, 2019 – 7:30 p.m.
Saturday, July 13, 2019 – 1:00 p.m. & 7:00 p.m.
Sunday, July 14, 2019 – 1:00 p.m. & 7:00 p.m.
Event Location:
STAPLES Center – 1111 S. Figueroa Blvd, Los Angeles, CA 90011
TICKETS:
Tickets are affordably priced for the whole family with seats starting at just $25 each* and are available for purchase online at AXS.com, charge by phone at 888-9AXS-TIX or visit the venue Box Office.
Save on tickets with DISCOUNT CODE: MJMOM19 on select dates as shown below: