When I'm in a hurry in the morning, my go to breakfast of choice is yogurt.  I honestly haven't tried Greek yogurt yet, however the New Ehrmann MIXIM™ sounds delicious.  I love any type of yogurt with toppings, fruit, and nuts, whatever. To me, those added flavors make the perfect breakfast.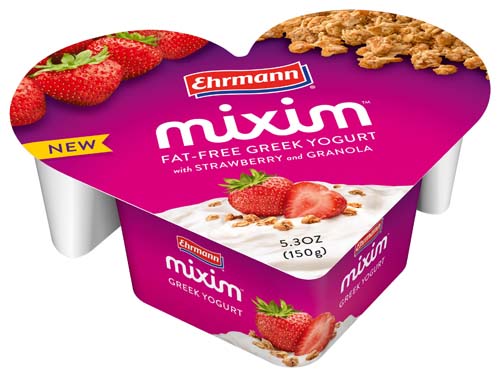 This January, Ehrmann introduced their New Greek yogurt with a double-dip of flavorful fun.  You'll notice it in local retail locations because of its distinctive heart-shaped container. 
Each MIXIM Greek yogurt container is full of contains creamy yogurt paired with two toppings to let consumers mix it up and enjoy it their own way.  The following are the 6 varieties that are available:
Cherry and Chocolate Curls
Raspberry with Dark and White Chocolate Curls
Mango Pineapple with Coconut & Almonds
Honey with Coconut & Almonds
Strawberries with Granola
Blackberry Pomegranate with Granola & Dried Fruits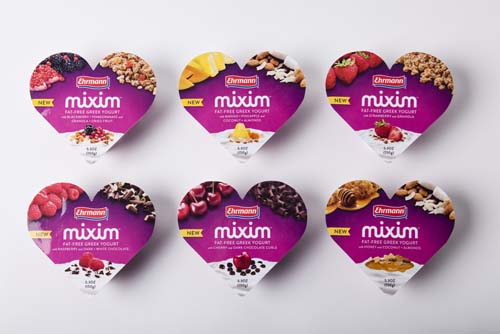 Since I've been trying to keep an eye on the amount of calories I'm eating, I was pleasantly surprised that the yogurt is approximately 145 to 210 calories per serving made with reduced fat, grade A milk.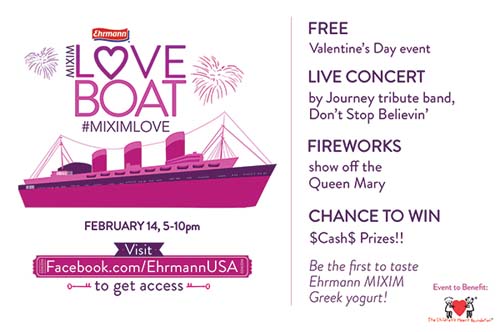 To celebrate the launch of MIXIM's new Greek Yogurt, enjoy Valentine's Day aboard the "Love Boat" on The Queen Mary!
Queen Mary
1126 Queens Hwy
Long Beach, CA 90802
(877) 342-0738
The public is invited to attend this free, fun, family-friendly Valentine's Day event which includes free admission to the Queen Mary (a $24.95 value) for everyone who mentions MIXIM.
The celebrations includes:   7 pm: Guinness World Record Attempt ~ Most couples simultaneously feeding each other       8 pm: FREE Concert performed by DSB (Don't Stop Believin') doing rock's best power ballad love songs!  
To RSVP for this spectacular event, visit MIXIM's Facebook page to receive free event entry code: (click) "The Love Boat" aboard The Queen Mary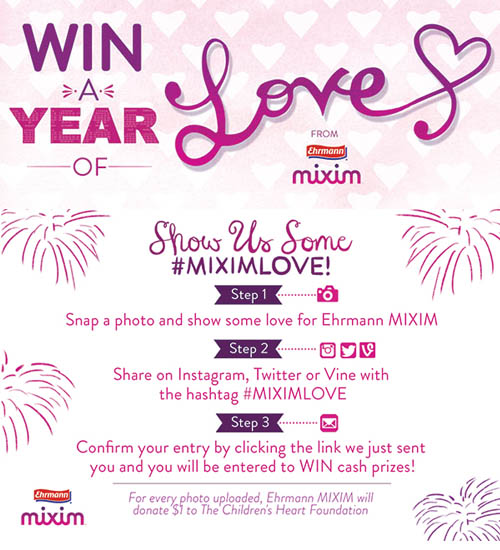 To add to the fun, MIXIM is hosting a sweepstakes!!! How does a night out with your favorite person every month for a year AND a month delivery of MIXIM yogurt?  Sounds absolutely amazing, right?  Enter right now here (click): MIXIM Love Sweepstakes.
To find out more about MIXIM, the "Love Boat", or the MIXIM Love Sweepstakes, connect via social media:
Event Page

,

MIXIM Love Sweepstakes

,

Facebook

,

Twitter

,

Instagram
    Disclaimer: This is a sponsored, compensated post.   All opinions shared are my own.