The Helpful Honda guys are out in force again, supporting local charities through their Pass it Forward Campaign.

This year, you can support the LA Galaxy and local charities by raising awareness via social media. The "Pass It Forward" promotion is a community-based initiative where fans and members of the community can support the LA Galaxy team and help raise awareness for charities. Participants can win tickets to games and one lucky grand prize winner will receive a VIP experience package.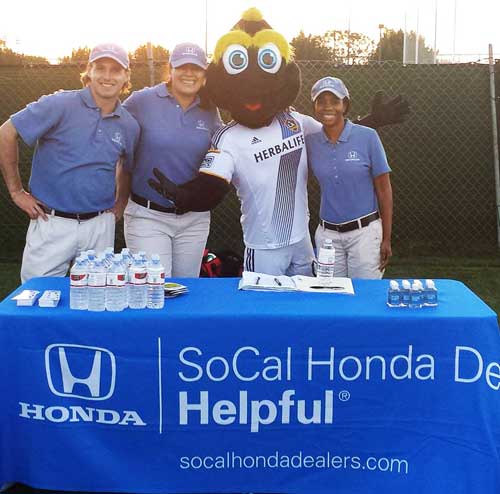 What do you need to do?
Visit https://www.lagalaxy.com/passitforward to learn more about the 4 chosen Charities, then join a team by showing your support with a virtual pass.
Show your support via Twitter or Facebook. Share and pass it forward to your friends. By passing it forward, people are reminded of the help these charities need.
Enter your name and email address for a chance to win a weekly LA Galaxy ticket giveaway, and one lucky grand prize winner will receive a VIP experience including private access to a Galaxy training and an opportunity to meet a player!
If you're a LA Galaxy fan and a Honda owner, did you know that you may be selected for a seat upgrade? SoCal Honda is offering seat upgrade promotions so that prior to each home game, 4 fans are surprised with SoCal Honda shirts and the ability to watch warm-ups from the field of play. Additionally, they'll be upgraded to exclusive club seats – what a great opportunity!
SoCal Honda will also be out in force getting involved in the community. They will be setting up 6 clinic series for under serviced areas around LA. The Honda guys in blue will help out the participants during practice sessions will also provide them with water.
In addition to the 6 soccer clinics, SoCal Honda Dealers will also sponsors 6 community service series events that will be taking place this Fall. During these events children are encouraged to donate an item (perishable food, school supplies, clothing, etc.) as an entry fee into a free soccer clinic hosted by the Galaxy. Each series will benefit a local charity where the clinic will be held and all donations will be delivered to the charity following the event. The Guys in Blue will be onsite assisting with donations/registration/water distribution/etc.