Can you believe 2013 has almost come to an end? New Year's will be upon us in a flash and with it all the football bowl games and my personal favorite, the Rose Parade.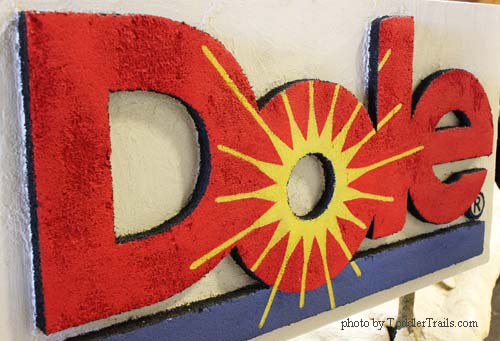 Last week we were invited to the Dole Family Fay at Fiesta Floats. A unique opportunity to get a "Behind the Scenes" look at Dole's 2013 Rose Parade entry: "Sunrise At The Oasis".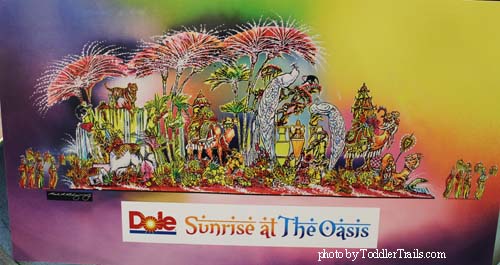 Did you know that it takes approximately a year from start to finish to design, create and decorate a parade float? Raul Rodriguez and his team start drafting concepts and a visual design in January. Those designs are then pitched to the corporations they are working with, like Dole. The executives at Dole give their opinions and suggestions and Raul and his team get back to work. Once a design is chosen, they begin work on the float. I was told this starts sometime around late spring early summer. It is now December, and the frame of the float is complete. Now the floral designers and volunteers get to work.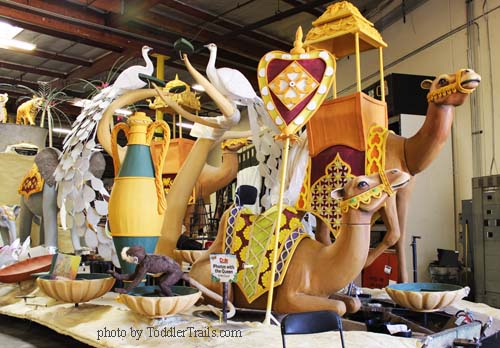 The Dole Rose Parade float, "Sunrise at the Oasis" Will be a beautiful display of live and animated entertainment as well as three waterfalls that cascade into an oasis filled with palm trees, tropical flowers and animals such as peacocks, camels, monkeys and more.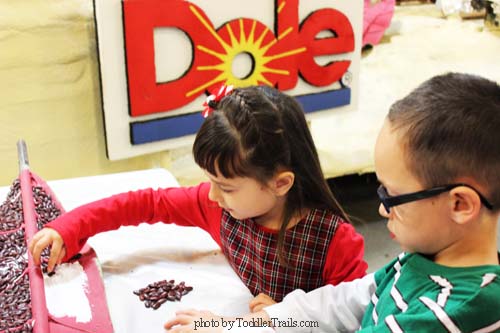 Getting a "Behind The Scenes" look at the Dole Rose Float is an amazing opportunity to see what actually goes into the decorating.  Crushed seed, beans, moss, and spices are some of the products used in decorating the base areas of the float.  This monkey is covered with dried cranberry foliage with highlits of pampass and pharmitas grass.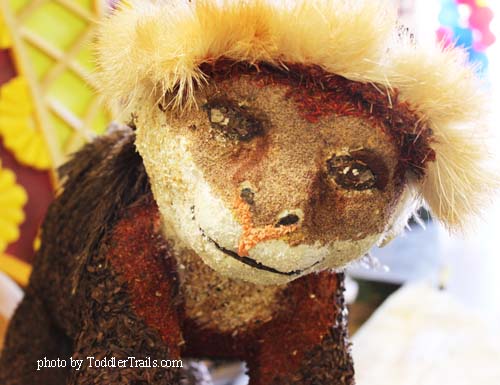 The final touches, the flowers, are placed the last couple of nights before the parade, in order to preserve their freshness and beauty.  Each rose placed on the float are in their own individual vial of water to keep them hydrated and alive. The elephant pictured below will be covered with finely shopped Ming moss with accents of Sphagnum Moss.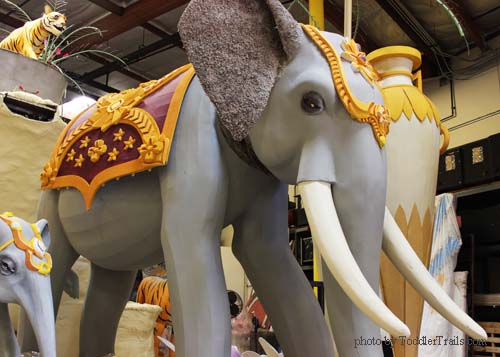 This year the "Sunrise At The Oasis" will have  three beautiful waterfalls featuring over 1,000 gallons of cascading recycled water and high pressure misting nozzles that will be used to create a gentle fog and add the to the tropical feel of the float.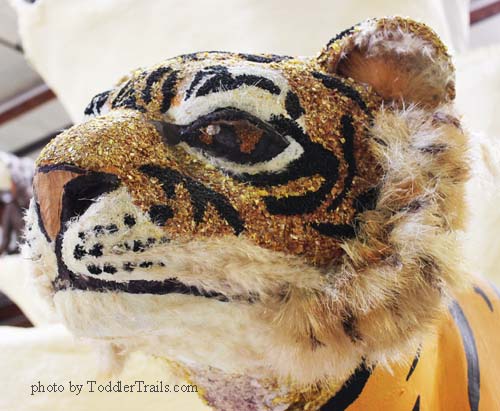 On January 1st, be sure to keep an eye out for fresh healthy fruits like bananas, pineapples, mangoes, papayas, peaches, strawberries and blueberries, the delicious fresh fruit Dole is known for; will be featured and displayed on the float.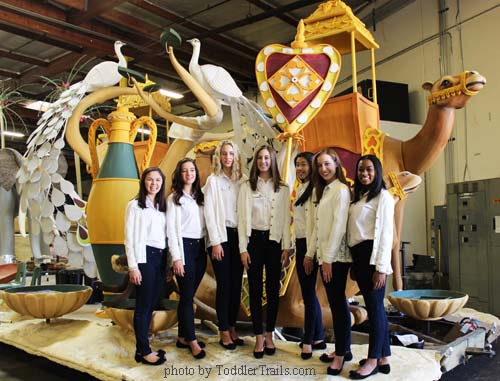 Thanks to our friends at Dole, who introduced us to the beautful 2014 Rose Queen and her court, and for the fabulous family day of food, decorating, face painting, balloon art, Santa and fun.  We sure are hoping "Sunrise At The Oasis" will take the Sweepstakes Trophy for the 4th time!
Be sure to tune in on January 1st to see this spectacular Rose Parade Float on New Years Day!