Last week some of my blogger gals and I got together for a progressive dine around Anaheim GardenWalk.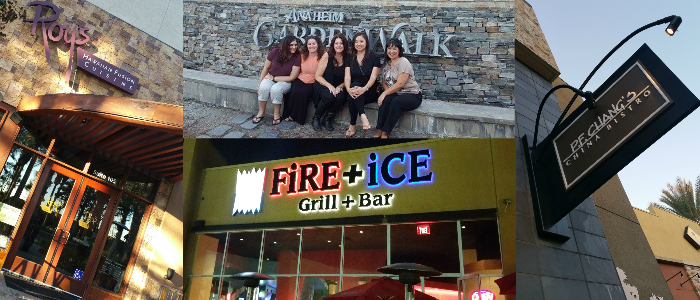 The Garden walk is a 460,000 ft. outdoor shopping, dining and entertainment center in the heart of the Anaheim District not too far from Disneyland. There are currently 9 well known restaurants on property including:
Bubba Gump Shrimp Co.
California Pizza Kitchen
The Cheesecake Factory
FiRE + iCE Grill + Bar
Johnny Rockets
McCormick & Schmick's Grille
McFadden's Restaurant and Saloon
P.F. Chang's
Roy's Restaurant
We assembled at Roy's Restaurant to start the sampling tour. Inspired by the bold and distinct flavors of the Pacific Rim, Roy's offers some amazing appetizers that won our taste buds over. The Lakanilau Roll was amazing. Imagine a fresh sushi roll with crab meat, avocado, citrus dressing and seared Wagyu Beef draped over the top. It's certainly a MUST order!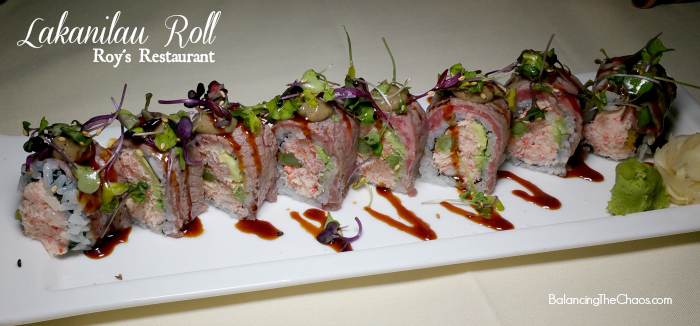 We also enjoyed the Rim Fire Calamari that had strips of deep fried calamari full of flavor and so tender that it melts in your mouth.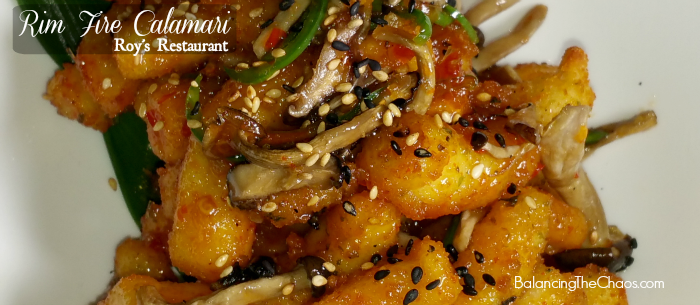 Next we strolled over to P.F. Chang's for some fabulous entrees and drinks. I especially enjoyed the Crab Wontons that were stuffed with crab and cream cheese and garnished with a sweet and spicy plum sauce.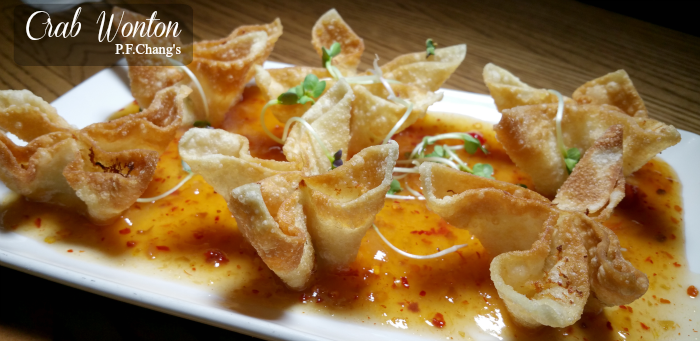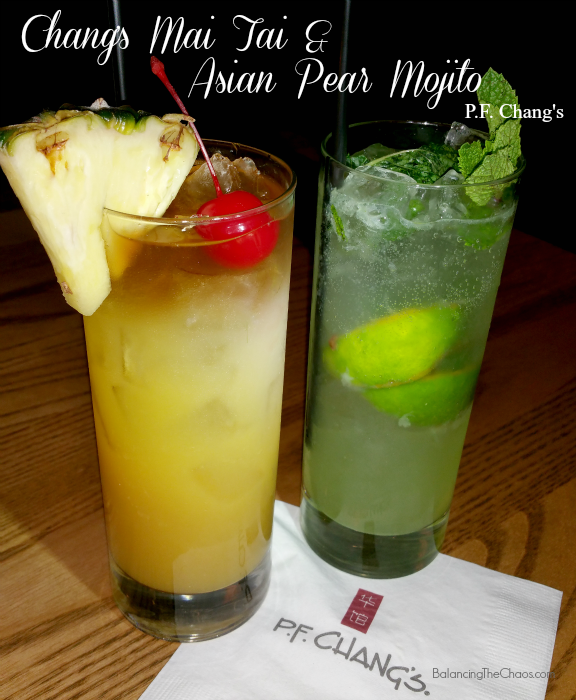 A few fancy cocktails make the night all that more special with friends. With so many to choose from, Mary from LetsPlayOC.com decided on the Asian Pear Mojito that is a delicious mix of Bacardi Limon Rum, pineapple juice, fresh mint, limes and a splash of soda water.
Every time I visit P.F. Chang's, I order my favorite – the Chang's Mai Tai that consists of a knock out blend of three rums, pineapple juice, orange juice, topped with Bacardi 151 and Myers. Warning: Make sure you order a delicious appetizer or two along with this amazing drink or you will feel it's effects rather quickly.
Under the "Small Plates" section of the P.F. Chang's menu, you can find the below delicious Jicama Street Tacos. A twist on the traditional taco, crisp jicama shells makes this choice a lighter selection. Choose Lobster, Pork or Kung Pao Chicken that has a kick with chili sauce.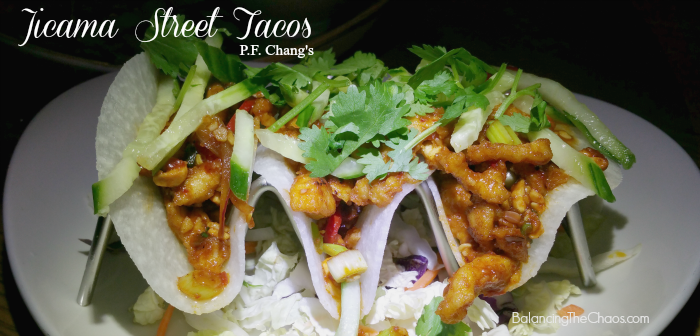 Our next stop during our dine around Anaheim GardenWalk was Bubba Gump Shrimp Co. We were greeted with the lovely staff of Bubba Gump along with these beautifully delicious Blood Orange Margaritas.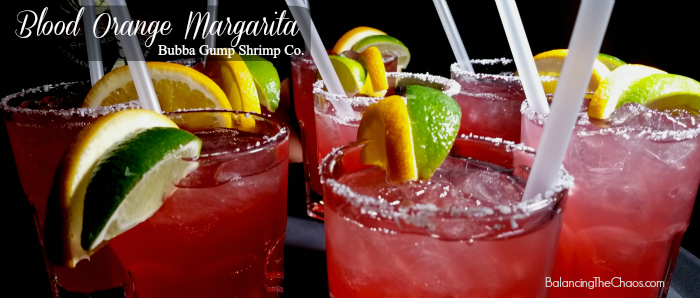 At Bubba Gump's we were invited to select our own entrees which I decided to sample Jenny's Catch with Lobster Butter Sauce. Perfectly pan seared tilapia, placed over a pile of mashed potatoes and sauteed spinach with a fabulous, creamy lobster butter sauce was heavenly.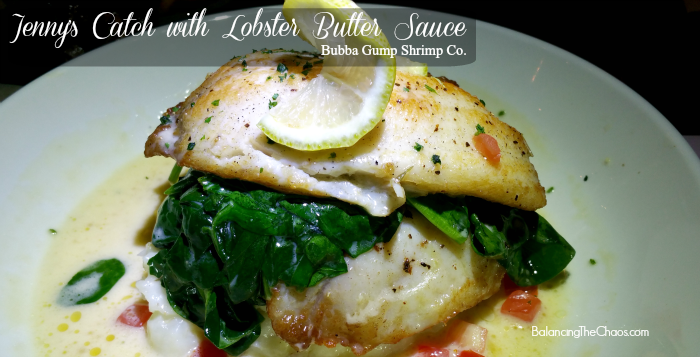 Our final destination of the evening was Fire and Ice. Now this is a location my husband and I have been wanting to try for a long time! This restaurant focuses on a "create your own" atmosphere with a hot open grill. Their pro-grillers cook each veggie, pasta or meaty masterpiece exactly to your specifications. Now since we were at the end of our tour, we were on the hunt for desserts, but check this out: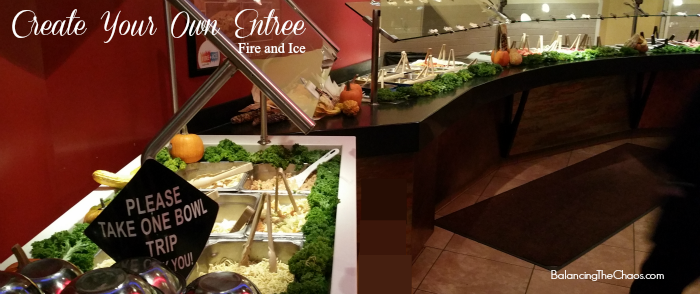 Now on to desserts. If you're into chocolate fondue (well, who isn't?) You'll certainly want to order their fondue plate to share.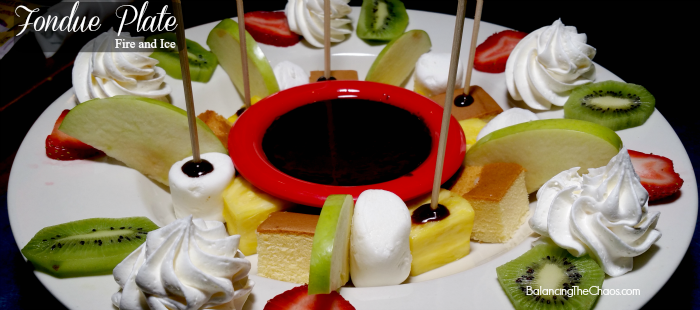 And my absolute favorite – the Turtle Cheesecake from Fire and Ice – one word: DIVINE!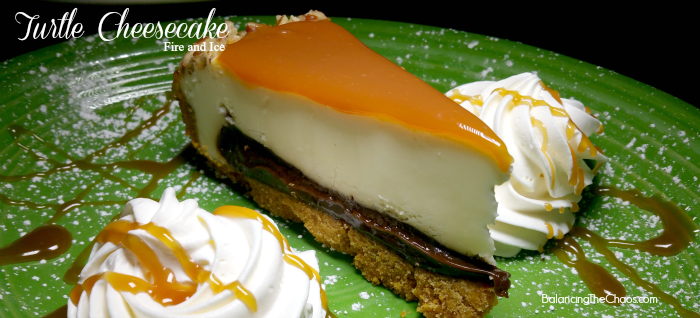 Now I've shared some of my favorites from our dine around Anaheim GardenWalk, what's yours? Visit the GardenWalk this weekend for a fabulous evening out on the town with friends or a special date night.
AND, keep an eye out! New retailers, entertainment venues and food options are in the works and in the near future at Anaheim GardenWalk including:
House of Blues, Anaheim (2016)
Toby Keith's I Love This Bar & Grill (2016)
Rumba Room Live (2016)
Grasslands Churrasco Market (2016)
Asian Food Hall
Mojito Latin Cuisine & Bar
Taverna
*Parking – Retailers/Restaurants in the Anaheim GardenWalk validate parking for 1 hour, and cannot be combined. Each additional hour is $3.00. Valet parking is available.