Have children that are into the Intergalactic Nemesis?  They're coming to Segerstrom Center for the Arts November 8-10 at the Samueli Theater.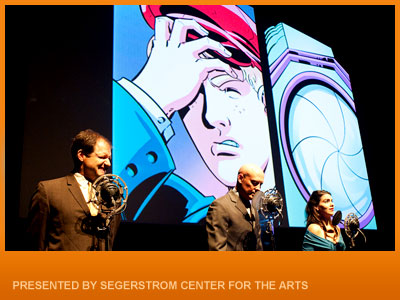 Segerstrom Center's Family Series presents the Orange County premiere of The Intergalactic Nemesis ‒ Book Two: Robot Planet Rising on November 8 – 10 in Samueli Theater.  The sequel to last season's hit show (The Intergalactic Nemesis ‒ Book One: Target Earth) follows the adventures of Molly Sloan and Timmy Mendez two weeks after the ending of Book One. When Elbee-Dee-Oh disappears in deep space, it is up to Molly and Timmy to unravel the mystery, but the appearance of Molly's former fiancé, Dr. Lawrence Webster, complicates matters entirely.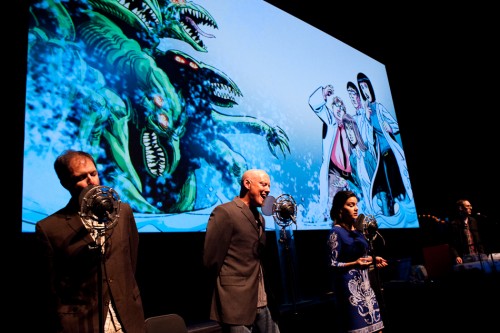 The Intergalactic Nemesis ‒ Book Two: Robot Planet Rising is a unique and mesmerizing experience due to its storytelling method. This one-of-a-kind theatrical experience mashes up radio drama with more than 1,000 incredibly electrifying comic book visuals. The creators take the artwork from an original comic book story, remove the word balloons, and then project that art panel-by-panel on a two-story-high video screen while three actors voice all the characters, one performer creates all the sound effects and a keyboardist performs the score, all live in front of an audience.
Audiences are encouraged to arrive early, as each performance includes an hour of free pre-show intergalactic activities. Recommended for families and children ages seven and older.
Segerstrom Center for the Arts
Samueli Theater
600 Town Center Drive
Costa Mesa, CA 92626
Tickets
$20 and up
SFTA.Org or at the Boxoffice
(714) 556-2787
The performance on Sunday, November 10 at 12 p.m. will be sign-language interpreted.
Photo Credit: Segerstrom Center for the Arts Shared Press Release