One of my absolute favorite exhibits is currently going on at Discovery Cube Orange County: Bubblefest XIX, and we had the opportunity to check it out earlier this week.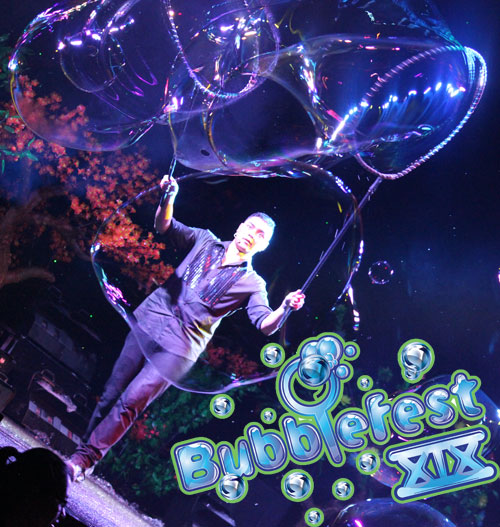 Now through April 12, 2015, guests will have the opportunity to see Mr. Deni Yang demonstrate the art of a Mega Bubblefest XIX Laser Show and more.
First of all, when you get to the Discovery Cube Orange County, you'll notice that their expansion is almost complete. They have currently added a new wing, the Julianne Argyros Showcase Theater. You'll be able to tell where it is, by the brightly colored exterior. Since we arrived a little early for the show, we wanted to start with the interactive exhibits located just outside the theater.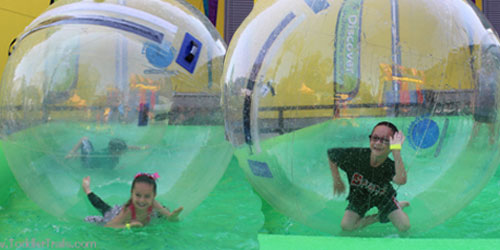 First up, the Bubble Lagoon: Imagine, a giant bubble you can climb into and ride across the water. The kids had so much fun rolling around in these giant plastic bubbles filled with air. Their biggest challenge was to try to stand. The entire time they were giggling and laughing; and when they got out, they wanted to do it again!
Next, we ran to the bubble play area. This is another "I'm not ready to leave yet, MOM" spot. The kids stood on opposite sides of the area, trying to see who could make the longest bubble towards each other. Then they decided to try to wrap themselves in bubbles. Let me tell you, loads of fun that even daddy got involved.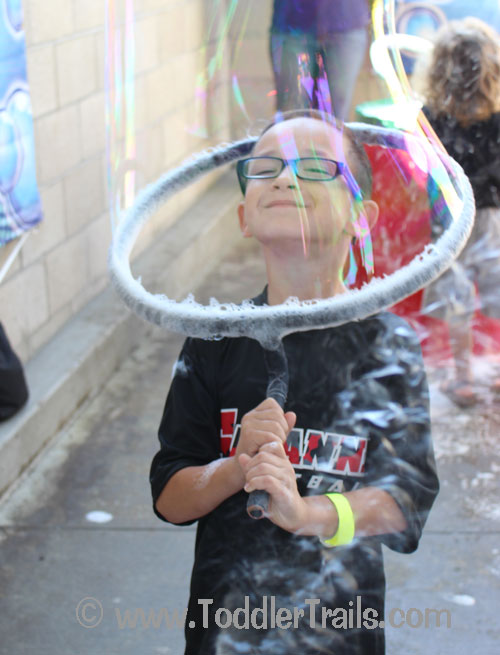 A giant inflatable slide was fun for the kids to race each other, "Me in a Bubble" photo opportunity, and the best food trucks in Orange County. They even had a little picnic bench area for those who chose to eat lunch outside amongst the bubble fun.
Once we were finally finished playing, we headed into the Julianne Argyros Showcase Theater: a 10,000 square-foot flexible space is a first-of-its-kind in the museum world with the ability to transform from a world-class exhibit hall to a 500 seat theater, where Bubblefest XIX is held this year.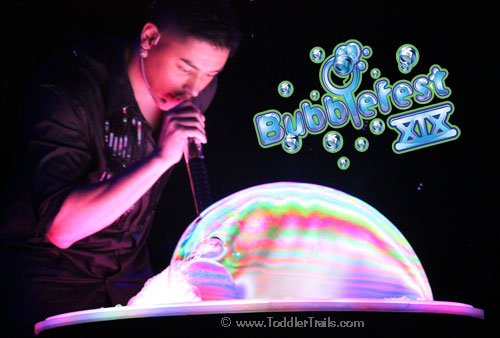 Bubble Scientist Deni Yang, and the Guinness World Record for producing the largest bubble ever, measuring over 170 feet;  performed his signature bubble artistry with bubbles, smoke, lasers, and a few young volunteers from the audience. Some of the amazing things we saw included a bubble carousel, smoking bubbles, bubbles within bubbles, and many more.
The cost of Bubblefest XIX is $5 for members and $7 for non-members in addition to the general admission to Discovery Cube Orange County and includes:
Mega Bubblefest Laser Show
Water Spheres
Giant Inflatable Slide
and all outdoor activities
Tickets can be bought online at www.discoverycube.org or on campus at Discovery Cube OC. General admission prices are as follows: adult ($16.95), senior ($12.95), and children 3-14 ($12.95). During Bubblefest, Discovery Cube OC will have extended hours from 9:00 a.m. to 6:00 p.m. Discovery Cube OC is located at 2500 North Main Street, Santa Ana, California 92705.
About Discovery Science Foundation:
The Discovery Science Foundation serves as the program-development, marketing and fundraising arm for hands-on science learning museums in Orange County and Los Angeles. Established in 1989, the original non-profit Taco Bell Discovery Science Center in Santa Ana, now renamed Discovery Cube Orange County, presented by Taco Bell, continues to inspire and educate millions of young minds through engaging science based programs and exhibits. In 2012, the Center was named one of the ten "Most Trusted Brands" in Orange County and in 2013 was awarded the National Medal of Service from the Institute of Museum and Library Services. In November 2014, Discovery Cube Los Angeles, a second not-for-profit museum offering an exhibit and program mix unique to Los Angeles, opened in the Hansen Dam Recreational Area of the San Fernando Valley.  For more information, call (866) 552-CUBE (2823) or visit www.discoverycube.org. Follow the Orange County and Los Angeles campus on Twitter (@DiscoveryCubeOC and @DiscoveryCubeLA).