'P' is for Party! Dr. Seuss ABC Birthday Party from Birthday Express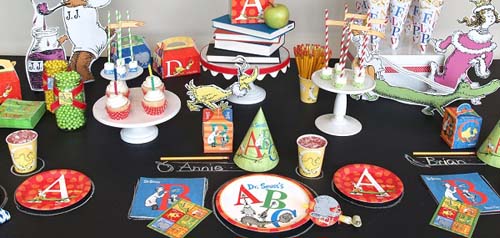 For growing up big, and growing up tall, the Dr. Seuss ABC party theme takes almost no planning at all!
Who wouldn't love a birthday party celebrating your favorite pre-schooler, A B C's and Dr. Seuss? Birthday Express offers a great variety of bright, colorful themed decorations that make it easy for you to plan your party, get a little inspiration and creativity all in one. Here are some ideas on how to throw a stress-free Dr. Seuss party when you use the Dr. Seuss ABC party theme from Birthday Express.
Food & Drink Ideas – Cupcakes take on a Dr. Seuss look when you with a simple polka dot cupcake wrapper and a single colored candle. Popcorn, a yummy and healthy treat, is fun to eat when you serve it in filled paper cones made from rolled squares of Dr. Seuss wrapping paper.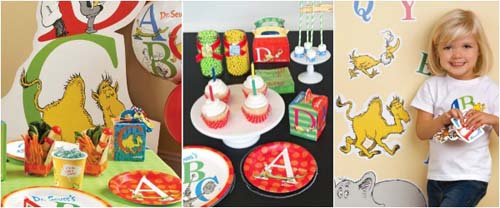 Party Activities – With just a black table cover and white paint markers, or sheets of black paper and chalk, you can turn your party table (or the whole party room) into a Dr. Seuss drawing zone! Let little ones will get a kick out of adding their name and favorite Dr. Seuss decal to their place setting, or decorate a wall.
Party Decor – Glass jars of Sixlets candy, adorned with ribbon and Dr. Seuss ABC stickers, make a pair of sweet centerpieces for this theme. Another idea is to stack up some old books and pair them with Dr. Seuss gift boxes. You can even fill these with candies or use them as party favor boxes for the guests to take home.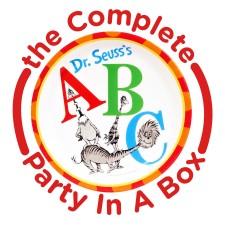 Birthday Express makes things easy with the Complete Party In a Box. Dr. Seuss ABC Party in a Box comes in several different options: Basic, Deluxe, Deluxe with Favors and Ultimate. You get to choose the best options that fit your party and budget.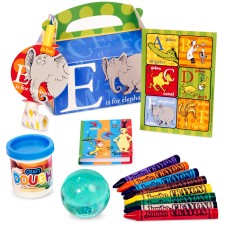 I recently hosted a super fun Monster Truck birthday party for my handsome boy. To make it easier on myself, I picked up favor boxes from Birthday Express. They made this part of the party planning so simple. Just order one favor box for each child assemble once it arrives. The Dr. Seuss ABC Party Favor Box comes with a favor box, party horn, stickers, crayons, playdough and a bouncy ball.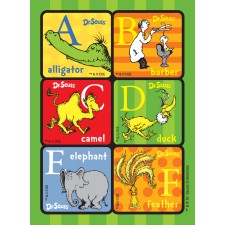 The final piece to the party planning – the invitations. Get these adorable Dr. Seuss ABC Invitations to invite your special guests to the party.
Disclaimer: All images used with permission from Party Express.