What cool gifts do you buy a guy who has just about everything?  That is one dilemma I face every year during the holidays. My husband is the type of guy who doesn't NEED anyhing. When putting our holiday gift lists together every year, all I get from him is "A Best Buy Gift Card for the best tech gifts would be awesome".  Yes, every year the entire family buys him exactly what he wants and he ends up spending it on the kids and I.  (Really, that isn't such a bad thing, right?)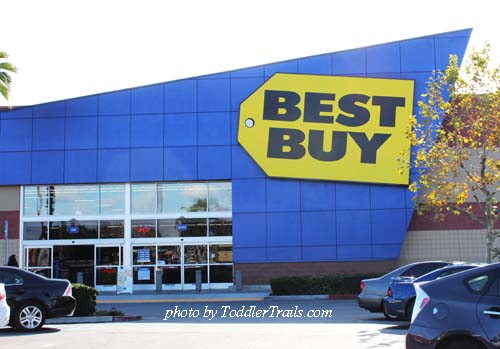 So this year, I decided to take on a different tactic.  Why not tell him that we needed a gift and that I wanted to pick up a movie for a friend, then follow him around the store while he is checking out the best tech gifts  for the season.  Before heading out, I wanted to get an idea of the "go to gadgets" that are considered the best tech gifts this season.  Checking out Best Buy's website, they have an awesome list of items that are currently trending on Twitter – what a great way to find out what's flying off the shelves or are the best deals.
I don't know about you, but I like to run to the store to see the items, do a trial run, if it is on display and see if it is something my husband would really like.  At least now, I had a game plan of items I wanted to check out.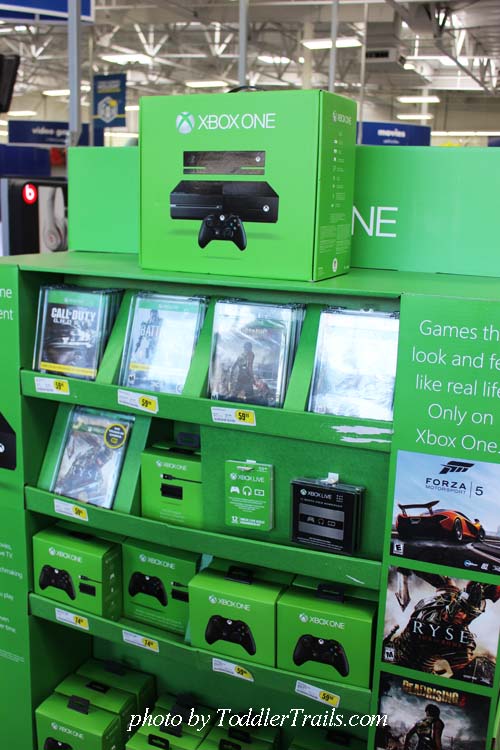 We get to the store and the first thing that stops the kids in their tracks – XBox One.  In talking to the sales associate, the box you see in the photo – the absolute LAST on in the store.  Apparently they are a hot commodity and sell out just as fast as they are delivered.  Unfortunately I had to remind the kids that the object of this shopping trip was to find something for Dad, not themselves….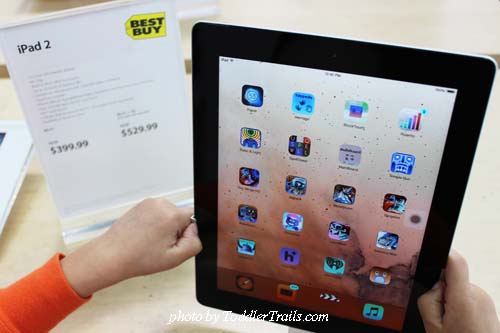 Next stop, we followed Dad to the tablets.  The kids and I are big fans of iPads, in fact, we tend to argue over who gets to use it next.  This would be a great option for Dad to get one of his own, or upgrade our first generation to a new Apple iPad Air with Wifi, but he reminded me he has one he uses at work, but he did need some accessories.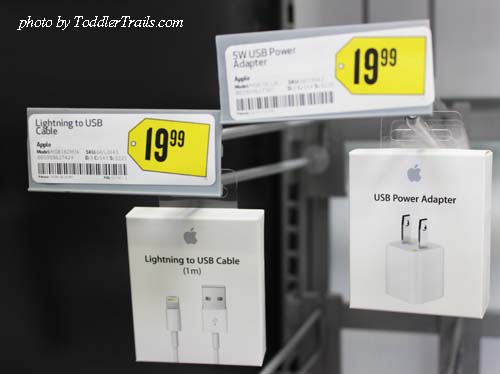 Then we decided to check out the iPhone 5s.  Hubby's current iphone battery isn't holding a charge like it used to, so he wanted to find out if he was eligible for an upgrade.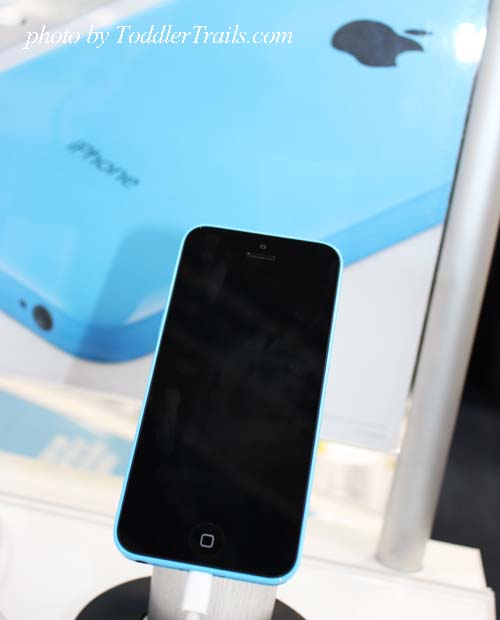 Based on our plan, we have to wait 3 months for him to be eligible for an upgrade – we'll put this item on hold and wait for his birthday in March!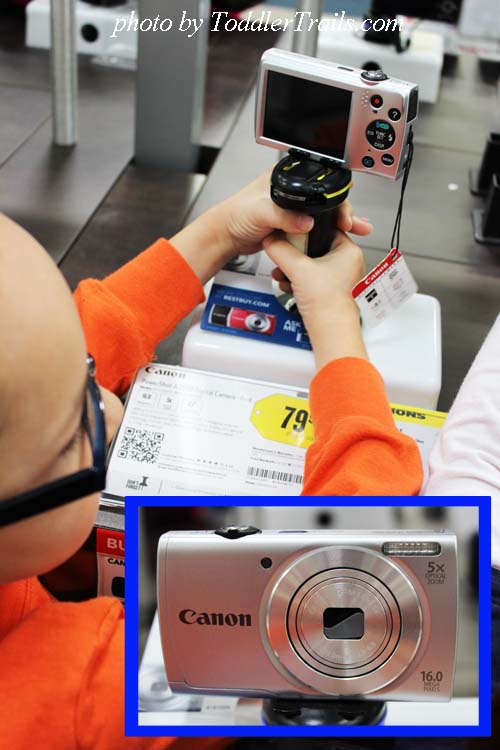 As a softball coach at his high school, the hubster is always taking pictures or video of the girls to give them tips and pointers on their swing or stance.  This great little Canon camera is something we thought would be a great gift for dad or anyone!!! The Canon PowerShot A2500 is perfect to throw into a bag or purse and is currently on sale for $69.99 (Regular Price $109.99).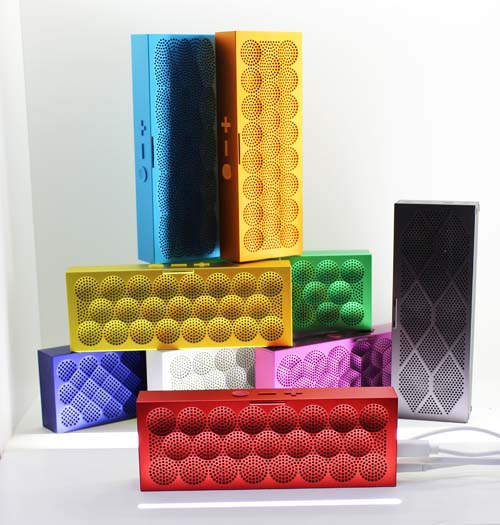 The Mini Jamboxes by Jawbone really caught my eye.  The Jambox is a wireless speaker that is compatible with most Bluetooth-enabled handsets for a variety of purposes and features a compact design to easily transport in any bag. This would be great for him to use during his PE classes if he were to pair it with his ipad for his Pep Grant Testing.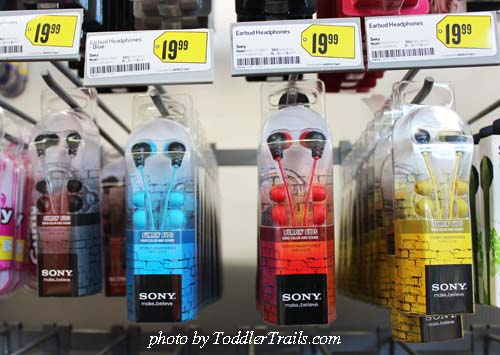 The perfect stocking stuffer, Best Buy's Sony earbud headphones feature a clear midrange and solid low-end sound. Three sizes of hybrid silicone earbud tips ensure a comfortable fit and are currently $19.99.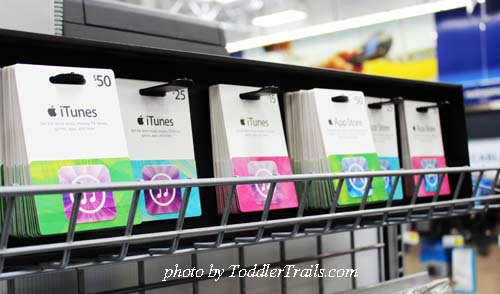 ITunes and Best Buy Gift Cards still make the perfect gift for the "hard to buy for" individual. Better yet, when you buy a Best Buy Gift Card, you may be eligible for the "Give It To Win It Promotion"!
Give It To Win It Promotion:
From December 11th – December 24th, each time a customer purchases a Best Buy gift cards in increments of $25 or more in store or on line – the gift card can be scanned to enter for a chance to win one of the daily prizes. Daily Prizes include:
(1) Grand Prize: $10,000 Best Buy Gift Card
(5) First Prize: $500 Best Buy Gift Card
(10) Second Prizes: $100 Best Buy Gift Card
(40) $50 Best Buy Gift Card
To find out more about the Give It To Win It Gift Card Promotion, visit your local Best Buy or visit BestBuy.com.
Not sure what to get, or need some last minute ideas,  Best Buy has got you covered.  On December 17th Best Buy will be having a Google+ "shoppable hangout".  Visit the  Best Buy Google+ page or go to Best Buy's YouTube to see the event live, and find some killer last minute presents.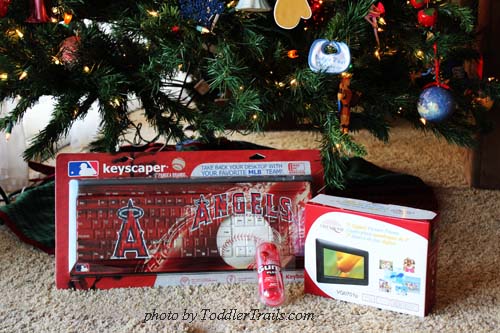 The best part about shopping with the hubster – the Bronco game was on.  He decided to run next door to a local restaurant/bar to see if he could catch a little of the game, because it wasn't televised on regular television.  Better for us – I was able to pick up some fun items right then and there before they were gone.  My son picked out the LA Angels wireless keyboard and ear buds, and my daughter decided a digital picture frame would be perfect for his desk at work, especially if we pre-loaded it with a few of his favorite photos.
Wrapped and under the tree, we wait for Christmas.  Excited to see his reaction and how proud the kids will be that they hand picked his gifts.  Now if my little ones can keep a secret until then.