The Hubster and I typically plan on a date night at least once a month. With our calendars so hectic right now, we typically just do dinner and catch up on our favorite shows at home – I know BORING! To kick off October and a month full of Halloween fun, Knott's Scary Farm was the perfect venue for a special date night.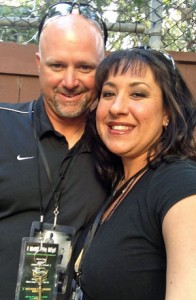 Halloween just so happens to be our favorite holiday. I absolutely love decorating the house and making a trip to all of the spookiest places throughout Southern California – Knott's Scary Farm being my absolute favorite.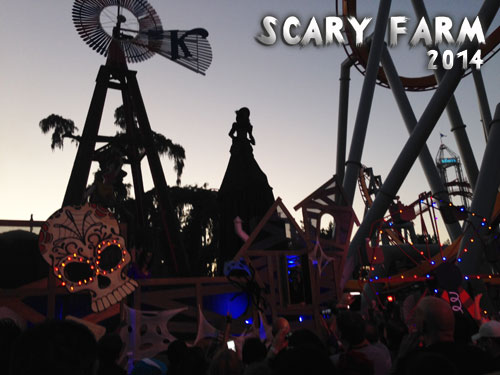 This year we were invited to a "Social Media Night" at Scary Farm, to share our experience with Voodoo, a new one of a kind maze, Infected – an interactive haunt zone, and Knott's Scary Farm mazes and Skeleton Key Rooms.
Each night Scary Farm is open, be sure to get there in time to catch a glimpse of the Wicked Witch. She welcomes victims into the park, warning you that this will be your worst nightmare.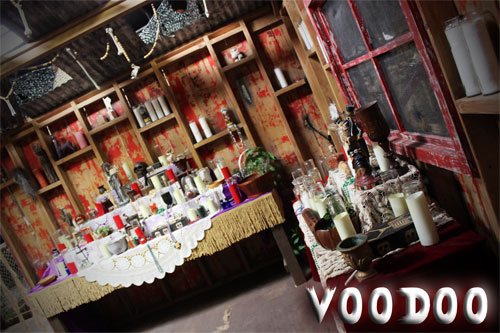 Voodoo is one of the newest editions to Scary Farm this year, giving guests the option of selecting their outcome. Choose which routes you will take through this maze, reliving the time of voodoo and magic. If you're brave enough, be sure to hit up this Skeleton Key room. We hear it's one of the best. (I wasn't brave enough to partake).
Having the unique opportunity to see these incredible mazes with the lights on is absolutely unforgettable! It is so amazing to actually see all the detail that goes into creating the story with the props, make up, facades and every little piece that makes people come back for more. The designers start with their concepts in October/November and work through an entire year to include every single detail. They start building the facades and mazes in about July or August so they are ready for guests the last week of September.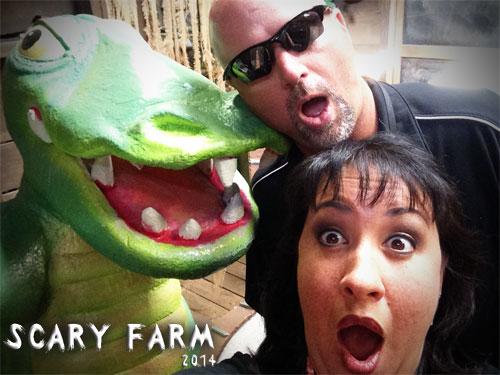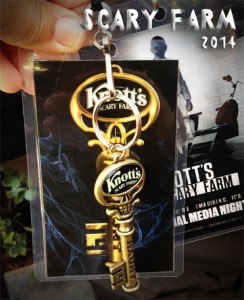 I must admit that I'm getting old. Waiting in long lines absolutely kills my back. Now Knotts Scary Farm has invented the perfect pass for us old farts who LOVE Scary Farm, but have trouble waiting in line. Check out their Scary Farm Pass options: Knott's Scary Farm:
Knott's Scary Farm Season Pass: First time ever, the Knott's Scary Farm Season Pass is perfect for Scary Farm fanatics! For $75.00 get the ultimate Knott's Scary Farm experience with 24 frightful nights in 2014.
Annual Passholder Discount: Are you an Annual Pass Holder? Purchase a Knott's Scary Farm Annual Pass for $65.00 if you are already a Knott's Berry Farm 2014 Season Pass Holder.
Season Pass Holder; Bring A Friend: If you're a Knott's Scary Farm Season Pass Holder, bring your friend for $35
Single Night Admission Tickets range from $39 – $49
Bump Up Your Admission Ticket to:

Fast Lane: Speed past the lines on some of your favorite rides with a Fast Lane wrist band.
Fright Lane: Get exclusive front of the line access to select Haunted Mazes and Skeleton Key Rooms.
Skeleton Key: 5 select mazes have terrifyingly interactive rooms for that one on one experience.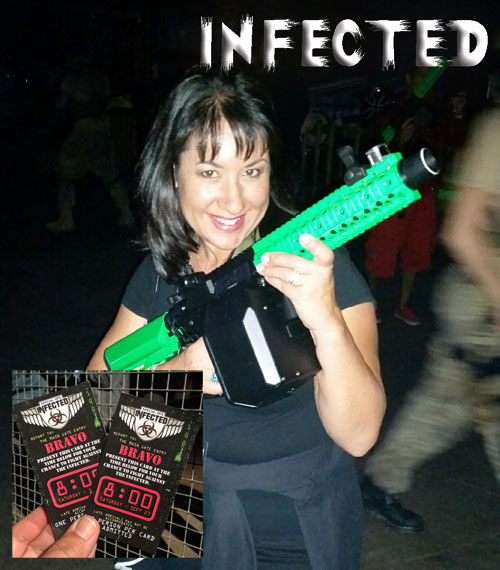 After we visited and mingled with some of our favorite Social Media friends, we headed out to our first adventure of the evening – INFECTED! We had a call time of 8:00pm, where our Bravo Battalion headed out into the fog to take on the Zombies. Geared up with my gun, I was ready to protect my hubster – his gun kept jamming, but we still got into character and rolled with it. After our troop split up, we were captured and held up in a metal cage before we finally escaped. Now in survival mode, we were looking for the rest of our troop as we made our way through the fog, shooting at our zombie targets along the way.
I loved Infected! It was intense, fun and a great time. Its definately a great edition to Scary Farm this year. I would totally recommend getting a reservation time as it greatly decreases your wait time.
The mazes were fantastic, as always. I just LOVE going through them with friends who jump at every little thing – really, my sides hurt by the end of the night because I'm laughing so hard. My hubby ended up acting as a human shield for a few of my friends who certainly felt like victims as we walked through the mazes. (Yes, I was secretly directing the scary creatures their way – shhhhh!!!)
The Hanging and Elvira are back another year to entertain park goers. Elvira's Evil Circus has some amazing entertainers that will leave you wondering – "how do they do that?".
If you're planning a night at Scary Farm, I would completely recommend either getting the Scary Farm Annual Pass, or pick up a Fright Lane Pass with Skeleton Key. It was so worth it.  We were able to tour all mazes in one evening, bypassing those 2 hour waits.
And I had heard from friends that he was back, after many years – we actually spotted the Headless Horseman wandering around Scary Farm – what a fitting end to a great date night!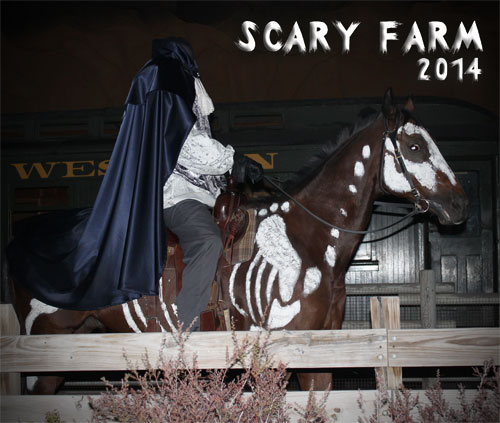 Thanks to Knott's for a frightful evening and to Gigasavvy for contributing to our Scary Farm adventure.