Pretend City Children's Museum is a great place to be a kid! A "kid sized" museum with all kinds of fun things to do, is hosting their annual "When I Grow Up Day" on Thursday, August 10th from 10:00am to 2:00pm. Professionals from all over the community are will be on hand to share their jobs so kids can learn and explore their future careers. They will get up close and personal with FREE truck touching, including fire trucks, police cars, trash trucks, buses and a unique banana car in our outside exhibit!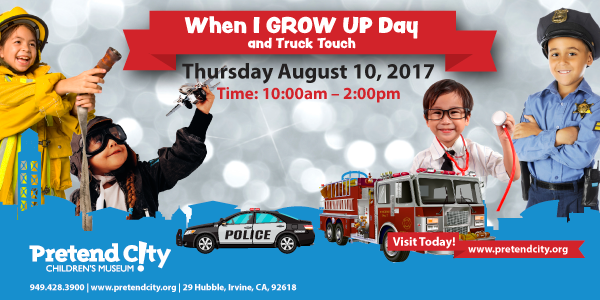 I remember getting asked what I wanted to be when I grew up multiple times, and, frankly, I had no clue until I reached college. When I Grow Up Day gives kids a chance to find their answers and set big goals and dreams for themselves. It gives them a chance to build their future and shape their development, while still being creative and fun," said Pretend City's Director of Education Shannon Huston.
Firefighters, police officers, librarians, zookeepers, and so much more from all over, will be at Pretend City from 10am-2pm to answer every question about their professional career. A firetruck, two buses, a police car, a trash truck, a CHP vehicle, a motorcycle, and a unique banana car will be open to the public in the free outdoor exhibit. Entrance into the museum to meet the professionals is priced at regular admission costs.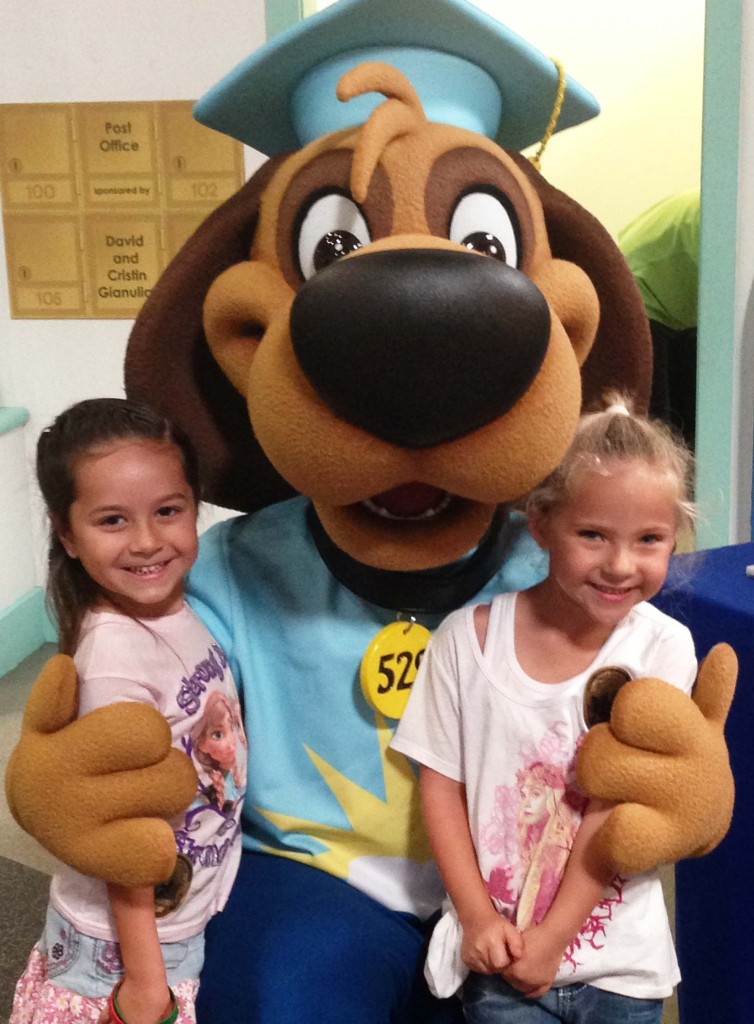 Every month Pretend City puts out a calendar of events with opportunities to celebrate special holidays, babies, Autism and more. Check out the below calendar for the month of August:
National Chocolate Chip Cookie Day Friday, August 4th 11am – 4pm:
Bring your sweet tooth to Pretend City today for National Chocolate Chip cookie Day!
Activities are included with museum admission.
Friendship Day Fun! Sunday, August 6th, 11am – 4pm:
The best kinds of SHIPS and FRIENDSHIPS! Bring your friends and make some new ones at Pretend City today! Celebrate friendship with fun-filled activities to help build social skills and confidence! Don't miss out on making new friends while bonding with your old friends too! Activities are included with museum admission. Have your child invite a friend to Pretend City! Receive 50% off general admission for your child's friend.
Let's Celebrate Raksha Bandhan Monday, August 7th 11am-1pm:
In the Hindu religion, Raksha Bandhan or "Rakhi" is a special occasion to celebrate the bond between brother and sister. At Pretend City, they're celebrating this holiday by recognizing the special bonds we have with all our family members! All of their activities today focus on building bonds with our families and highlighting how much we love them! Activities included in museum admission
About Pretend City Children's Museum
Pretend City Children's Museum features a small, interconnected city designed to "build better brains" through purposeful play, hands-on learning experiences, role playing, and educational programming. As a non-profit 501(c)(3) organization serving all children, it depends on community-based funding and guest support. Through interactive exhibits and activities guided by a highly trained professional staff, children learn foundational math, reading and science skills, while fostering curiosity, creativity, critical thinking, problem solving, organization, teamwork, self-confidence and socialization. The museum is a unique community resource offering developmental screenings and tools for families, educators, and community agencies, working to ensure that each child gains the experiences needed to discover their potential and build toward a productive and fulfilling future. Pretend City Children's Museum is located at 29 Hubble, Irvine, CA 92618. For more information, please visit www.pretendcity.org.