This is a sponsored post in partnership with Breast Cancer and the Environment Research Program.
Last night, my family and I got into a discussion about the number of friends currently fighting cancer of some sort. We've recently had an Aunt diagnosed with uterine cancer a month ago, a friend battling stage 4 breast cancer for over 3 years now and know of at least two other ladies currently battling different stages of breast cancer. During the month of October, it is absolutely amazing that so many organizations join in the fight and support such a great cause, raising funds to help spread awareness. While we still do not know exactly what causes breast cancer, but there are many steps mothers and daughters can take to reduce their risk of breast cancer.
As a parent, we want our children to grow up healthy. However, the environment around our girls may change the way their body develops. It is too soon to say for sure that avoiding certain chemicals or foods lowers the risk of breast cancer. Still, to help protect daughters from developing breast cancer later in life, it is never too early to begin taking steps. BCERP has a number of resources for parents and families on how to reduce risk.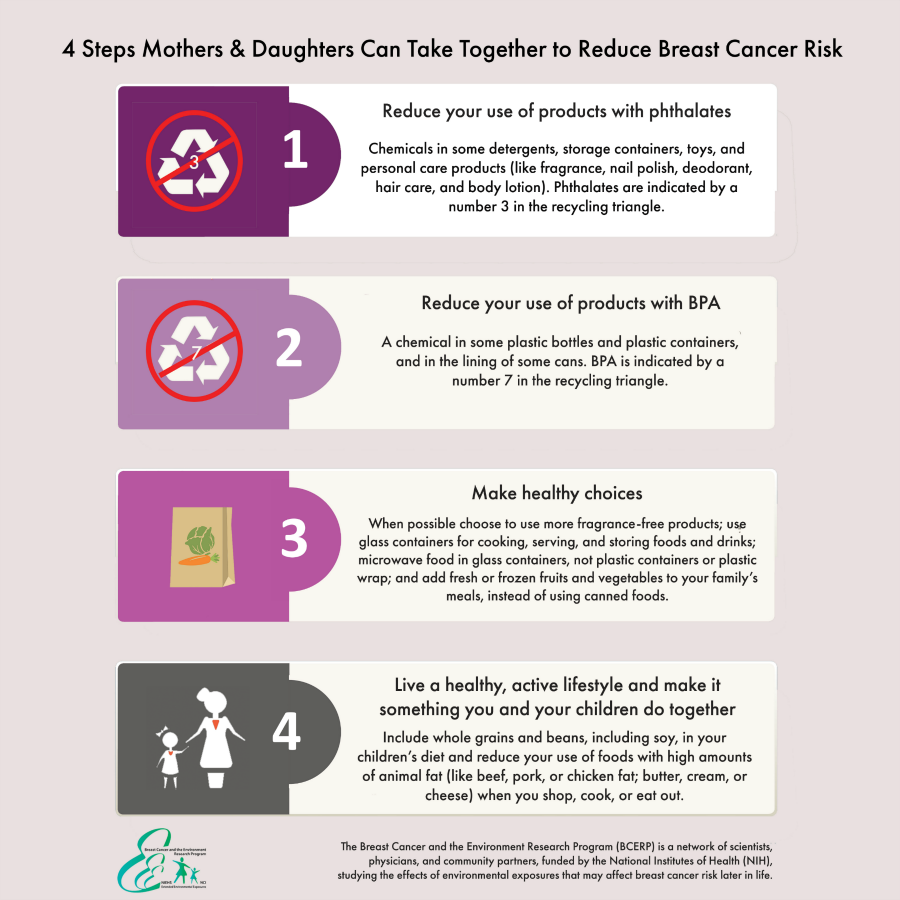 Scientists, physicians, and community partners in the Breast Cancer and the Environment Research Program (BCERP), which is supported by the National Institutes of Health (NIH), study the effects of environmental exposures on breast cancer risk later in life. They created a mother-daughter toolkit mothers can use to talk to daughters about steps to take together to reduce risk. Just like the above graphic, the toolkit shares products with specific substances you may want stay away from.
Even though the research is still being compiled, now is the time to take action to reduce our children's risks to these products that can potentially cause them harm in the future. For us, we have already made a few changes. I keep an eye out for products with BPA or the #7 on them. I just have to remember to be more diligent with other products as well, and try to protect my littles as much as possible.
Would you be interested in winning one of five (5) Visa gift cards worth $100?  If so, please complete this BERCP Research survey: RESEARCH SURVEY (CLICK HERE)