A new farm-to-dining experience recently opened up in Orange County – Tempo Urban Kitchen. We had the opportunity to get an exclusive tasting as three talented young chefs: Chef Chris Tzorin, Chef Charlie Medina & Chef Salvador Carrillo, each prepared a few tasty bites. They featured items off a menu of fresh, sustainable ingredients. This new Brea restaurant showcases one of a kind dishes like Pork Belly Bites and Grilled Octopus.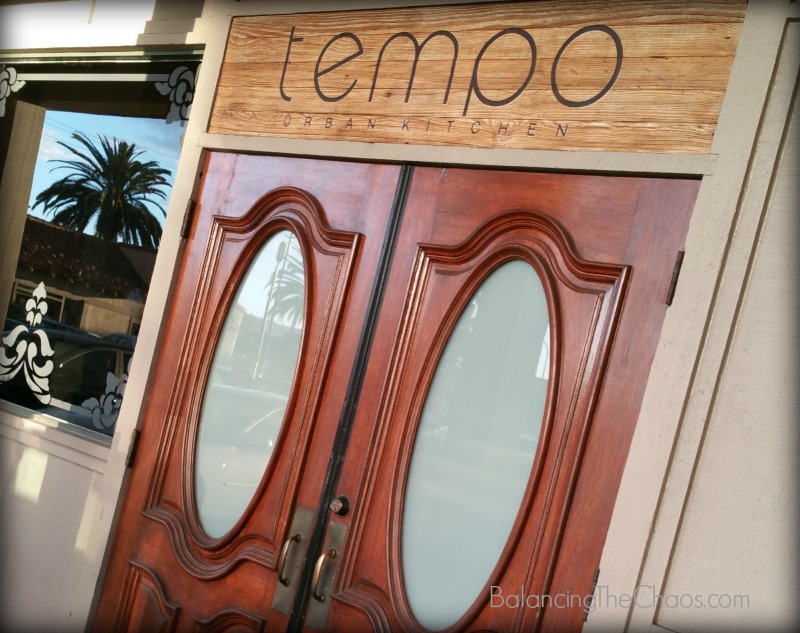 Seasoned Restaurateur Jorge Cueva brought these three awesome and talented young Chefs:  Chef Chris Tzorin, Chef Salvador Carrillo & Chef Charlie Medina from California and Mexico to show off their culinary skills in this modern American restaurant – Tempo Urban Kitchen.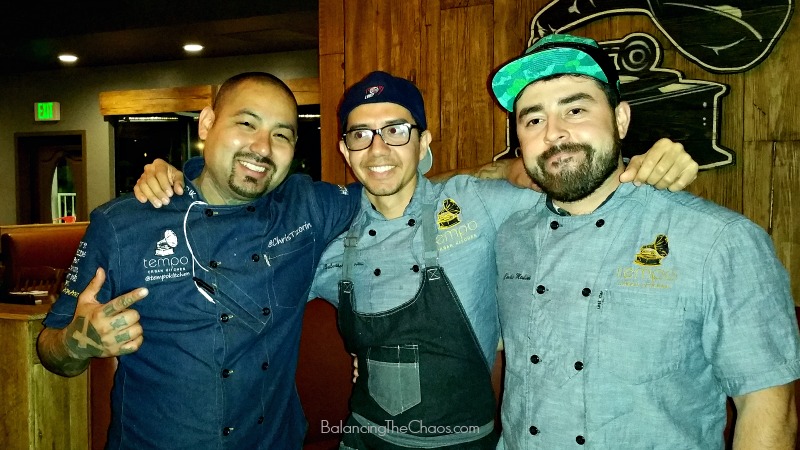 We started off the evening with a tour through the kitchen as well as the opportunity speak with the staff, admire the restaurant décor as well as mingle with fellow media influencers..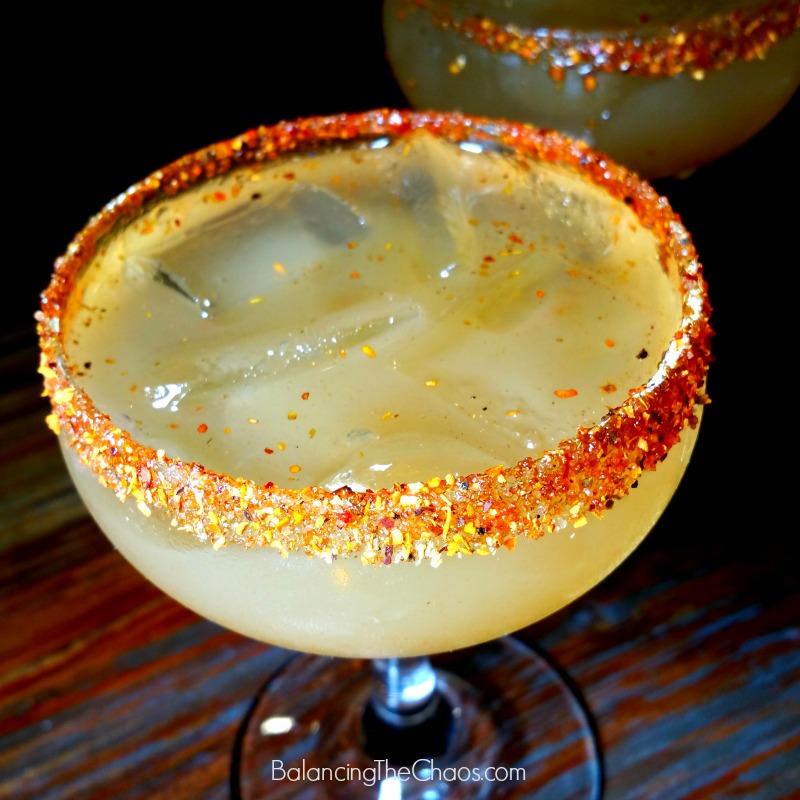 Then it was down to business as the trays of Mango and Cerrano infused Margaritas with a Tajino rim made their way around the room. A little bit of sweet and spicy, this margarita hit the spot.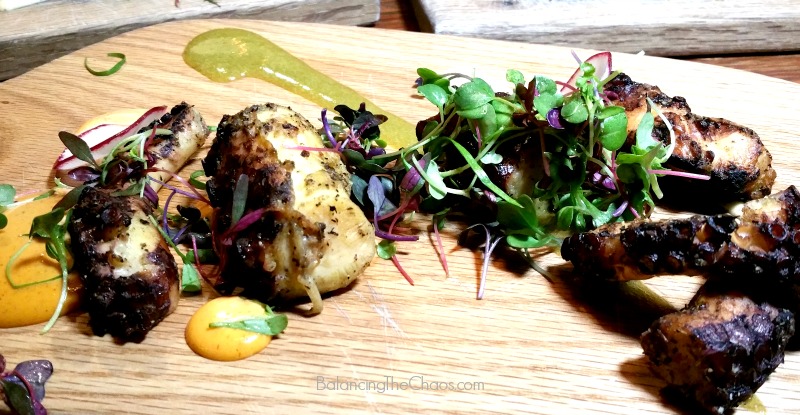 Chef Chris Tzorin sent out the first plate of Grilled Octopus with Serrano sauce, guajillo chili oil, lime cream and chipotle mayo. Ever tried octopus? A first for me, I enjoyed the fusion of flavors of the Serrano sauce and chipotle mayo as I mixed them for dipping the octopus in.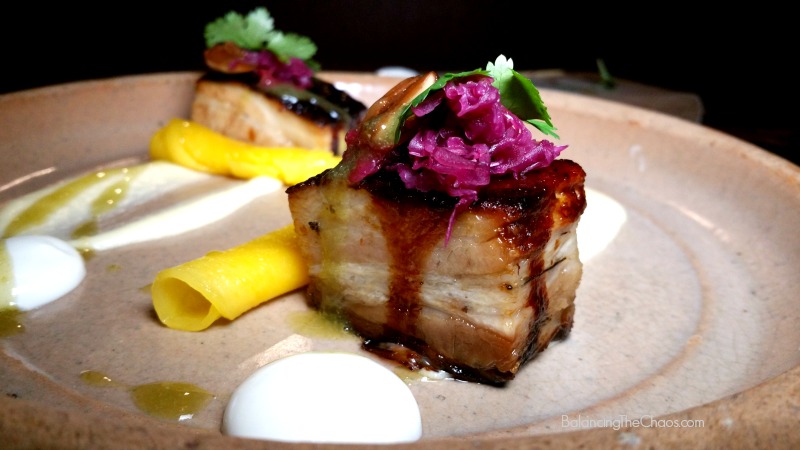 Next out was the Pork Belly Bites crafted by Chef Jorge Cueva Estrella. These beautifully plated pork belly bites were slow cooked for 12 hours. Inspired by Korean flavors, the pork bites were plated with a tortilla puree, fresh coriander and topped with red cabbage kimchi and cilantro.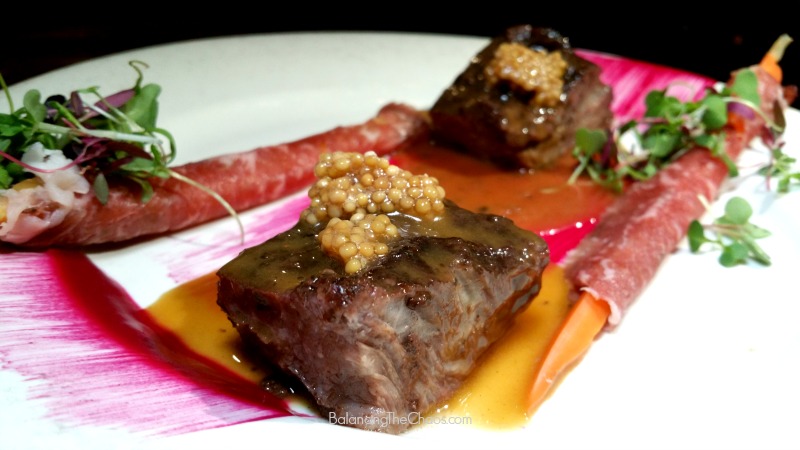 The 3rd course was prepared by Chef Salvador Carrillo, Executive Chef at Tempo Urban Kitchen. Sous Vide Short Ribs Slow cooked short beef rib topped with vegan caviar (mustard seeds) and garnished with pickled carrots wrapped in New York Ham on the side. This amazingly tender beef was slow cooked for 28 hours and melted in your mouth.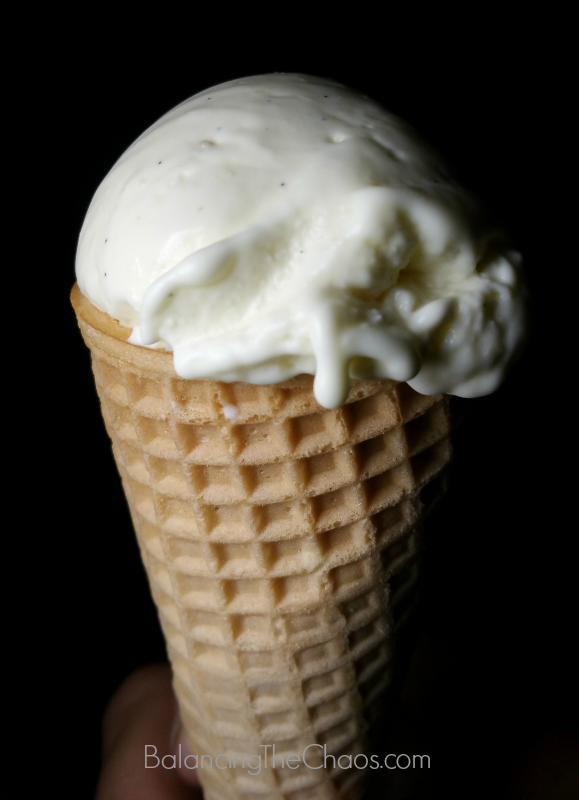 Then we watched in amazement as Chef Charlie Medina mixed up ice cream tableside with liquid nitrogen with a hint of ginger. A great way to end the evening.
Tempo Urban Kitchen
1060 E Imperial Hwy
Brea, CA 92821
P: 714.529.2900
BUSINESS HOURS
#ClosedOnMondays
Tuesday 11:30 am – 10:00 pm
Wednesday 11:30 am – 10:00 pm
Thursday 11:30 am – 10:00 pm
Friday 11:30 am – 12:00 am
Saturday Brunch – 10:00 am – 2:00 pm
Saturday Dinner – 2:00pm – 12:00 am
Sunday Brunch – 10:00 am – 2:00 pm
Sunday Dinner – 2:00 pm – 10 pm
Saturday and Sunday Brunch 10:00am – 2:00 pm
Special thanks to our friends at Gigasavvy for arranging a fun night with Tempo Urban Kitchen and a few of our favorite social media influencers.