Last week we decided to venture out from our normal days at home, and enjoy the deliciously new experience at Knott's Berry farm. The "Taste of Calico", invites guests back to The Farm, to enjoy a casual stroll through the city of Calico. During this experience, you'll enjoy a mini version of the Boysenberry Festival with samplings scattered throughout the park. Additionally, craft booths and souvenir stores will be open for a bit of retail therapy.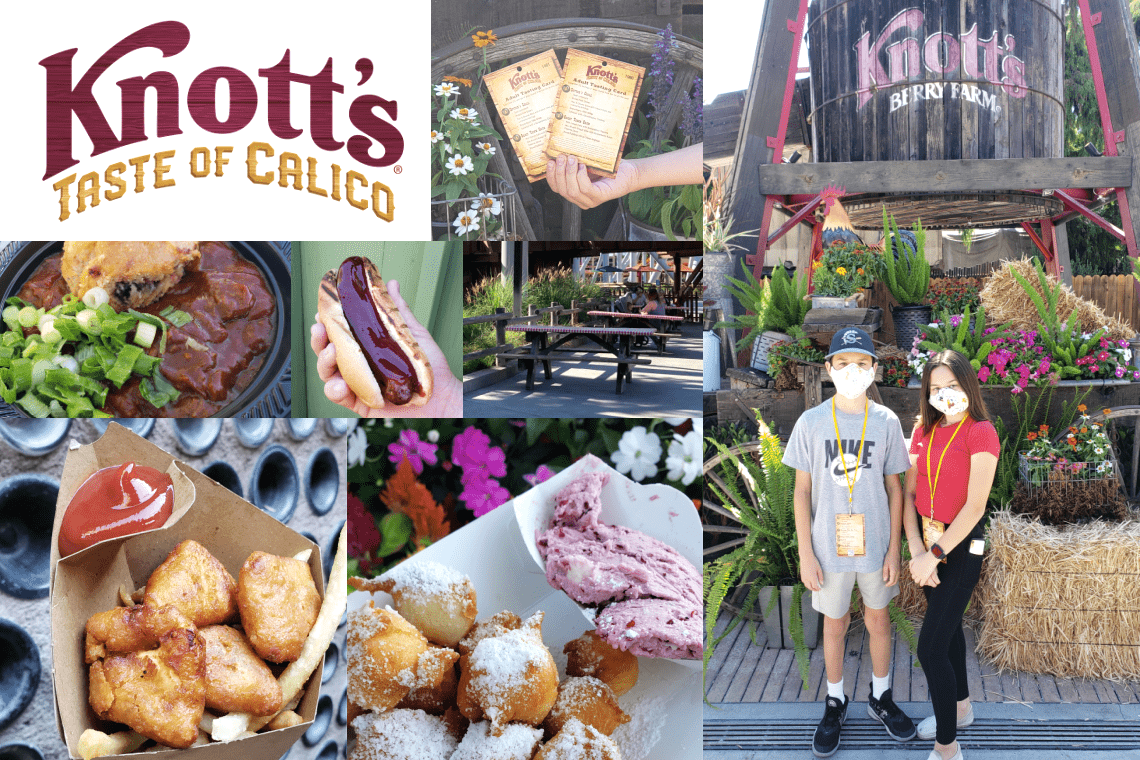 The new event started this past weekend and will continue the following weekends:
July 24-26
July 31-Aug. 2
Aug. 7-9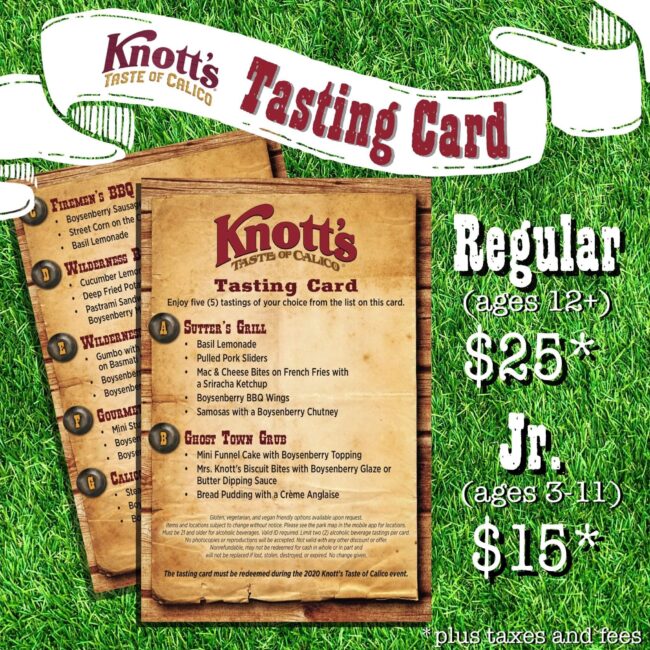 Fridays and Saturdays from 12 PM – 9 PM, and Sundays from 12 PM – 8 PM. If you are interested in attending, you will need to purchase a tasting card at knotts.com
Regular tasting cards are priced at $25 (plus tax) for ages 12 and up. Adult tasting cards include admission and five food tastings. Junior tasting cards are for children ages 3-11 and are $15 (plus tax) and are good for three tastings. Children two and under are free. Tasting cards are date specific.
Knott's Berry Farm staff are excited to welcome you back to the park. There are certain new safety requirements that will be enforced. All guests need to wear a face mask or covering, remember to social distance throughout the park, and be mindful of others. When you arrive, you will walk through temperature screening, security screening and at the gates your ticket will be scanned. This is where you pick up your tasting card.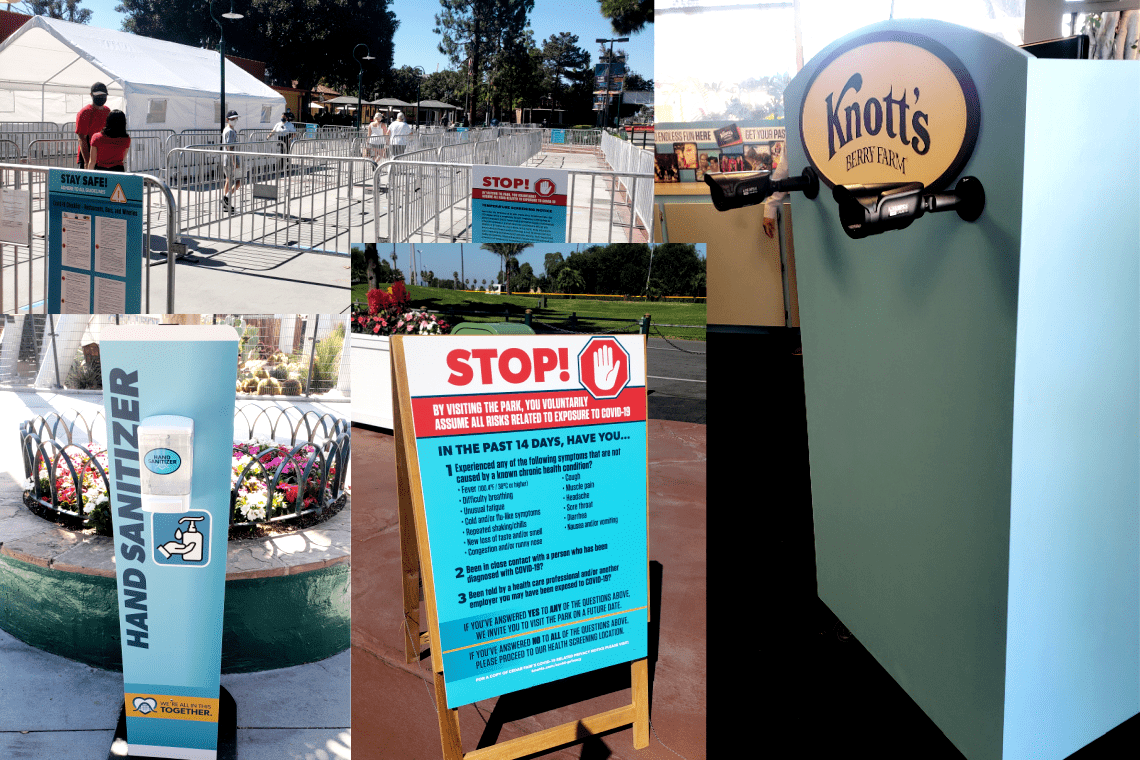 Once you enter the park, you are on your own to wander through Calico to shop, and enjoy the different menu options. Fastest way to map out your food and beverage options is by utilizing the Knott's Berry farm app. It provides locations and menus available and is detailed below:
Sutter's Grill
Basil Lemonade (photo below)
Pulled Pork Sliders
Mac & Cheese Bites with French Fries and Sriracha Ketchup (photo below)
Boysenberry BBQ Wings
Samosas with Boysenberry Chutney
Ghost Town Grub
Mini Funnel Cake with Boysenberry Topping (photo below)
Mrs. Knott's Biscuit Bites with Boysenberry Butter Dipping Sauce (photo below)
Bread Pudding with Creme Anglaise
Fireman's BBQ
Boysenberry Sausage on a Hoagie Bun (photo below)
Roasted Corn with Butter and Cotija Cheese
Basil Lemonade (photo below)
Wilderness Broiler
Cucumber Lemonade
Deep Fried Potato Chips with Onion Dip
Pastrami Sandwich on a Pretzel Bun with Boysenberry Mustard and a Side of Chips
Gourmet Churro Factory
Mini Stuffed Churro with Boysenberry Filling
Mix It Up
Boysenberry Jam Sugar Cookiewich
Boysenberry Icee Float (photo below)
Cucumber Lemonade (photo below)
Judge Roy Bean
Steak Chili with a Boysenberry Cornbread Muffin (photo below)
Boysenberry Flavored Beer, Wine or Sangria (wine photo below)
Boysenberry Smoothie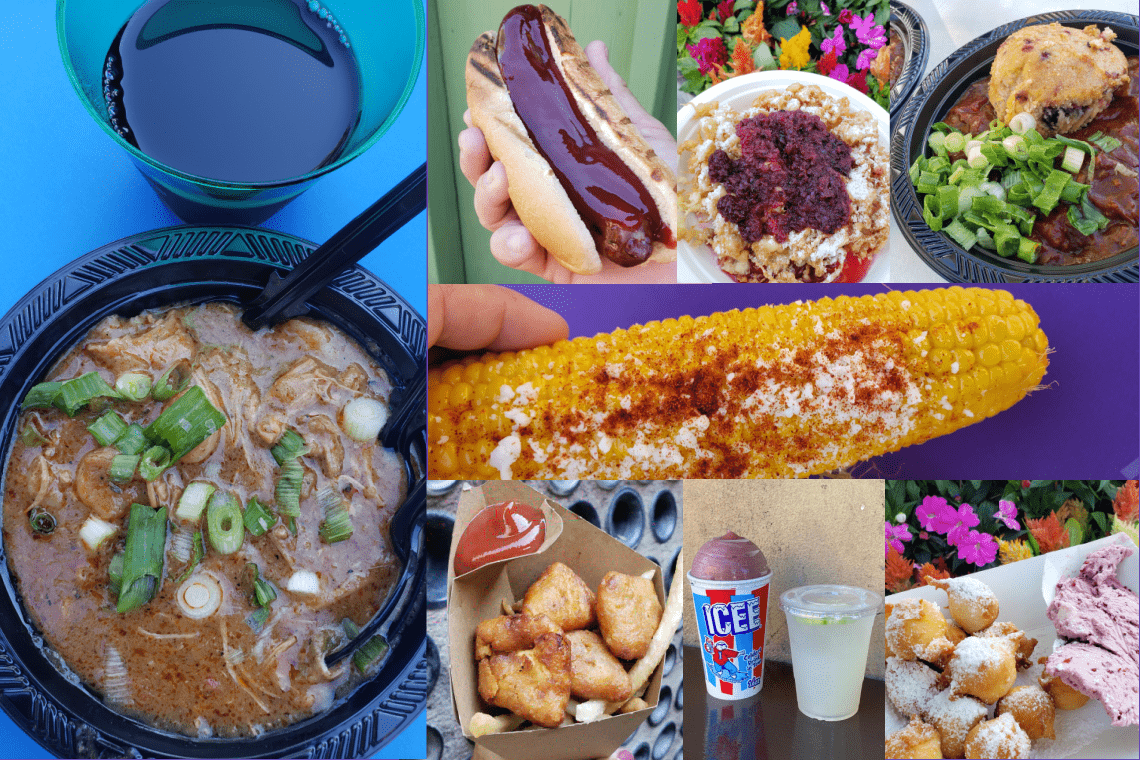 While everything was super tasty, our hands down favorites were the Boysenberry Icee Float, the Biscuit Bites, Chili and Gumbo.
Be prepared to stand in line with 6′ social distancing from other guests. While we were at The Taste of Calico, wait times were approximately 30 minutes to 1 hour.
For your safety, hand sanitizing stations are generously scattered throughout the park and employees are on hand to quickly wipe and sanitize tables as guests leave. Numerous picnic tables are socially distanced are available to utilize while you're sampling Knott's tasty creations. While sitting and eating, obviously you will not be required to ware a face covering.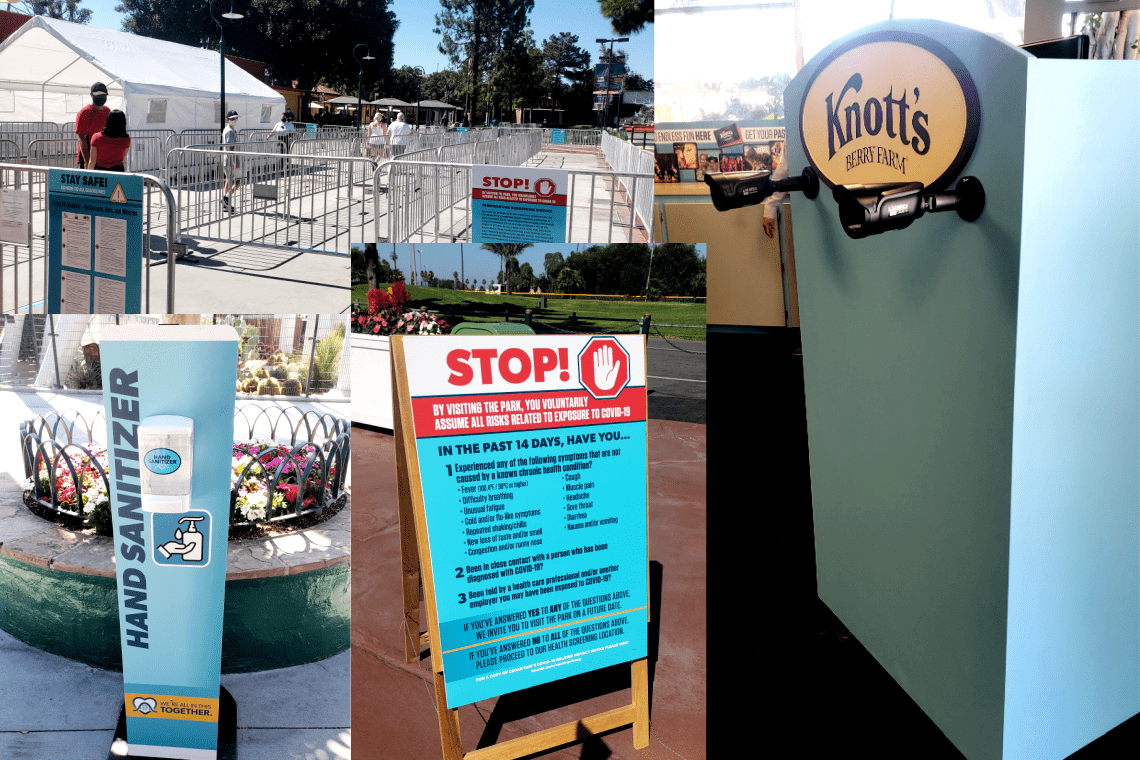 Need a break from your face mask? There is an area by the Mystery Lodge where you can remove your mask for a little bit. Additionally, I've heard that indoor seating is available in this area if you need to get out of the sun for a bit.
We really enjoyed being out. I did not feel it was over crowded while we were there at all. I did notice that wait times were longer, the later we stayed. Best tip I can give you – bring a water bottle. They are not honoring the Knott's refill cups during this event.