Oh My goodness, what the heck just happened?  Do you feel the same way?  Tomorrow is the last day of school, and we've got to figure out what we're going to do to keep busy this summer.  To keep the kids (and my husband) entertained for the summer, I've come up with the Summer Bucket List.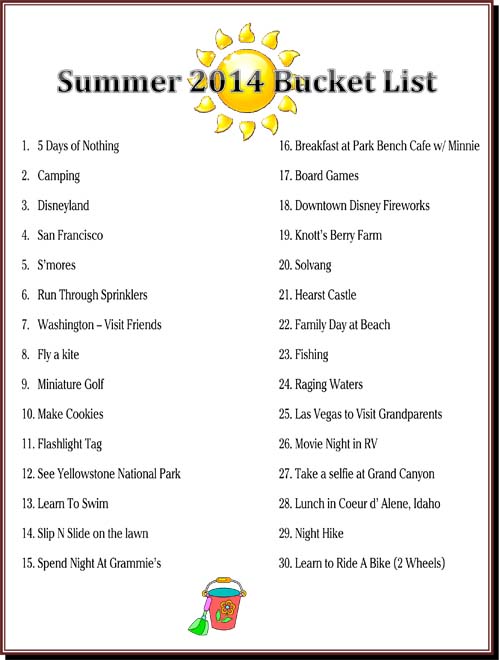 For the past few years, the Summer Bucket List has been a wonderful tool to show the kids all of the fun things we've done over the summer. It gives them things to look forward to, even options to select when they're bored. The best part, it keeps us from sitting at home for days on end – my husband's wishes!!!
This year, we have a fun road trip planned which incorporates many of the stops listed on our Summer Bucket List.  The kids are thrilled that many of these items we'll be doing while taking out  our new RV for a spin.
1. 5 Days of Nothing
2. Camping
3. Disneyland
4. San Francisco
5. S'mores
6. Run Through Sprinklers
7. Washington – Visit Friends
8. Fly a kite
9. Miniature Golf
10. Make Cookies
11. Flashlight Tag
12. See Yellowstone National Park
13. Learn To Swim
14. Slip N Slide on the lawn
15. Spend Night At Grammie's
16. Breakfast at Park Bench Cafe w/ Minnie
17. Board Games
18. Downtown Disney Fireworks
19. Knott's Berry Farm
20. Solvang
21. Hearst Castle
22. Family Day at Beach
23. Fishing
24. Raging Waters
25. Las Vegas to Visit Grandparents
26. Movie Night in RV
27. Take a selfie at Grand Canyon
28. Lunch in Coeur d' Alene, Idaho
29. Night Hike
30. Learn to Ride A Bike (2 Wheels)
Want to create a Summer Bucket List of your own?  We like to sit down at the dinner table and throw out ideas. Since I've been doing this for a few years now, I just pull out the list from last year and the kids select some of their favorite items. And for my husband and I, this is the year we plan to accomplish two major milestones with our kiddos – confident swimmers and riding two wheel bikes!
For the kids, I like to create a fun printable list that we can tape up on the frig, a cabinet or even make a copy for our RV.  Since they are now reading, its fun for them to use as a check list.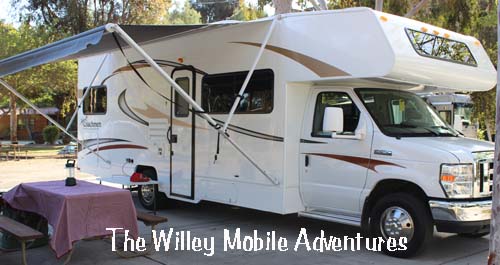 Follow along with our adventures, I'm hoping to get each and every one of these fun ideas crossed off!
What would you add to your Summer Bucket List?