With the coming of Spring, Lazy Dog Restaurants & Bar recently rolled out their seasonal inspired menu featuring scratch made dishes in a fun, relaxing environment. Enjoy the flavors of Spring with Street Corn Wheels, Burrata and Heirloom Crisp, Lentil Soup and Grilled Lemon Chicken. You can pick up a quick dinner or sit, mingle and catch up with friends. Even furry family members are also invited to enjoy a night on the town with their families.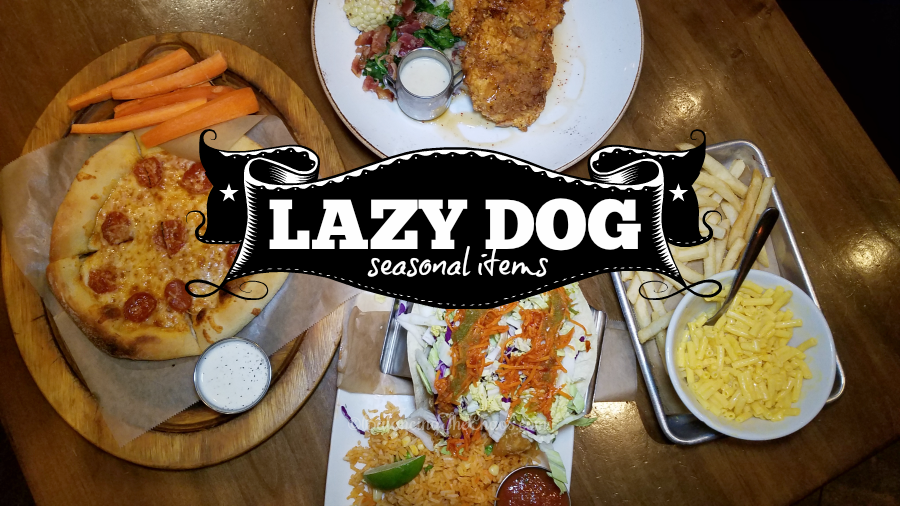 We were recently invited to sample a few of the Spring dishes currently offered at our local Lazy Dog in Huntington Beach. We started off with the Seasonal Street Corn Wheels. I wasn't sure what to expect, but when bite sized corn on the cob appeared with queso blanco drizzled over the top, I was quite impressed. Even my daughter couldn't hold back her excitement as she saw dish.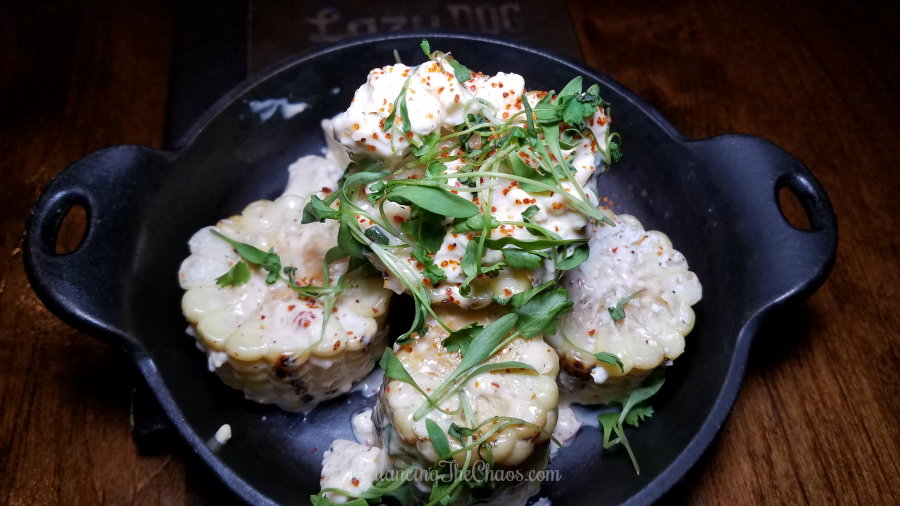 We also shared the seasonal Burrata + Heirloom Tomato Crisp, which is basically flat bread pizza with house made pomodoro sauce, a little bit of pesto, chunks of creamy Burrata cheese along with parmesan and Romano. It's topped with a balsamic reduction, chili oil and basil. The best part, you can order a full size to make it a meal, or a half size as an appetizer. It was fantastic. My kids, not typically fans of loaded pizza (they like straight cheese), loved the mix of flavors. It was super cheesy with three different brands.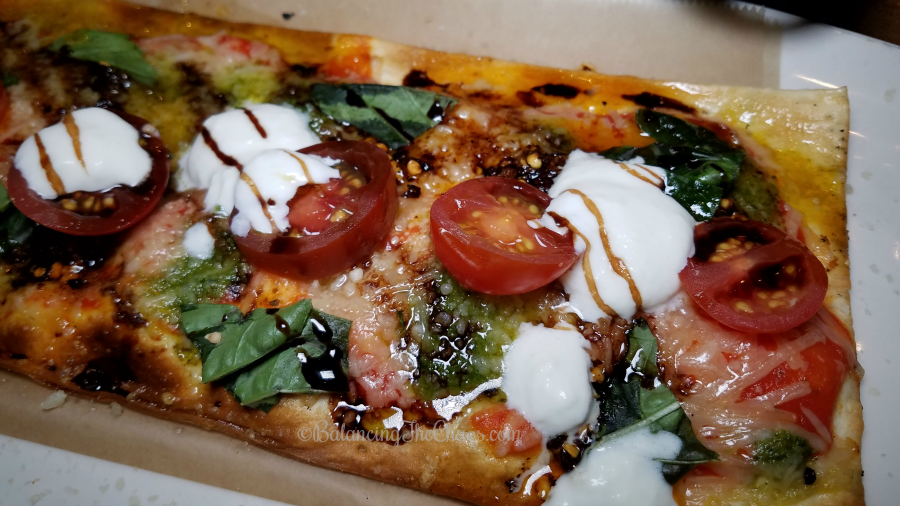 At the recommendation of the manager and staff at the Huntington Beach Lazy Dog, my husband sampled the Fried Chicken Dinner. When I was photographing the dish, I could smell the sweet smell of maple syrup. Yes, their Fried Chicken Dinner is hand dipped buttermilk boneless chicken breast topped with drizzled spiced maple syrup. With just the right amount of crisp, combined with the syrup – it was fantastic. The chicken is paired with a cauliflower mash, sautéed green beans, heirloom tomatoes and an almond walnut crumble for an extra bit of crunch. Like the staff at Lazy Dog, we highly recommend this dish.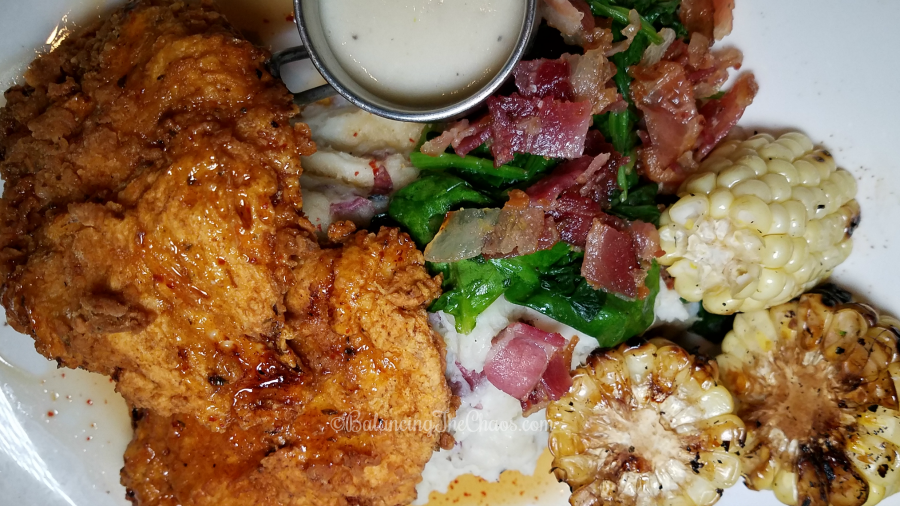 For me, I always love a good Fish Taco, and Lazy Dog offers a delicious pale ale battered fish taco with house made tarter sauce, with a fiery carrot slaw piled on top. The waitress told me that the house made tarter had a touch of blue cheese in it, which typically I stay away from, but it gave the tacos such a rich flavor. Alongside the tacos was a Spanish rice loaded with veggies and tasty black beans. Honestly, it was so much food, that I saved one taco and half of the rice and beans for lunch the next day. So good!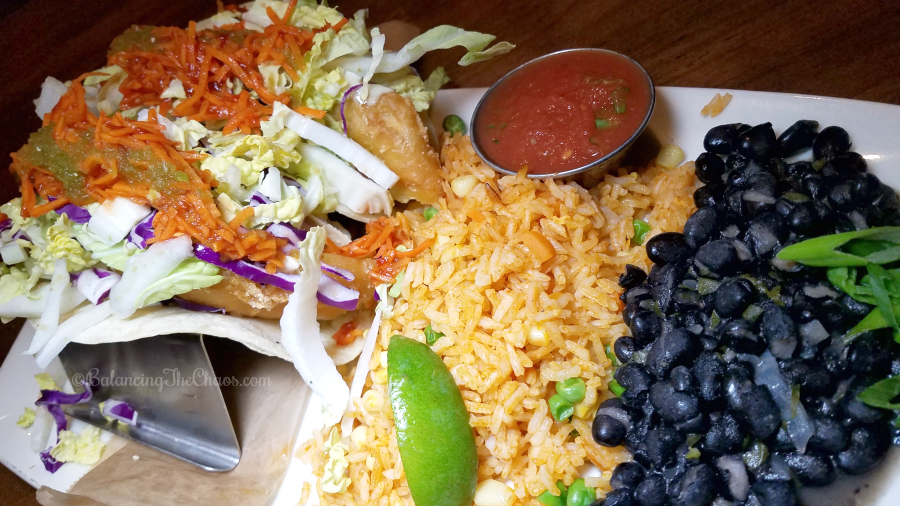 As for Children, Lazy Dog offers a variety of items that include a drink and one side. Kids can select hand breaded chicken nuggets, noodles or Kraft Macaroni & Cheese, hamburger, cheese burger, chicken teriyaki over steamed rice, fettuccine alfredo, a hot dog, or the favorite, Build Your own Pizza: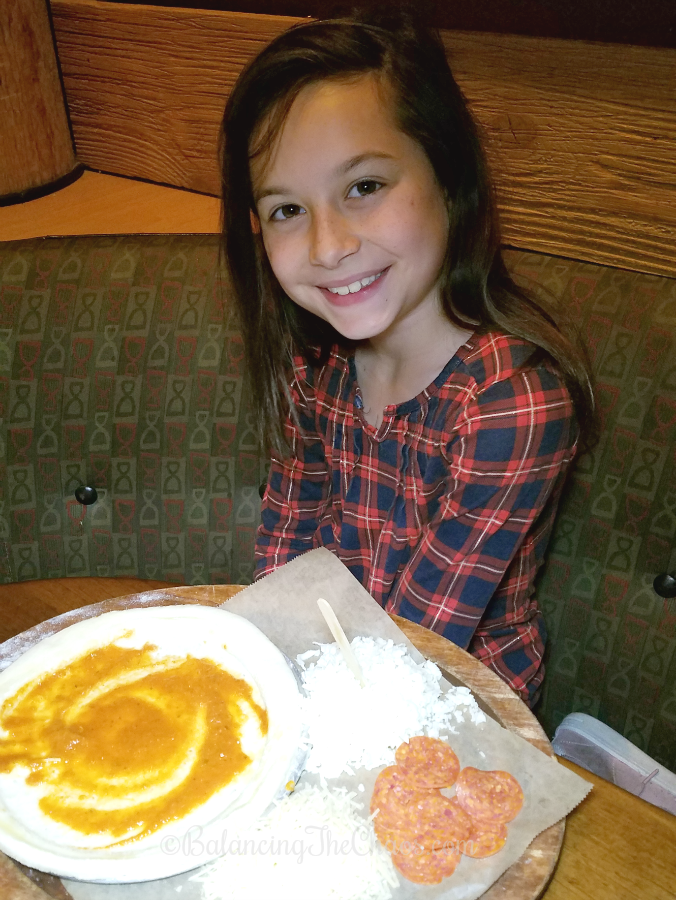 My little one had a blast designing her own pizza. It comes on a platter with the crust already prepared, lathered with marinara sauce. She had the choice to add as much cheese as she wanted (parmesan and/or mozzarella) and pepperoni.
Don't forget to save room for dessert. They brought us the amazing peach pie, featuring the raspberry compote. It seriously didn't last more than 5 minutes as we devoured it.
Visit your local Lazy Dog to try out the new seasonal items, or traditional favorites like the Fried Chicken Dinner.
Southern California Locations:
Brea: 240 S State College Blvd., Brea CA
Cerritos: 278 Los Cerritos Center, Cerritos CA
Downey: 8800 Apollo Way, Downey, CA
Irvine: 13290 Jamboree Rd., Irvine CA
Orange: 1623 W. Katella Ave., Orange CA
Torrance: 3525 West Carson Street, Torrance CA
Huntington Beach/Westminster: 16310 Beach Blvd, Westminster CA
+ Many more California Locations
Connect with Lazy Dog via social Media: Facebook, Instagram, Twitter