*Hosted* It's Spring Break for many schools right now, and perfect timing to catch Bubblefest XXII at The Discovery Cube OC. Hurry in to the Cube to catch bubble artist Deni Yang and his sister, Melody in the Mega Bubblefest Laser Show going on now through April 8, 2018. The world-famous performance artists lead a variety stage show, which combines music, lasers, lighting effects, and bubble artistry to create a spectacular experience for the entire family! Get hands on, inside the Bubble Zone, where you'll have the opportunity to create your very own bubble art with wands, participate in science demonstrations, roll around in water spheres and more.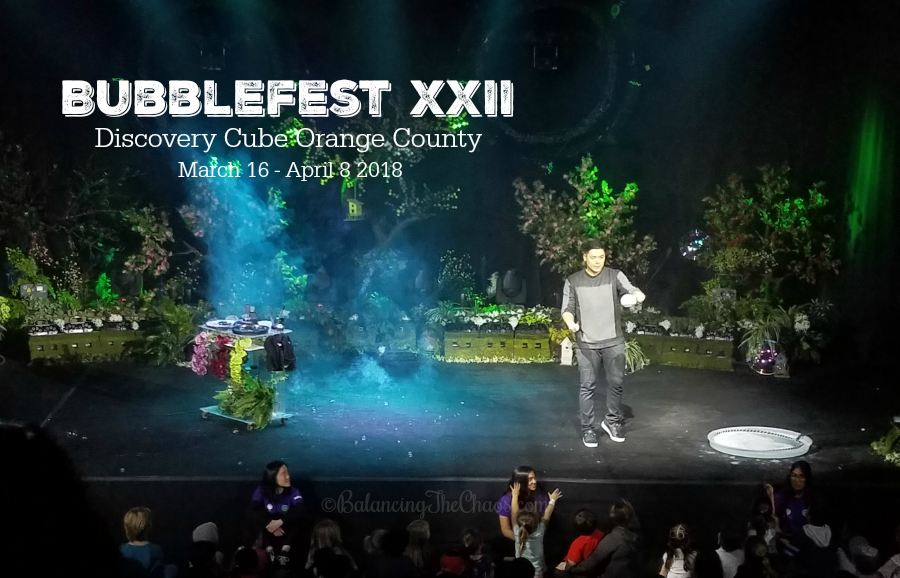 Bubblefest XXII is one of the many reasons we love visiting Discovery Cube OC. This year, Deni introduces his sister, Melody Yang as his co-host during this year's show. My children have grown up with this show, and have seen Deni's father, Deni and now Melody. We love that it has become a family tradition as they share what they love with youngsters around the world.
Deni and Melody tag team with different features of the performance. Deni shows his extraordinary artistry of creating bubbles with smoke, smoke rings and amazing bubble displays while Melody interacts with guests from the audience, teaching them how to create bubbles with their fingers and bubble solution.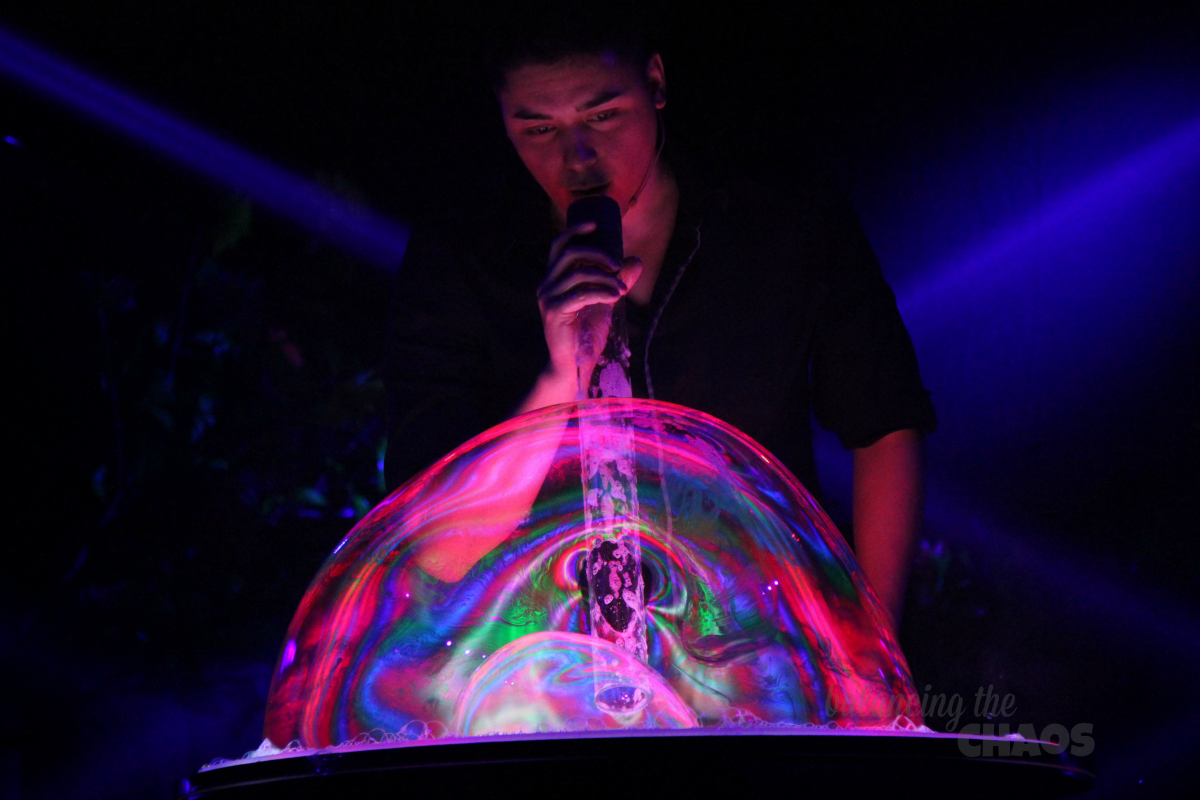 What makes this show a "Must See"? I'm sure you've had a container of bubbles with your little one. And the joy opening a jar of bubbles and watching your youngster run around chasing these fantastic rainbow orbs as they float away is priceless. Imagine the delight in their eyes when they see billions of bubbles in what appears to be snow falling before your eyes.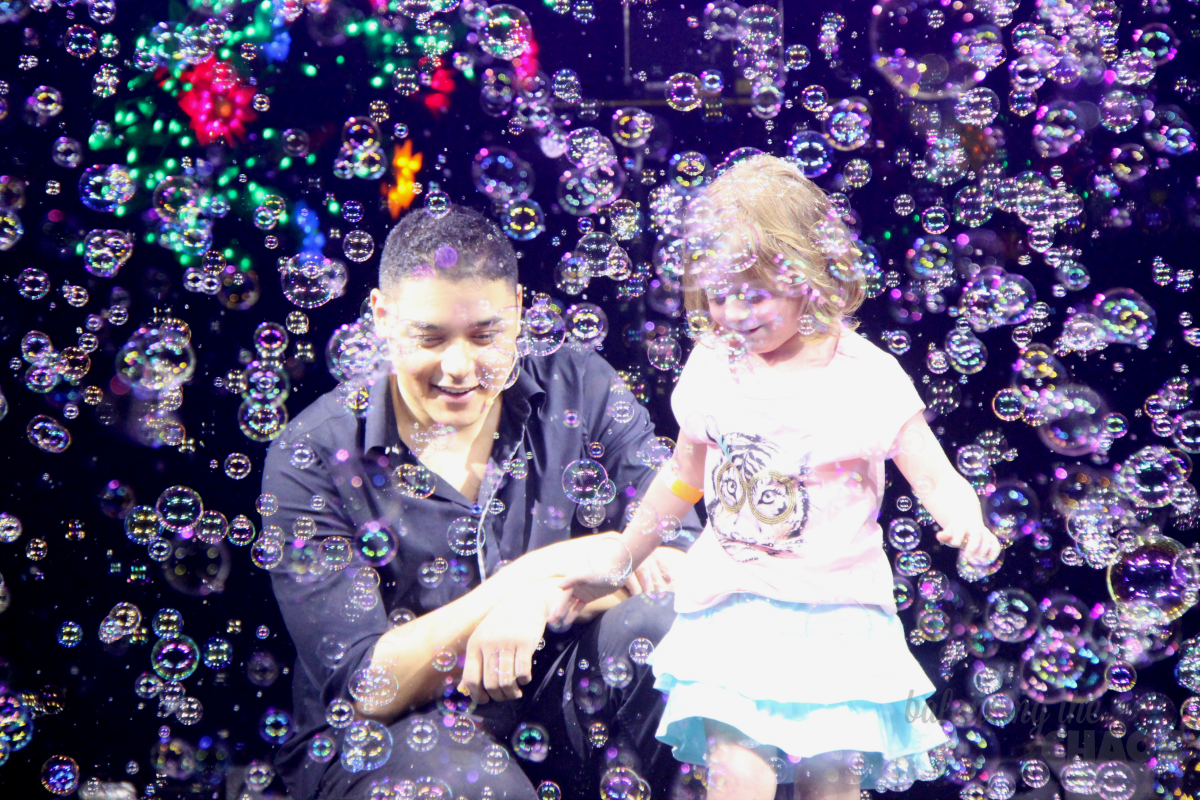 After the show, we wandered downstairs to the Bubblefest Exhibit: "Inside The Bubblezone" located directly below the Julianne Argyros Showcase Theater. One of the most popular features is the Water Spheres where kids of all ages can experience what it would be like to spend time inside a bubble. Check out the fun:
Besides the Water Spheres, families are invited to take photos inside a giant bubble. Always a hit with the youngsters after they see Deni and Melody perform it on stage with audience volunteers. In the Bubble Lab, learn the science and mathematics of bubbles, such as their surface tension, elasticity, air pressure, molecular and geometric properties.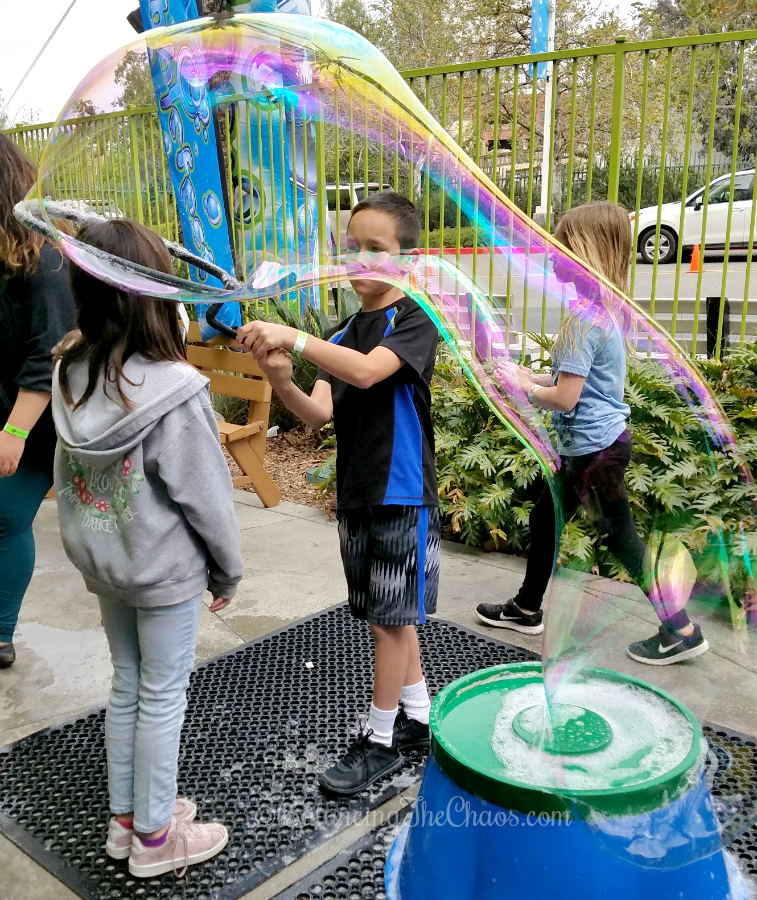 Venture out to the Mega Bubbles Courtyard to experience, first hand, how to make those giant bubbles. Bubble towers are set up with giant round wants that will help you create the giant bubbles seen during the show.
The cost of Bubblefest XXII is $10 for members and $10 for non-members in addition to the general admission to Discovery Cube Orange County and includes:
Mega Bubblefest XXII
Water Spheres
and all in activities
Tips of Bubblefest XXII:
It's busy! The Discovery Science Center is BUSY this week because of Spring Break. Be sure to get there early for parking and picking up tickets if left at Will Call.
Order your tickets on line a head of time. Save time and money by purchasing your tickets and printing them at home.
Be prepared to wait. The lines are long, but the theater holds an amazing number of guests.
Plan to spend about 3 hours at the cube to see everything.
This year you can upgrade your Bubblefest XXII Tickets to the VIP experience for early entry and preferred seating during the Mega Bubblefest Laser Show for just $15 per person ($20 at the door)*
Tickets can be bought online at www.discoverycube.org or on campus at Discovery Cube OC. General admission prices are as follows: adult ($17.95), senior ($14.95), and children 3-14 ($12.95). During Bubblefest, Discovery Cube OC is located at 2500 North Main Street, Santa Ana, California 92705.