Here in Southern California, the weather is changing and it's time to freshen up the kid's closet with adorable Spring Fashion. Naturally it's time to stock up for Spring at The Children's Place.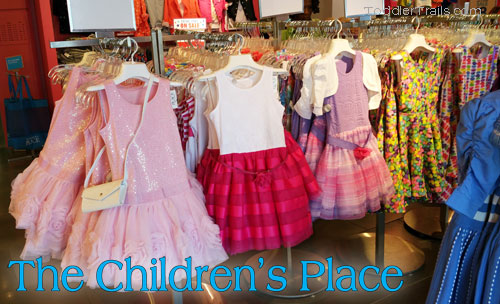 The Children's Place is already stocked up with bright and fun fashions with beautiful girls and baby girls clothing while sporty and classy with the boys clothing. Since I had seen a few emails about what's coming, what's on sale, I decided that last week, I was on a mission. See, I get most of my clothing shopping done without the kids. In all actuality, it is much easier to shop without the kiddos because they seem to want EVERYTHING! You know what I'm talking about, right? My mission: to find the perfect Spring or Easter outfits. 
Typically I start with in the girls section – however I've realized I just get lost and a little overwhelmed as I end up loving just about everything I see. This shopping excursion, I decided to start off in the boys section. My little man requested shorts, t-shirts and maybe something with Hero or Baymax.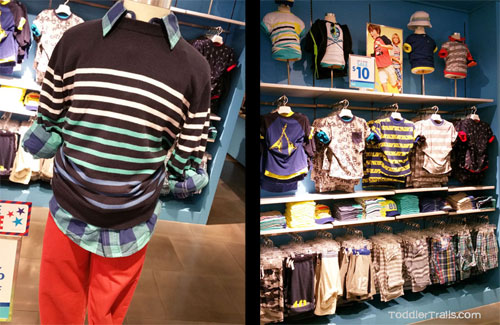 This Spring at The Children's Place, the boys clothes were exactly what my little man was hunting for. They now have a good variety of cotton plaid shorts, cotton and nylon/polyester shorts to choose from. Fun printed t shirts paired with colorful polos are in right now.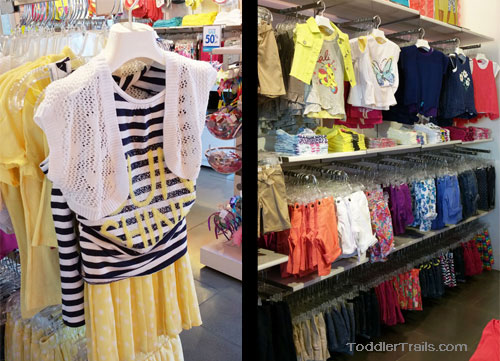 For the girls, Spring at The Children's Place includes bright colors like yellows, oranges and deep pink paired with darker tones like blue or purple are what's hot for Spring. Fun prints like butterflies, flowers and all that glitters will make your princess sparkle. Their selection of dresses has increased quite a bit with a variety of styles and fabrics from cotton, polyester and more.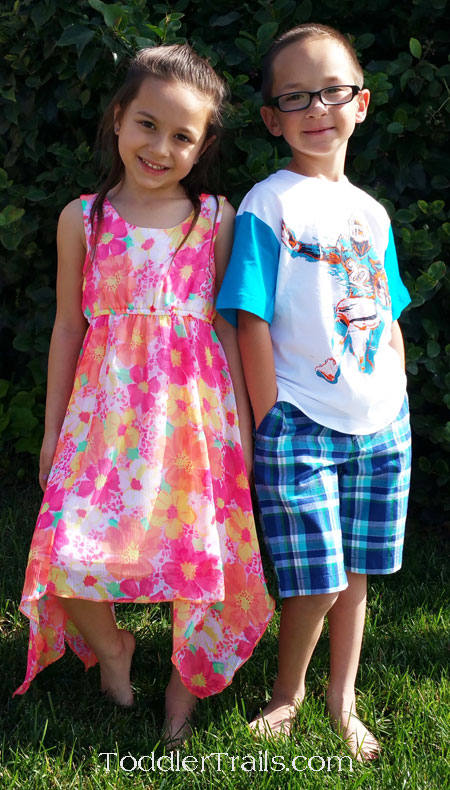 Since the Children's Place has such a big selection of fun clothing options for kids, I did give my daughter a sneak peek, and let her give me a few of her favorite items to look for. You know, at 5 years old, she is already quite opinionated when it comes to her sense of style. Her first pick – the "shark bite dress".  With fabulous bright flowers, and flowy polyester material, this adorable dress is perfect for a twirling ballerina. She squealed with delight when I pulled it out of the bag.
For my handsome boy, I just fell in love with these plaid shorts and had to find a matching t-shirt. A guy who loves football, especially the Broncos in blue and orange, this shirt was a sure winner.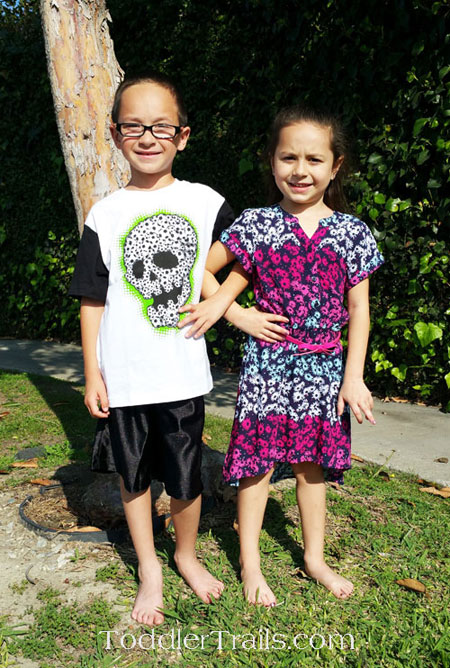 Then I found the absolute perfect shirt for my little man. Soccer – check; skulls – check; matching dry-fit shorts – SOLD. Okay wait, have I not mentioned the two toned t-shirts? How awesome are they with the different colored sleeves? I love them.
And I stumbled upon this adorable dress for my princess with a matching belt, on the clearance rack. Her favorite colors and all – certainly a perfect school or party dress.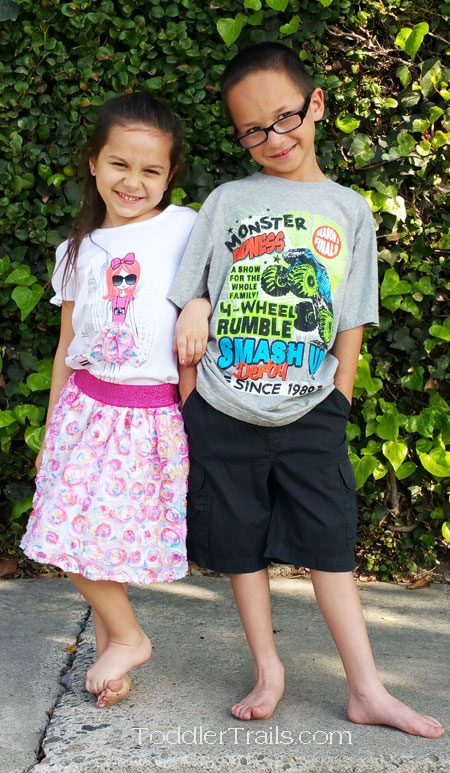 One of my favorite things about The Children's Place is that with their collections, it is easy to mix and match outfits. For the girls, they have skirts, shorts, capris and sweaters that all interchange. The boys collections are awesome that you can dress them up or down depending if you pair a polo with a t-shirt or long sleeves. Even throw on a sweater for a little extra warmth and style.
Then, you can accessorise. From hats, headbands, jewelry, watches, sunglasses and shoes, The Children's Place has it all. Don't forget to visit their website or download their app. They're constantly sending out coupons, so save yourself a buck or two.
I used to love shopping for my own fashion, but as a Mom, shopping for the kids has become my favorite past time, and The Children's Place always carries something my kids HAVE to have. Wouldn't you agree?