This shop has been compensated by Collective Bias, Inc. and its advertiser. All opinions are mine alone. #BOOItForward #CollectiveBias
Halloween is my absolute favorite time of year. I love to start decorating the house, working on costumes and especially getting special treats for friends and family. This year I've decided we need to bring the Halloween fun to school by BOO'ing my kids' teachers, one being pregnant and due Nov 4th, with a quick and easy BOO It Forward Halloween surprise.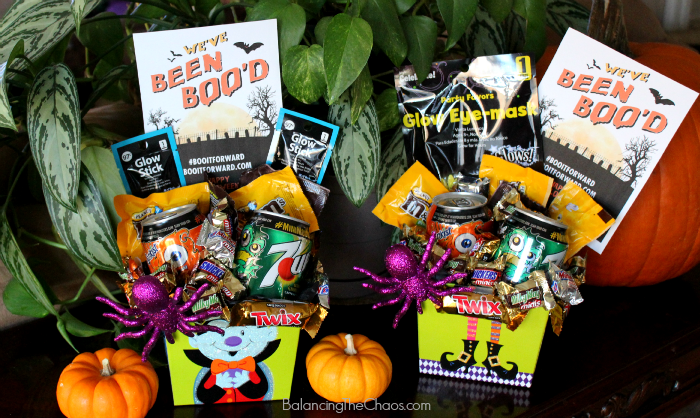 Today I ran to our local Walmart to pick up the necessary items for our "BOO It Forward Kit".Right now they have so many Halloween decorations, costumes and more, I was sure I'd be able to find everything I needed.
One of my kid's teachers happens to be pregnant, and doesn't every pregnant mom-to-be crave chocolate? First stop was the candy section to find our favorite Mars candy bars. I prefer the bite size because you can spread out your sweet treats over time with a little here and there.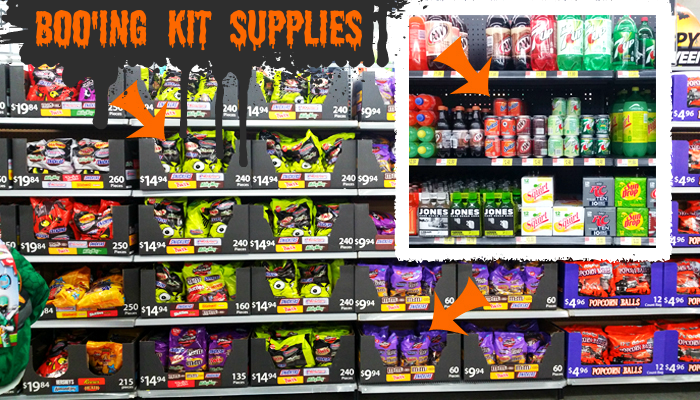 While in the classroom, our teachers need a little something to quench their thirst and 7UP® and Sunkist® offer these adorable 6oz Halloween Cans in a 6 pack found in the soft drink section of Walmart.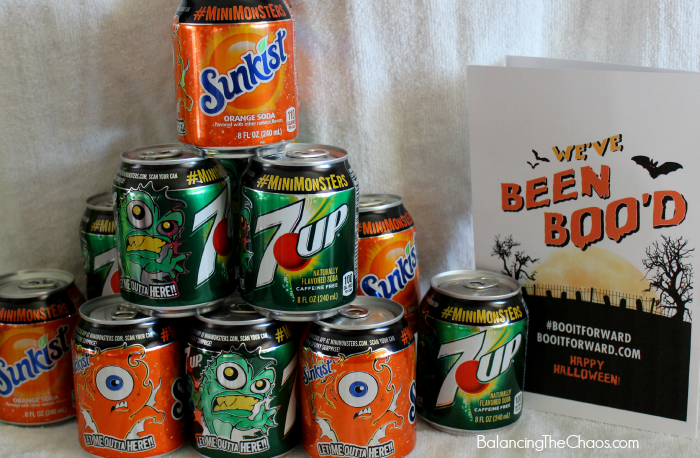 Once I had assembled my essential items, it was time to get to work. I printed out this FREE BOO It Forward Card and Sign and quickly gathered my items and started organizing.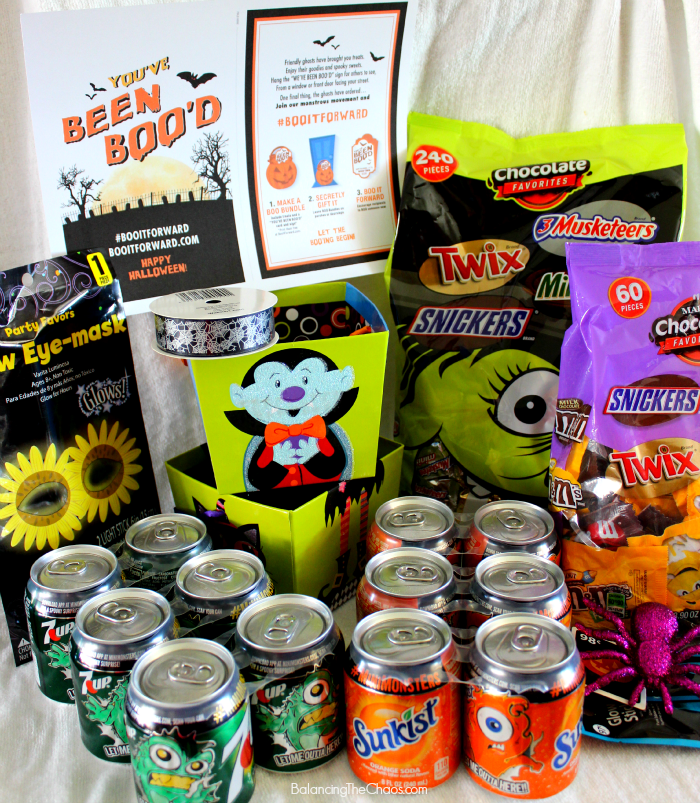 I started with the container. Walmart currently has several different options to choose from like pumpkin buckets, giant bowls,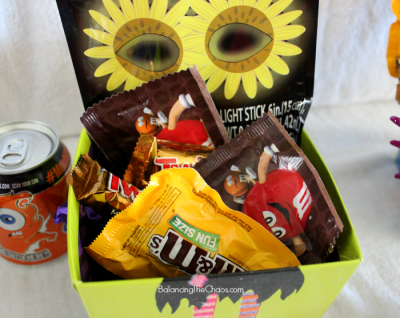 boxes, bags and more. I decided Halloween themed basket boxes would be the perfect container for our BOO It Forward Halloween surprise. Next, the container was a little deep for the 6 oz. Halloween soda cans, so I loaded M&M's®, SNICKERS®, TWIX®, MILKY WAY®, and 3 MUSKETEERS® into the bottom of the container wrapped in black tissue paper.
I taped the You've been BOO'd sign to a chop stick, then taped the chopstick into the box so it would stay still, then added in the accessories like glow sticks, glow glasses and decorative spiders. 
I took a 7UP® and Sunkist® can and gently placed it on top of the candy wrapped in black tissue paper so it wouldn't smash the candy. Finally, I added extra pieces of candy to the top, some I added a piece of tape in order to hold in place.
The final step – secretly deliver your BOO It Forward Halloween surprise to your unsuspecting recipient. I mentioned earlier, our intended targets are our school teachers. We're planning a surprise baby shower for my son's teacher, the one that is pregnant, so I'm thinking I'm going to either make her delivery sometime that day. I've decided to a little note, letting her know how much we are going to miss her while she is away on maternity leave. My daughter's teacher, I'll more than likely deliver hers the same day, just because. I'd like to see if they also "BOO It Forward" with the rest of the staff.
SAVE NOW! Save $1.00 on TWO (2) 2L or 6pk 8oz cans of any flavor Sunkist® Soda, 7UP®, Canada Dry®, A&W®, Squirt®, or Sun Drop with this COUPON
Quick Recap of the perfect BOO It Forward Halloween Surprise:
Pick up necessary items at your local retailer

Print out the "We've been BOO'd" Sign and Greeting Card

Fold the "You've been BOO'd" greeting card (page 2) and tape or glue openings together.

Cut sign out and attach to stick, dowel or chopstick and tape in container.

Start placing items into your container and arrange for the perfect look

Secretly deliver your BOO It Forward package. Don't forget to include the card and sign when gifting BOO bundles.
For even more Halloween fun!! Enter to win a $1000 Walmart Gift Card!!
Jump on the boo-mobile! Be sure to check out other great BOO It Forward Halloween Surprise ideas. I'd love to hear about who you are BOO'ing this year to celebrate Halloween!