Every chance we get, I love showing my darling ballerina in training, the world of dance. This weekend we were invited to the kick off of the Festival Ballet Theatre's 2015-2016 season with Le Corsaire Suite and Mixed Repertoire at Irvine Barclay Theatre.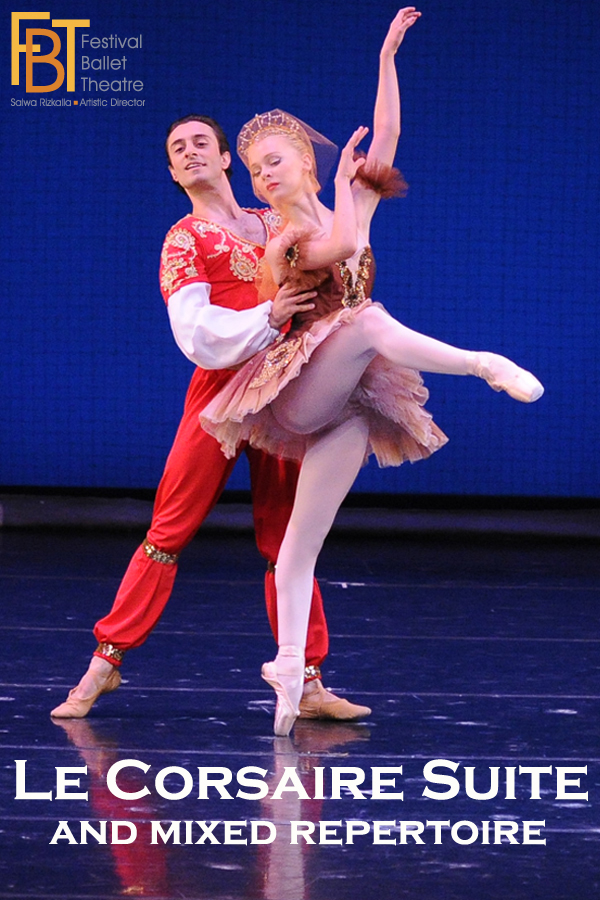 This Saturday and Sunday,Le Corsaire Suite features the best-loved dances from this exciting ballet and stars Vitor Luiz, San Francisco Ballet Principal, as Conrad.
Le Corsaire is the story of Conrad, a pirate, who travels across the high seas to save a young Greek girl he loves, Medora who was sold as a slave. While on his quest, he was captured and sentenced to death. To save Conrad's life, Medora agrees to marry another. But during the ceremony, the slave girl, Gulnare, takes Medora's place. That evening, Conrad tries to rescue Medora and take her away; while Gulnare proves she is Pasha's lawful wife. Medora and Conrad eventually make it to their ship, but wind up caught up in a terrible storm that sinks their ship. However, the two lovers survive, washing up together on a rocky island.
The performance will also include a special mixed collection of dances featuring a variation from Bournonville, set by Monique Meunier, former principal dancer of New York City Ballet and former soloist of American Ballet Theatre; Balanchine's Concerto Barocco, set by Nilas Martins, former principal dancer of New York City Ballet; and Pas d'Action from Laurencia, set by Yuri Fateyev, acting director of the Mariinsky Ballet Company. A world-premiere contemporary piece by Andrea Schermoly completes the evening's mixed repertoire.
Below is a preview of the piece by Andrea Schermoly that will be featured in the show.
Le Corsaire Suite and Mixed Repertoire
Saturday, October 10 at 7pm; Sunday, October 11 at 2pm
Tickets: $40 Adults; $35 Senior (65+) and Children (12 and under)
Irvine Barclay Theatre
4242 Campus Drive
Irvine CA 92612
949-854-4646
About the performance:
The first act has four shorter pieces – a variety of classical ballet works including Laurencia (1939), Concerto Barocco (1941), Paul et Virginie (1830), and the world premiere of a contemporary ballet, Andrea Schermoly's Timelapse, that highlights the athleticism and musicality of the dancers. Le Corsaire (1856) will be the grand finale – it features pirates, harem dancers, and a beautiful floral garden scene.
Pre-Show Activities:
One hour before each show, guest are invited to participate in the following FREE activities:
– Sweet Treats
– Pirate & Princess paper dolls
– AND a Meet and greet with the costumed dancer cast after the show
Festival Ballet Theatre:
Founded in 1988 by Salwa Rizkalla, Festival Ballet Theatre (FBT) is a 501(c)(3) nonprofit organization whose mission is to present works that epitomize the artistry of professional ballet, offering cultural awareness of dance through educational programs, and nurturing a creative environment for choreographers and some of Orange County's most talented dancers. For more information, visit www.festivalballet.org.
Photo courtesy of Festival Ballet Theatre