Southern California McDonald's locations have taken on a new look. Over 80% of Orange County McDonald's restaurants have recently undergone modernization, which included menu innovations, table service, sourcing and sustainability upgrades and a complete make over. The result, a modern look with an elevated guest experience. Many of these changes were pioneered right here in Southern California, suggested by customers.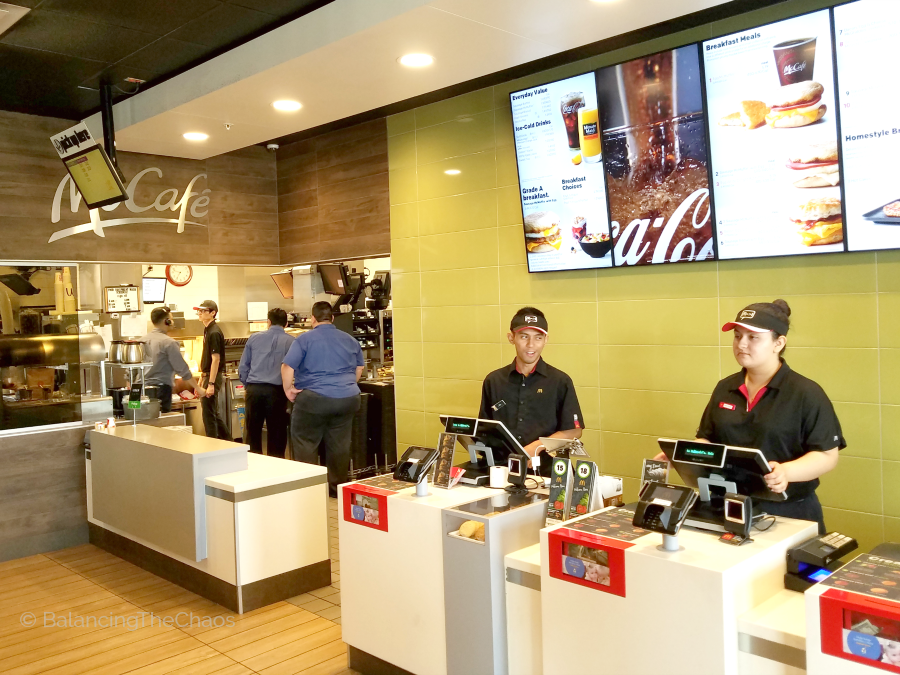 We were recently invited to check out a local Southern California McDonald's location in Buena Park, CA. I have to tell you, this restaurant is beautiful. We started off touring the drive up area. Did you know that several if the locations have upgraded to a two lane ordering menu with all new kiosks?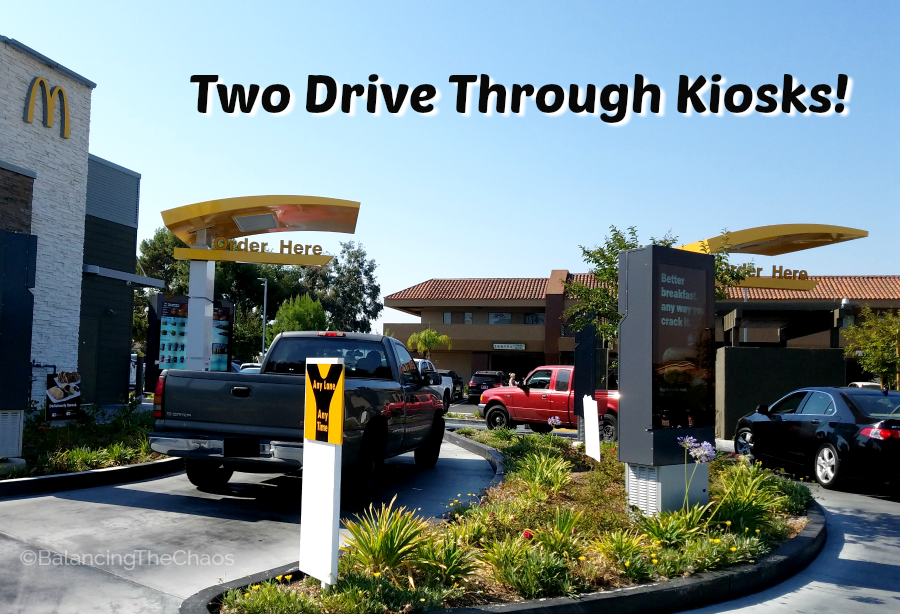 By having two drive through kiosks, you're sure to get through the drive through in half the time the same amount of vehicles in front of you. With the use of video cameras and repeating the order back to you, the staff behind the windows are able to make sure you receive your correct order.
We wandered inside the Buena Park location, which is beautiful. They have two of the self ordering kiosks right in front. If the lines are long, take ordering into your own hands with the self serve kiosks. And if you haven't already done so, download the McDonald's app, which shares special offers, coupons and the latest promotions. During this visit, we finally had a chance to walk through the process with an associate, and discovered you can use your mobile app in conjunction with the stand along kiosks to apply coupons. etc. Now that's convenient!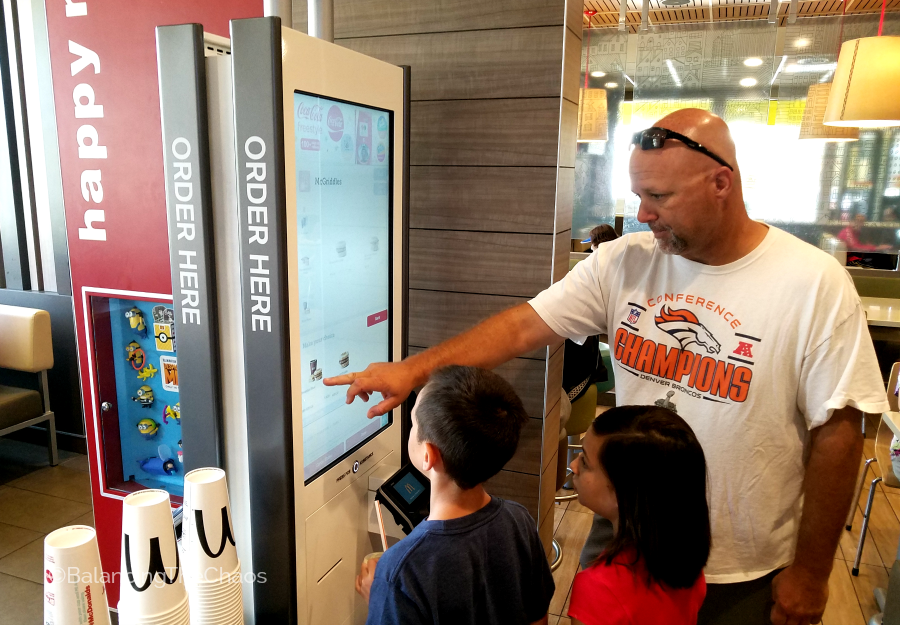 While we were at the Southern California McDonald's in Buena Park, we were also given a "behind the scenes" tour of the kitchen. The kids really got a kick out of standing behind the counter, making their own drinks, seeing first hand, the drive through process, how they assemble the food once the orders are taken, the preparation counters, and how they make the fresh eggs for the Egg McMuffin. Check out the video below:

While we were in the lobby, we were directed to a little table off to the side. Did you know coffee grounds are amazing for your garden? McDonald's packages up their used coffee grounds and places them out for customers to pick up and utilize in their gardens – their coffee grounds recycling program. Apparently, the customers at the Buena Park location even bring in 5 gallon buckets for reusable grounds. An awesome program, we even picked up a few packages to add to our garden at home.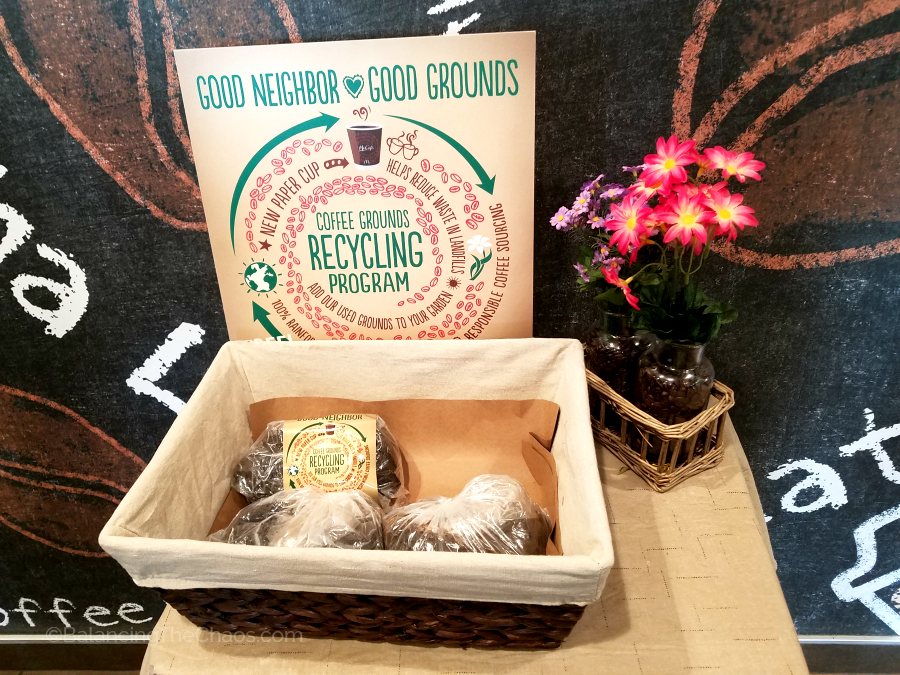 The tour also included a walk through the refrigerator and freezer, which had my kiddos cracking up because they were so cold. In the refrigerator, we saw fresh items prepared that morning for purchase: breakfast burritos, salads and the yogurt parfait now made with Chobani yogurt.
Other changes to the McDonald's menu include:
McNuggets – McDonald's removed artificial preservatives from McNuggets, committing to cage-free eggs by 2025 in the US and Canada, only serving chicken make from chickens not treated with antibiotics.
Soft Serve – Soft serve made with no artificial flavors, colors or preservatives (great news for the McCafe Shakes and McFlurry desserts as well since it is an added ingredient).
Milkshakes – Chocolate, strawberry and vanilla shakes made without high fructose corn syrup and contain whipped topping made from no artificial flavors, colors or preservatives.
Premium salad blends are available as healthy options
Real Butter – Real butter used on English Muffins, bagels and biscuits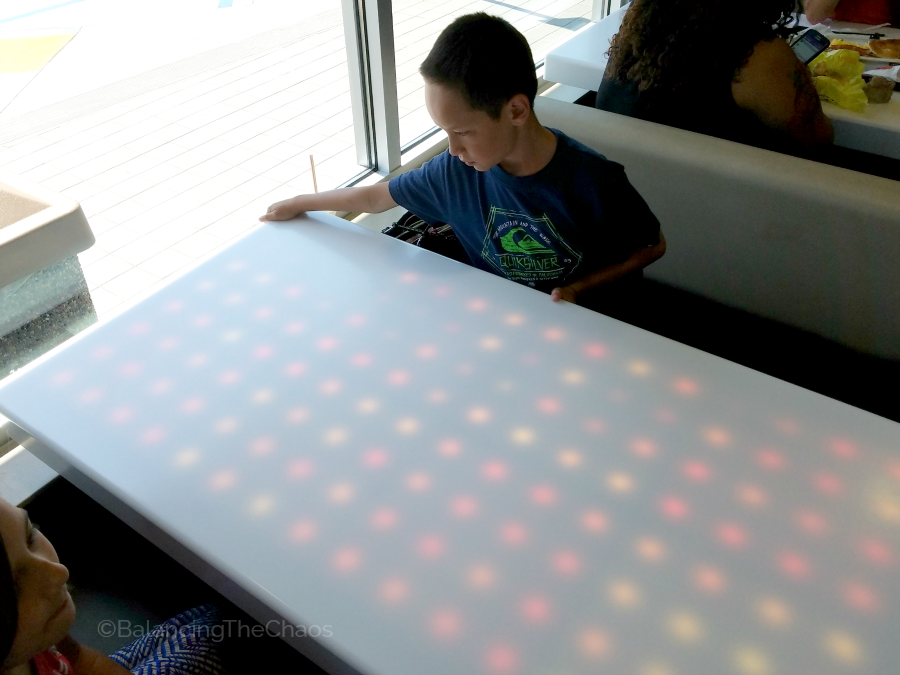 We decided to eat our selections in the back of the Buena Park McDonalds because we were told they had a couple of special booths, just for kids. They were electric touch screen tables that had colored dots. Once kids touched a dot, it changed colors. We had so much fun changing the dots and making designs. Once the kids were done eating, they quickly ran to the indoor playground. We discovered that the playground is actually cleaned every night. Staff members go through with cleaners and rags and wipe it down. Additionally, a cleaning crew is hired to clean and sanitize the play structure.
Now each McDonalds' location has their own upgrades and new features. Once you visit your local McDonald's, come back and share what you loved about it.