Did you know that today is National Bacon Day? People are celebrating all across the states. And Slater's 50/50 is doing it in style with a complimentary bacon flight and 1/2 off their 50/50 Bacon Burger. If are a burger connoisseur and haven't been to Slater's 50/50, you are missing out. As they put it, it is "Excesstasy™". Imagine, a burger patty with 50% bacon and 50% ground beef. Combine that with a crazy number of optional toppings to create your perfect burger by design.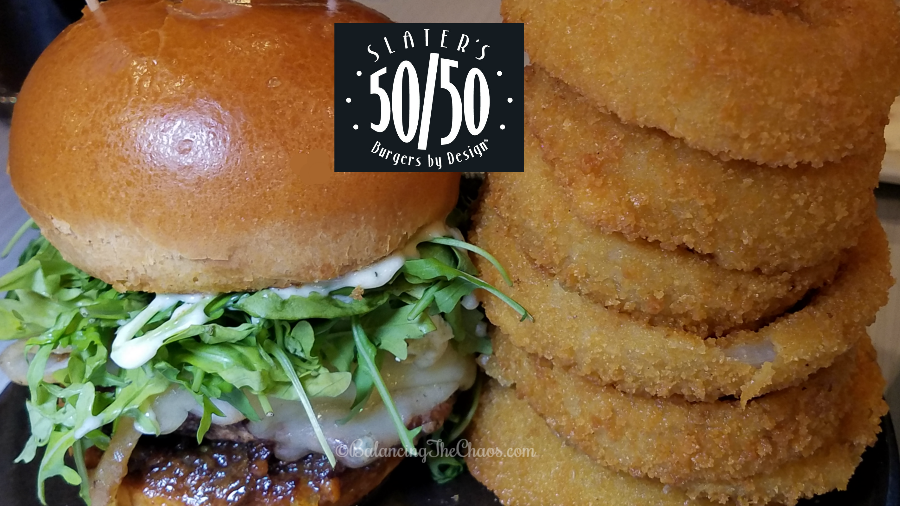 Last night we visited our local Slater's 50/50, the original location in Anaheim Hills. Upon arrival, we met Paul and Leon of the marketing and management team, who took us on a culinary adventure with various tastes and traditional flavors of Slater's 50/50, and where they are headed in 2018. We started with one of their new flatbreads and their infamous vampire dip.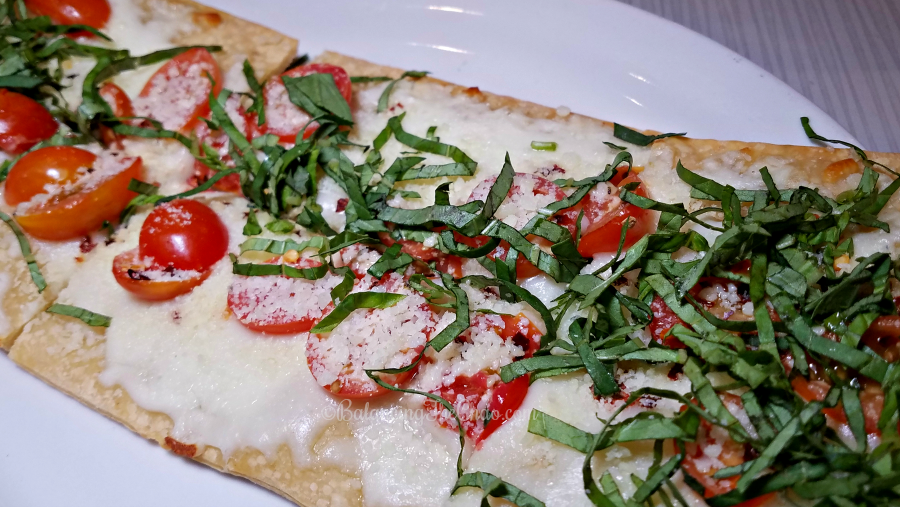 New to their menu, the flatbread is a great starter. With three different options, we chose this delicious flatbread loaded with cheese, tomatoes and basil. And my ultimate favorite, the Vampire Dip was devoured in seconds. A blend of three cheeses, fresh roasted garlic and a mix of sides from veggies to sourdough bread, you can't go wrong.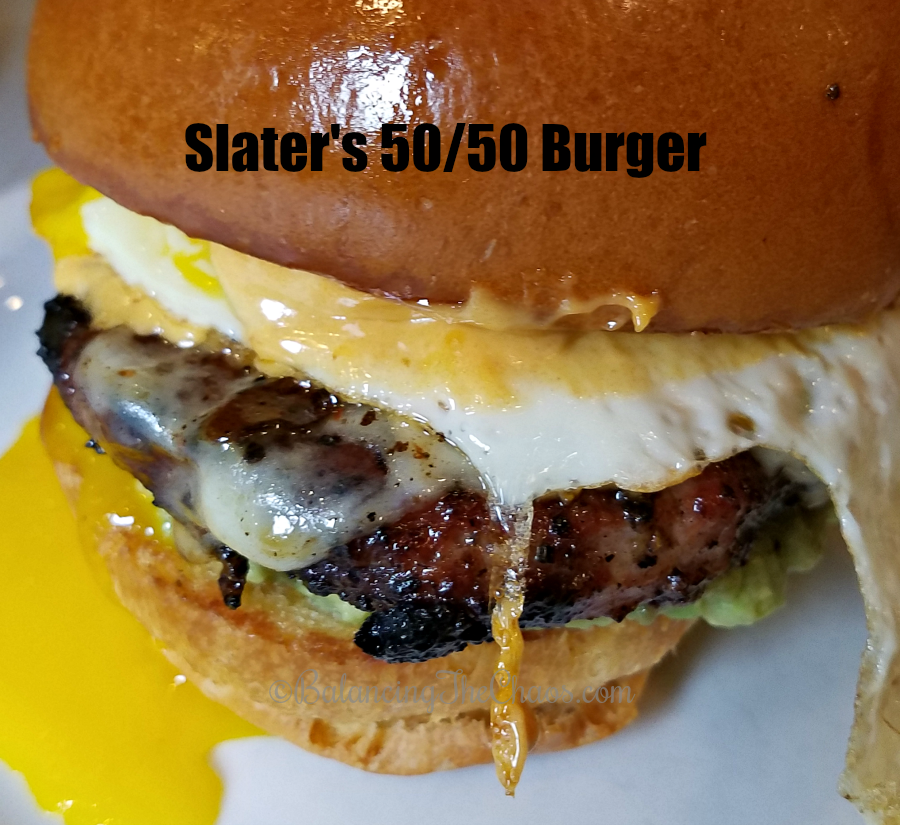 Now I LOVE a great hamburger, however I didn't think I would add many of the toppings suggested by Slater's 50/50, until yesterday. I sampled the original Slater's 50/50 burger with a fried egg and garlic mash and I was in awe! That burger was so amazing, I went back for more. Then, my husband and daughter both tried the Peanut Butter and Jellousy burger, WITH vanilla ice cream, and were speechless.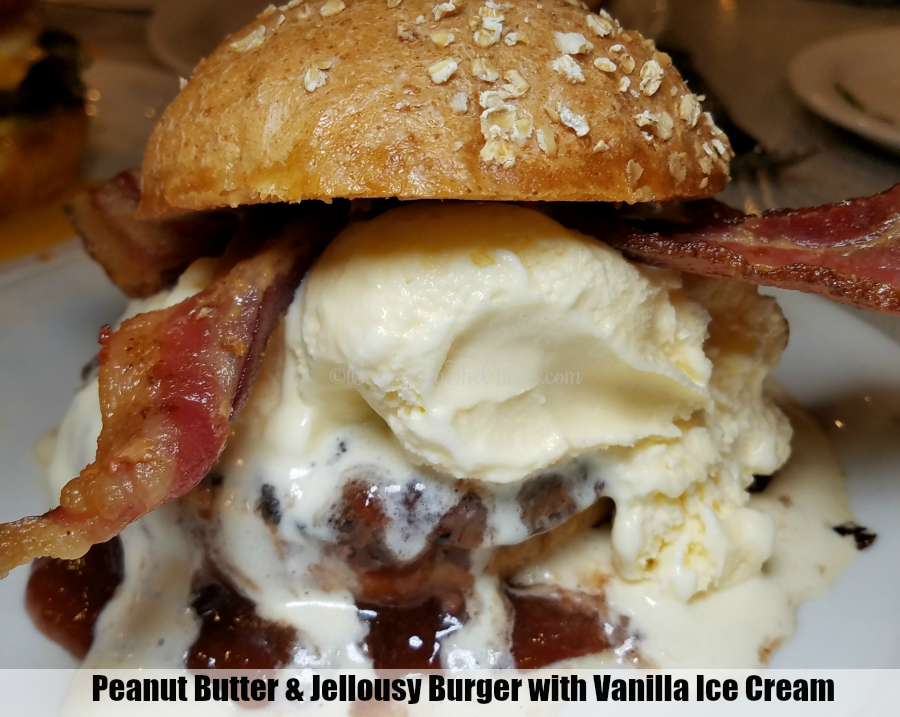 Who doesn't love a burger? Well, there are those out there that aren't too fond of burgers, but Slater's 50/50 has you covered. With designer Furters, sandwiches a mix of appetizers and sides, there are a lot to choose from. And, there will be additional specialty items that will be added to the menu in 2018, so be sure to check back in a month with their new features.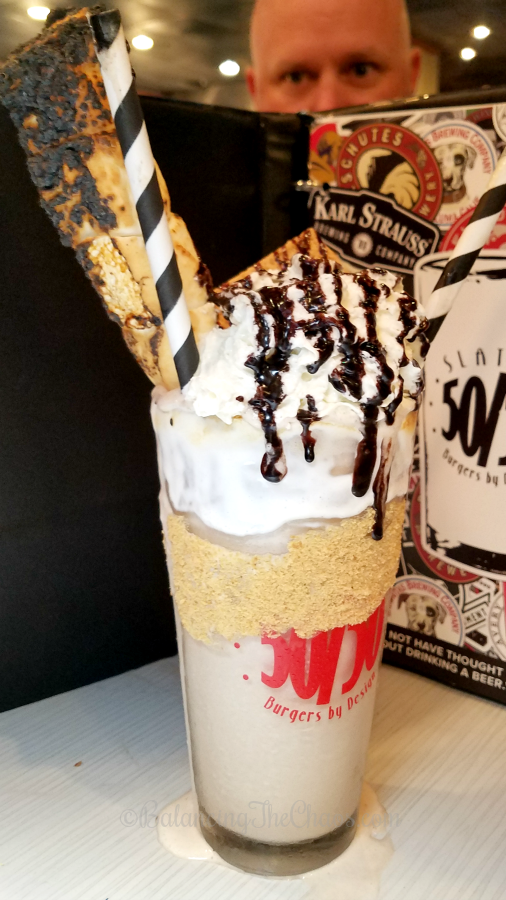 To finish off the evening, we shared a S'more Shake. A delicious chocolate shake adorned with a skewer full of roasted marshmallows and a giant s'more that the kiddos fought over. It was quite tasty, and a sneak peek as to what is to come. There will be more delicious specialty shakes added to the menu come 2018.
Each month, Slater's 50/50 offers a specialty burger, the "Burger of the Month". For December, we had the opportunity to sample The Steakhouse Burger with a 100% black canyon angus beef patty smothered with melted Swiss cheese, sprinkled with blue cheese crumbles, baby arugula, caramelized onions and a bacon jalapeno jam. Piled as high as can be, it is accompanied by a stack of perfectly fried onion rings.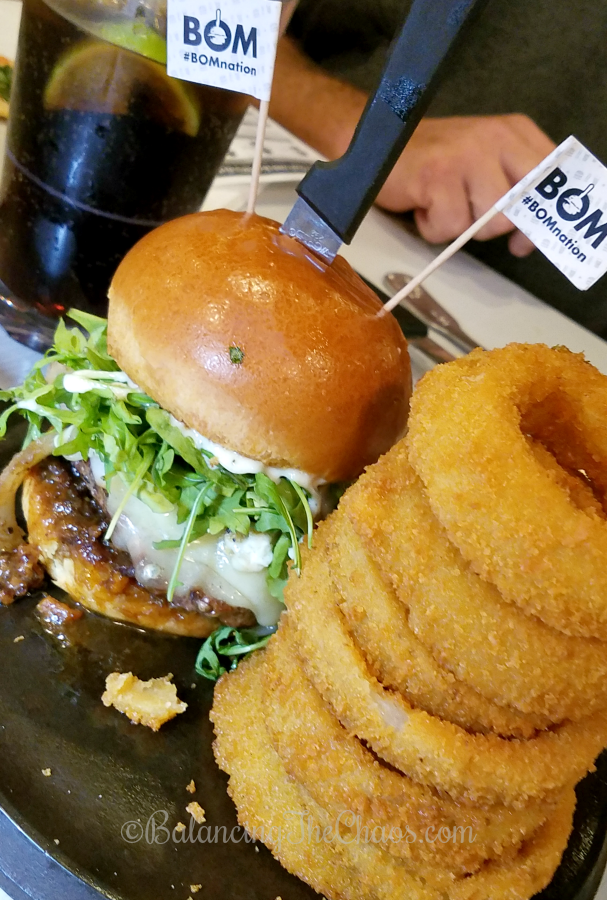 Slater's 50/50 recently introduced their mobile app. Download it and sign up today to receive a free appetizer and get a free burger on your birthday and stay in the know of current promotions and new locations.
Current Southern California locations include:
Anaheim Hills: 6362 E Santa Ana Canyon Rd, Anaheim Hills, CA 92807
Huntington Beach: 8082 Adams Ave. Huntington Beach, CA 92646
Pasadena: 61 North Raymond Ave., Pasadena, CA 91103
Rancho Cucamonga: 8009 Day Creek Blvd. Rancho Cucamonga, CA 91739
San Diego: 2750 Dewey Road #193 San Diego, CA 92106
San Marcos: 110 Knoll Road, San Marcos, CA 92609