If you have a youngster who loves to dance, why not enroll them in a summer dance program? Segerstrom Center for the Arts is offering its first summer dance program: From Broadway to Ballet. Classes will be June 26 – July 7 and July 24 – August 18 for students ages 3 – 18 and will include four separate dance programs. It is a new program that will explore a range of dance styles in a fun environment. And no auditions and no prior dance experience are necessary.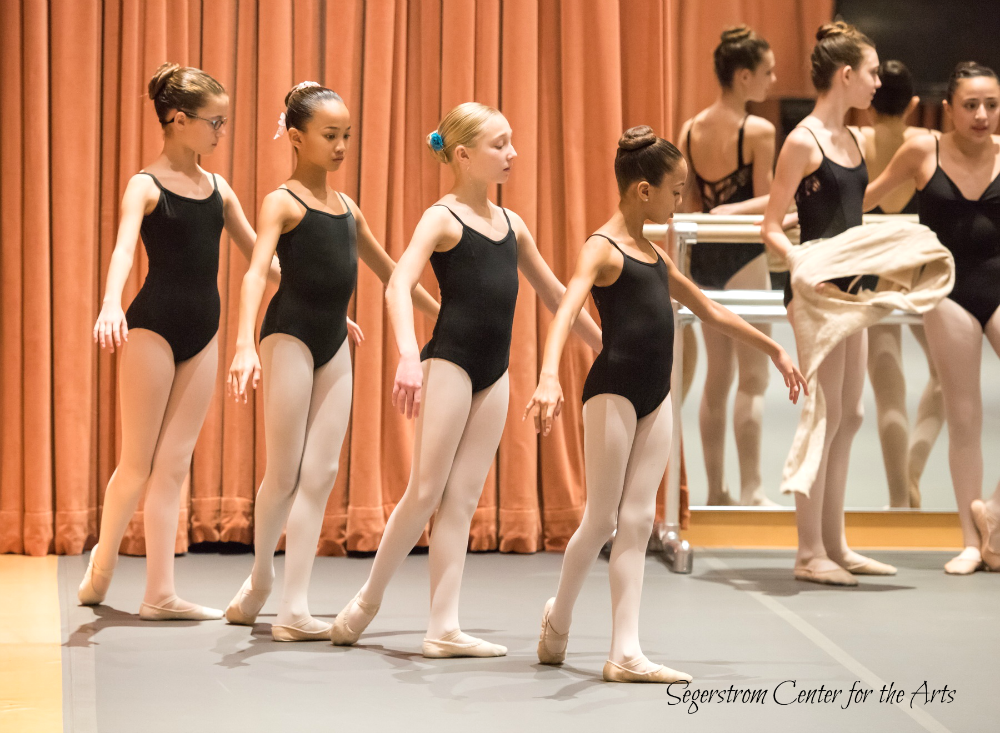 Young dancers from 3 to 18 can discover ballet and Broadway-style movement and more. There is a wide range of classes for beginners to advanced students plus special technique and conditioning classes. And the Center's School of Dance and Music for Children with Disabilities is also offering summer classes. This program can be the most fun and creative way to enjoy your summer with others who love music and dance."
DANCE CAMP –  Ages 8 – 18
Dance Camp is an ideal summertime opportunity for students to learn a variety of dance styles along with important conditioning exercises. These are full-day camps from 9 a.m. to 3 p.m. for young dancers ages 8 through 18. Each day begins with body conditioning, including yoga for dancers, Pilates, floor barre, stretch classes and gyrotonics. Afternoon dance classes include ballet, jazz, modern and other popular styles. The series includes some classes from the Ballet Camp and Open Classes. There is a two-week minimum for enrollment, but the weeks do not have to be consecutive. Tuition for two-week programs begins at $300. Lunch is not included.
BALLET CAMP –  Ages 3 – 18
The Center's first Ballet Camp is for students who wish to focus entirely on ballet. There are seven sections, and students will be placed in classes based on age and previous dance experience. Classes include intermediate and advanced pointe for dancers ages 11 – 18 and feature live accompaniment. Two-week tuition begins at $65.
DANCE & MUSIC CLASSES FOR CHILDREN WITH DISABILITIES –  Ages 4 – 12
The Center's School of Dance and Music for Children with Disabilities is also offering a summer schedule. Classes are inclusive and designed for children with disabilities such as Down syndrome, cerebral palsy, autism spectrum disorders, audio and visual impairments and other complex needs, but are open to all. Classes help children to explore their full physical and social potential through dance, movement, music and creativity. They will have fun while exercising and improving balance, coordination and confidence through personal and social growth. Four-week tuition is $80.
OPEN CLASSES –  Ages 8 – 18
For summer-on-the-run, the Center's Open Classes dance program is ideal. Dancers may "drop in" for classes as their schedules allow. The classes help dancers to stay in shape and to expand their range of experience. They will include ballet, musical theater-Broadway style, jazz, modern, pilates, yoga, world dance and others. There is a one-time registration fee of $75 plus $20 per class. Dancers save if they pre-pay for multiple classes.
Segerstrom Center's Summer Dance is a new program of the Center for Dance and Innovation. The CDI supports the Center's flagship artistic dance program, the annual International Dance Series, as well as a wide range of initiatives and programs that celebrate innovation, nurture creativity and engage audiences of the future. In addition to programs such as Summer Dance: From Broadway to Ballet, the CDI is home to the Judy Morr Theater, American Ballet Theatre William J. Gillespie School, the School of Dance and Music for Children with Disabilities, social media-based engagement initiatives and much, much more.
The summer dance program at Segerstrom Center for the arts are for young dancers of all abilities and experience. The principal dancers representing many of the nation's leading companies from Broadway and Hollywood will be teaching the summer series, which is a six-week program. Students must enroll for a minimum of two weeks, but to help make summer planning easier, weeks do not have to be consecutive. Space is limited for some classes and will be filled on a first-come, first-served basis. For complete information and registration, visit www.SCFTA.org/SummerDance, e-mail [email protected] or call (714) 556-2122 ext. 4104.