The Santa Ana Zoo kicks off winter with a family fun event, "Snow Days with the Critters" the weekend of Saturday, December 15 and Sunday, December 16 from 11 AM – 2 PM. "Snow Days" is an annual all-Zoo event where you can see the animals receive icy treats and snow enrichment, listen to festive music. Guests will also have the opportunity to enjoy the winter decorations, discover how animals adapt to surviving in freezing environments, create cool crafts, and listen to delightful winter stories. There will even be a special area set aside for children of all ages to play in "snow." Snow enrichment for the animals is being generously provided by Kona Ice, and they will also have their delicious and colorful shaved ice for purchase at the Zoo!

Snow Days with the Critters are engaging, high-energy days created to bring together family and friends to learn more about animals and support the Zoo's ongoing conservation efforts," says David Exline, FOSAZ Board President. "Add to the mix our Zoofari Express Train ride, the Conservation Carrousel, Fifty Monkey Ferris Wheel, our popular playgrounds next to the new Bean Sprouts Café and our picnic tables, and you've got the makings for a great day!"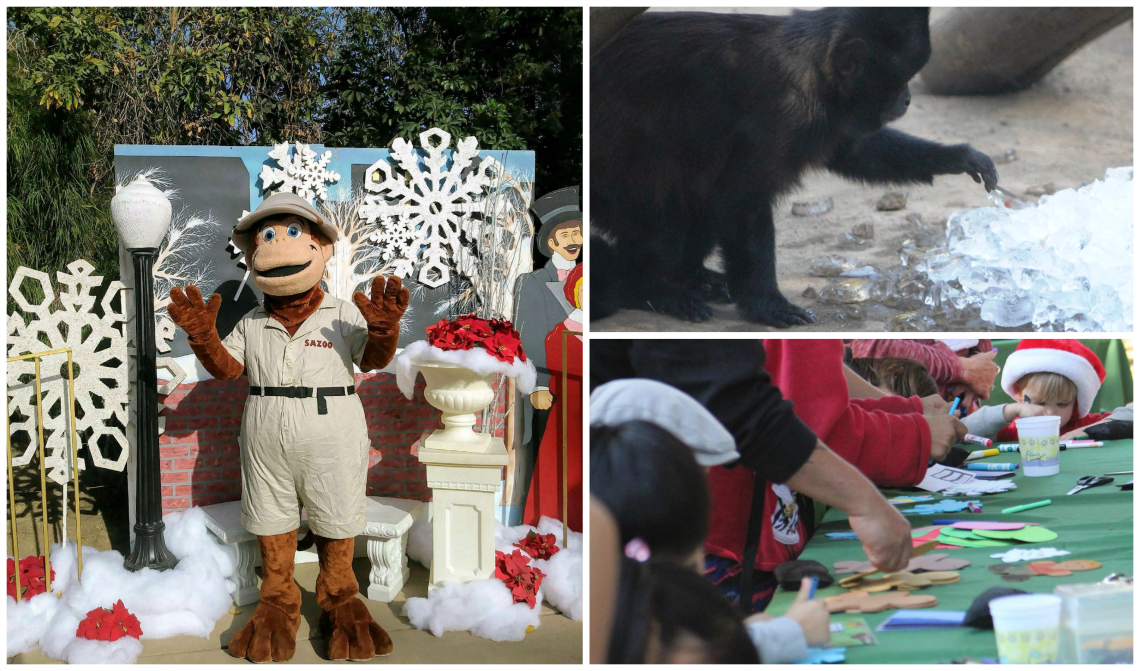 As an added treat, guests will enjoy decorations with a frosty theme and falling snow as they enter the gate. Beautiful, original hand-crafted adornments are perfect for pictures and depict many holiday favorites including Santa's Workshop, Sweet Shop and Post Office cut outs of 3-dimensional wood, all individually designed and painted by Friends of Santa Ana Zoo (FOSAZ) Board Member Rip Ribble.
The Zoo is open daily from 10:00 am – 4:00 pm. The event is included with the price of admission and is FREE for children 2 and under, as well as for members of the Zoo. On Sunday, December 16, Santa Ana residents can visit the Zoo and enjoy this event for FREE! Proof of residency is required. For more information call 714-836-4000 or visit our website at: www.santaanazoo.org.
About the Santa Ana Zoo:
Designated as the "Home of the 50 Monkeys," the Santa Ana Zoo is home to more than 260 animals, including giant anteaters, ocelots, several farm favorites and 60 of the most interesting and engaging primates, including the endangered golden lion tamarins.