*HOSTED: We were invited in to sample Island's Pineapple Pairings Menu. All opinions are my own.
Spring is here and the weather is getting warm so we're on the move with activities daily. In Southern California, when I need a taste of Hawaii, I take the family to Islands – one of our favorite local restaurants. Right now they're celebrating pineapple season, featuring a special pineapple pairing menu available now from April 1st through May 31st.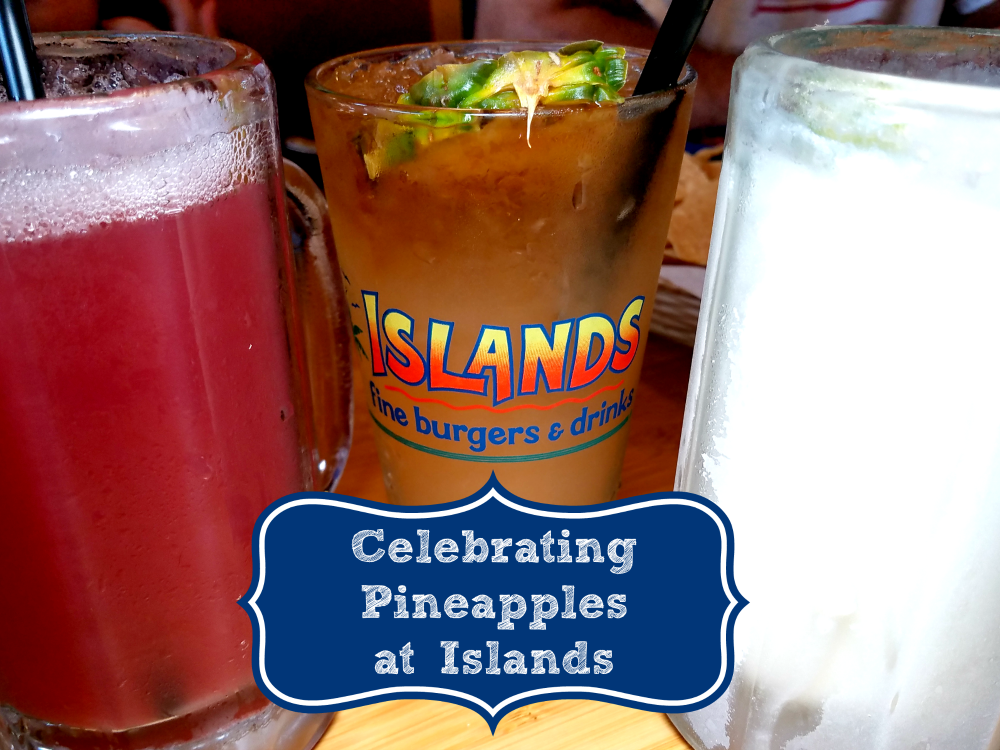 A fixture on the Islands Burgers menu, the company uses 182,000 pineapples per year across its 55 locations. That's an average of almost 3,500 pineapples per week  – and we're talking fresh pineapple, never frozen.  Last week we were invited to in to sample Island's Pineapple Pairings Menu and check out their new Moa Mauna Loa Crisp & Moa Kaneohe Crisp. A LOVER of pineapple, I was in heaven!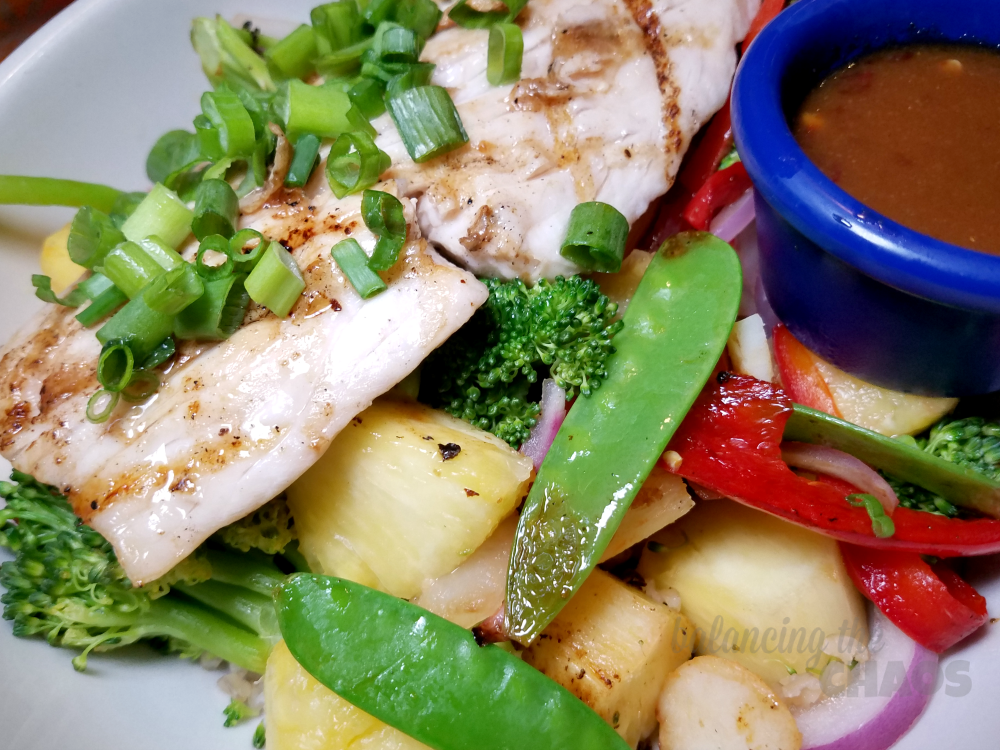 To be honest, Island's is one of my absolute favorite restaurants. Growing up in Fountain Valley, my dad and I have a soft spot for that location, and both of us have our "go to" menu items we select EVERY time. However, since we were invited in to try all pineapple menu items, I decided to try the Hoisin Bowl with Mahi Mahi paired with the Mai Tai. Since we have been eating out so much, this healthier option comes on a bed of brown rice with flavorful vegetables, including the ever sweet pineapple and deliciously grilled Mahi Mahi. For additional flavor, you have two options – the teriyaki sauce or the hoisin sauce – both just as tasty, so I'd recommend either. This dish was quite bountiful, you could even split it or take half home for later. And their Mai Tai – amazing.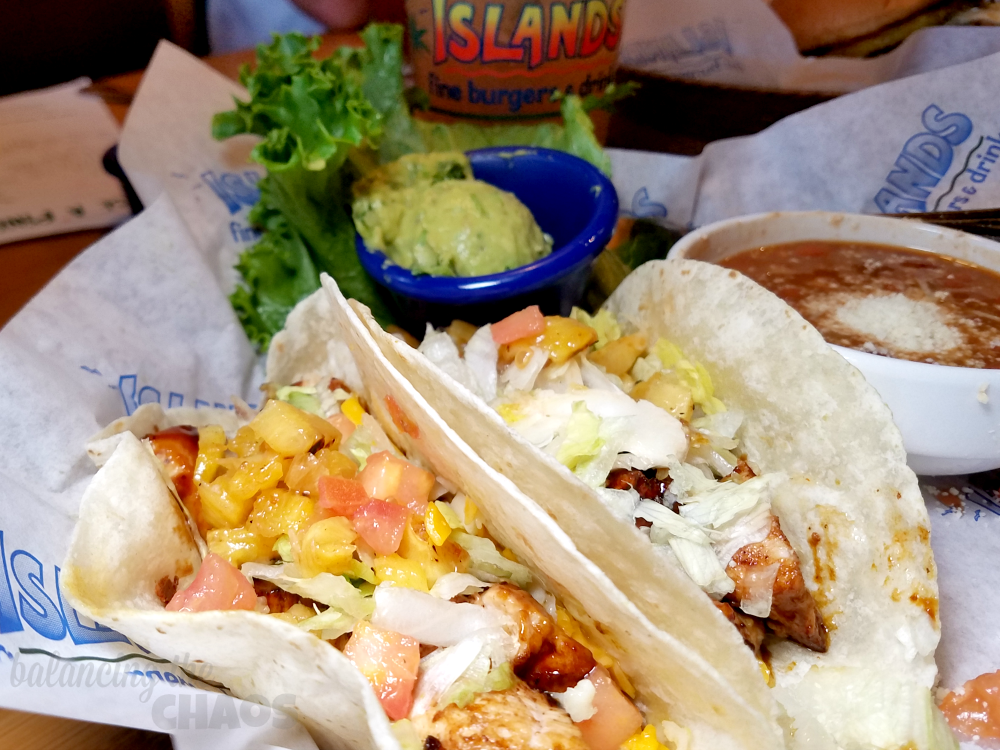 The Yaki Tacos paired with a Pina Colada is another favorite on the menu. Delicious chunks of marinated chicken with tomato, lettuce, teriyaki sauce and topped with bitty pineapple chunks. With all the other dishes we sampled, this was perfect that my hubby and I shared the two tacos – yum!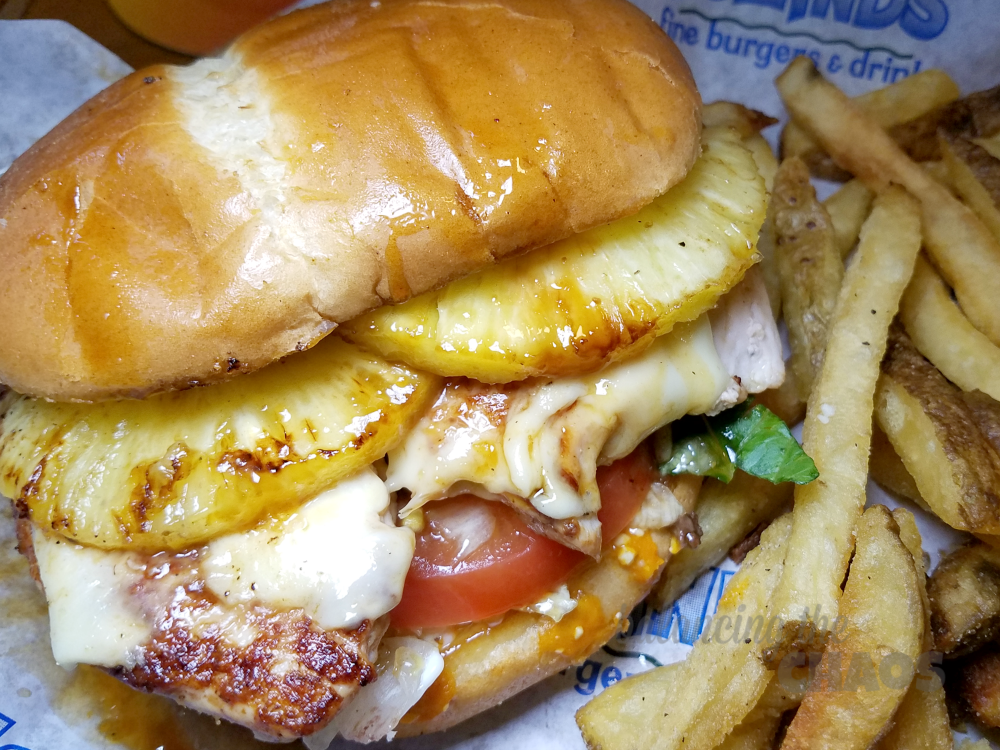 The Toucan Sandwich went perfectly with the Longboard Lager, teamed up with Island's deliciously seasoned French fries.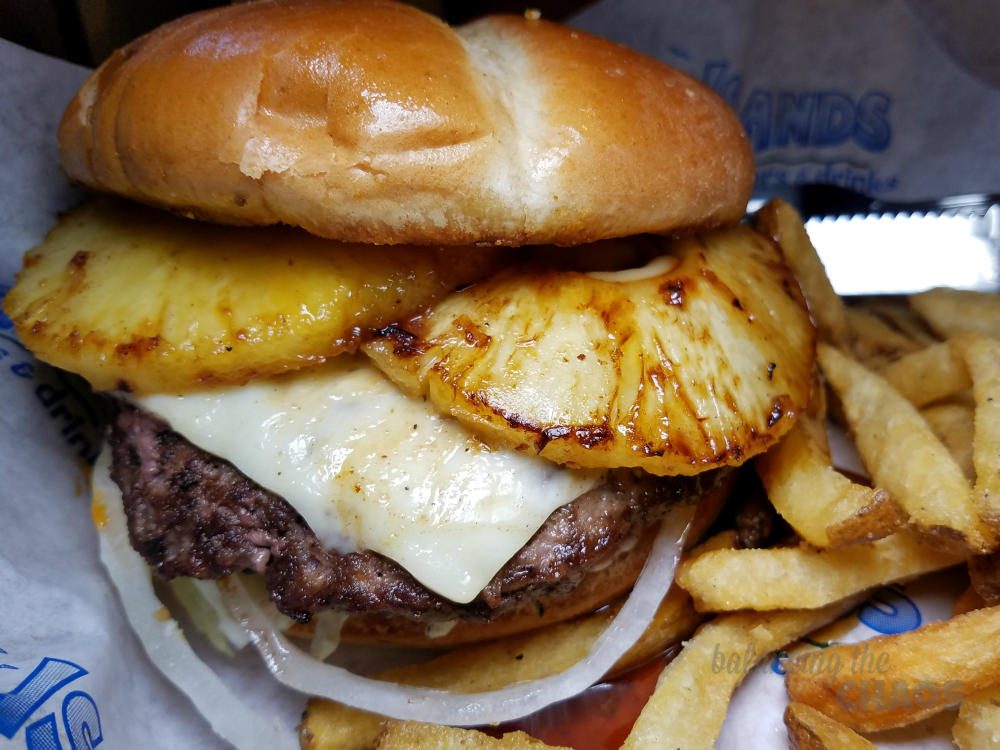 Top pick for me is the Hawaiian Burger, which they have paired up with the Big Island Iced Tea. A delicious meaty patty cooked to order on a bun with thick teriyaki sauce and grilled pineapple us what I typically order on a visit to Islands. This time, my hubby ordered it, so I could still get in a bite. Paired with the Big Island Iced Tea this menu option is definitely a winner.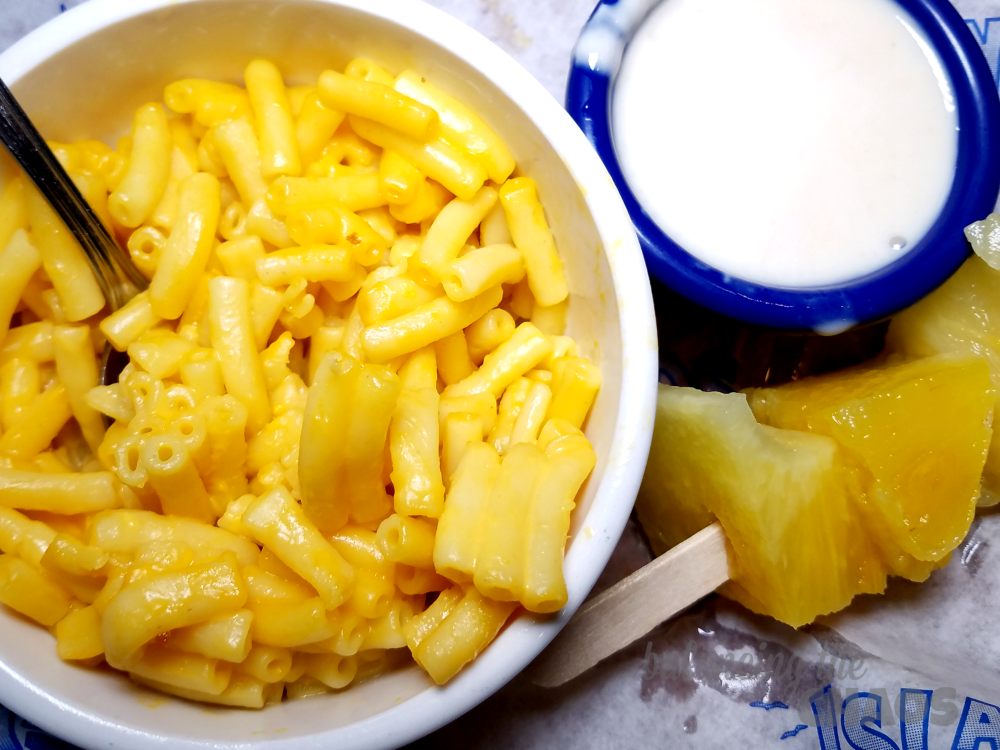 The Gremmie Menu (just for kids) also has pineapple as an option. We all sampled the pineapple skewer with the yogurt tip, and really loved it. The yogurt has a hint of cinnamon, which on the pineapple, tastes like icing! My kids, who don't typically order the pineapple, absolutely loved it. For the kids, there is a pineapple coloring sheet that once completed and shared via your favorite social media with hashtags: #pineappleparadise and #islandburgers, enters the artwork for a chance to win a $50 Islands Gift Card. Something fun for the kiddos to do while they wait for their meal.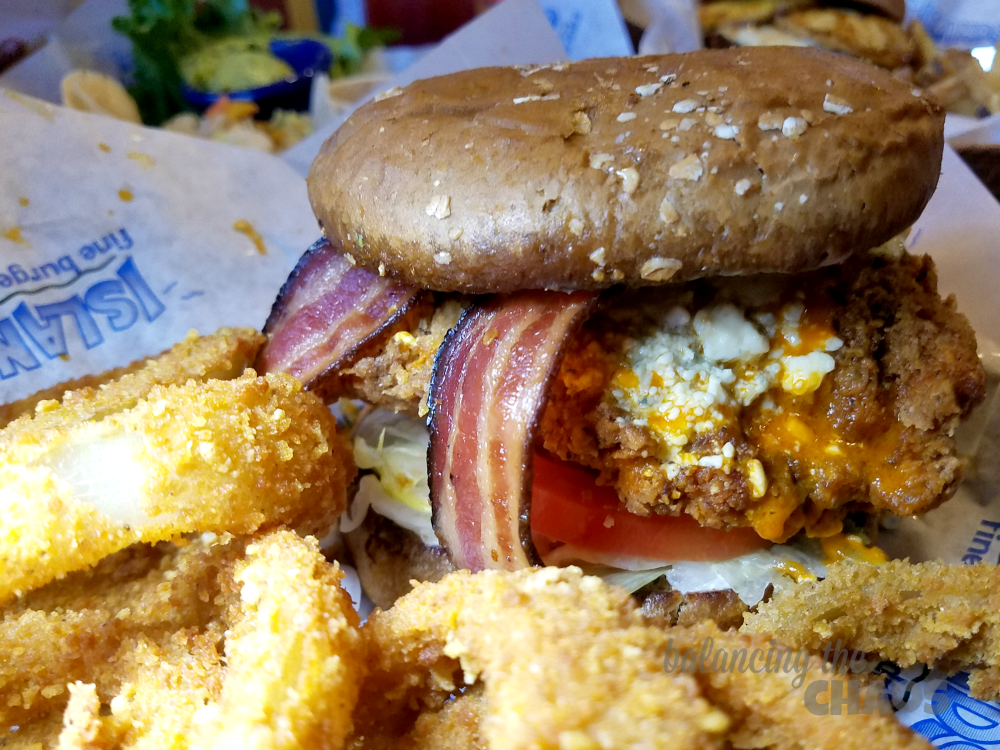 Finally, newly added to the menu, the Moa Mauna Loa Crisp is a sandwich perfect for those who LOVE flavored buffalo wings. Chicken, in a light tempera battered and fried to a golden brown crisp is the main ingredient of this delicious sandwich topped with buffalo sauce drizzled over bleu cheese crumbles, a tomato, red onion, lettuce and a bleu cheese dressing. My husband decided to add crispy slices of bacon for an added twist.
Stop into your local Islands Burgers today to get your fill of pineapple paradise. To find your nearest Islands location, visit Islands Burgers online
GIVEAWAY
Enter to win a $25 Gift Card to Islands Restaurants
a Rafflecopter giveaway

Giveaway ends April 28, 2017 at 11:59 PM PST. Open to US Residents 18 and older only.  Tickets will be mailed directly to the winner's home (or mailing) address.  Winner will be selected at random and be notified by email. Winners have 48 hours to respond before a new winner is selected. Not liable for unclaimed prizes or fulfillment. Blog has represented each sponsor with the expectation they will fulfill their prize and in a timely manner. No purchase necessary to enter or win; however you must enter for a chance to win. Purchase does not increase chance of winning. Chances of winning depend on number of entries. My opinions are my own and were not influenced by any form of compensation.  Facebook, Twitter or any other social media platform are in no way associated with this giveaway.  By providing your information in this form, you are providing your information to this blog.  I do not share or sell information and will use any information only for the purpose of contacting the winner. Winners can only win once per month. Not liable for unclaimed prizes or fulfillment.