Have you been to a Paris Baguette lately? I've recently been introduced to this little piece of sweet heaven, and was giddy with excitement when I was invited to check out the newly remodeled Buena Park bakery café location offering amazingly delicious desserts, sandwiches and signature drinks. With easy self serve display cases, you can stop in to grab a quick pastry, load up a box for your co-workers or catch up with a friend over a cheesy croissant or berry tart.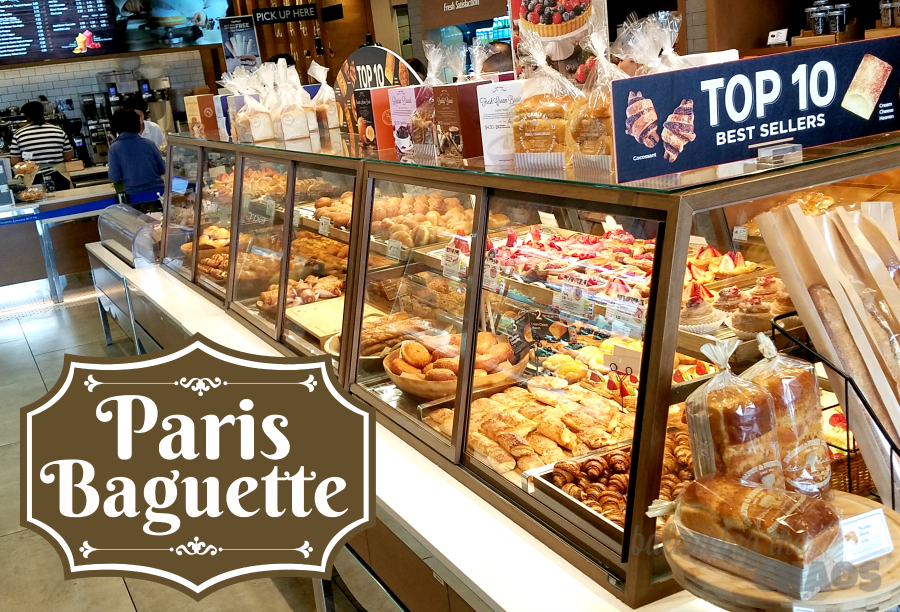 The Paris Baguette in Buena Park is tucked in a shopping center and appeared modern and small from the store front. However when I walked inside, I discovered it was bigger than I thought. Down the center of the location was a beautiful display case full of fancy pastries from chocolate croissants, fruit tarts, bread and cheese croissants, everything looked so good I wanted to grab a couple of boxes full.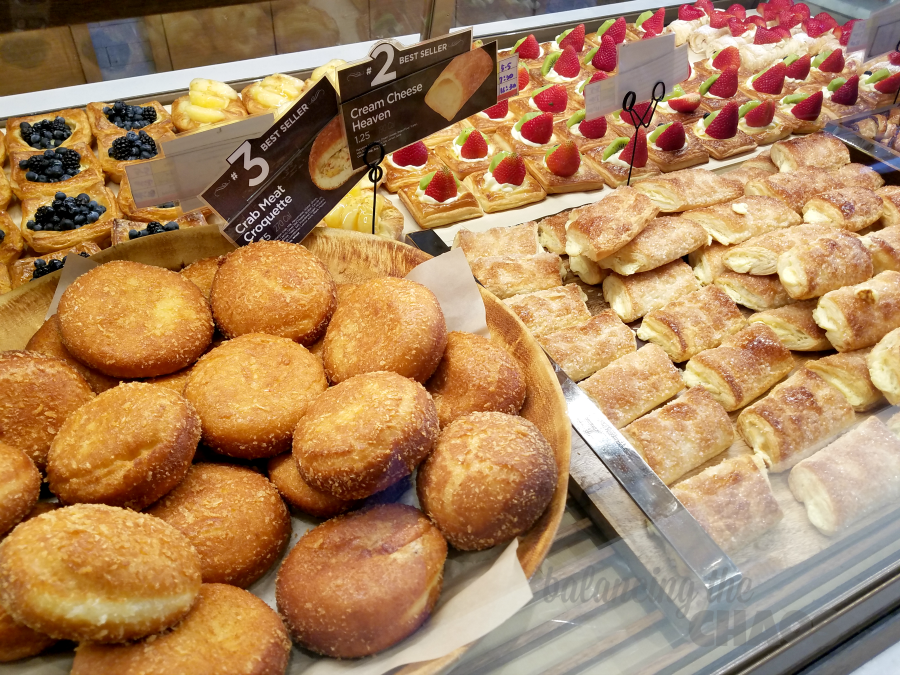 Then I wandered through the café portion of the site and instantly thought of the different friends who'd absolutely love this place. I mean, it's the perfect spot to meet a girlfriend for coffee and breakfast while catching up. It's also located next to what I'd consider a Korean mall, so even better! Stop in for a bite, some coffee, then off to shop. A great day in my book!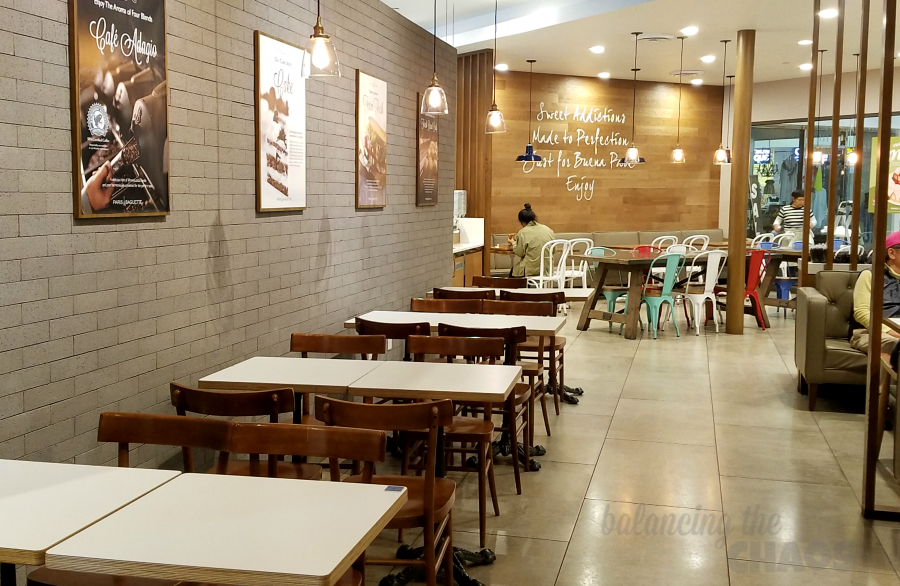 After touring the Paris Baguette in Buena Park, it was time to sample a little bit of the tasty goodness. I was excited to meet with Claudia, a representative from Paris Baguette who share with me a little bit of the history of this awesome bakery which basically started as Paris Croissant. In 1988, the first Paris Baguette store was opened, and continued to grow. In 1992, they hit the100th location mark. In 2005, Paris Baguette arrived in the US, expanding to 56 locations by 2008. Now they're all over Southern California, in fact, I just checked their STORE LOCATOR and discovered there are 5 locations within 10 miles from my home.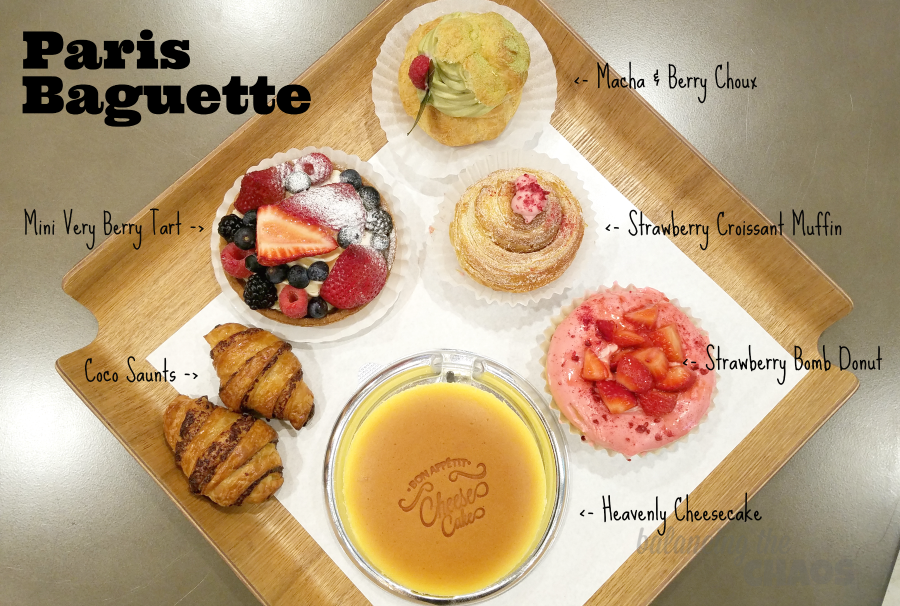 While I was chatting with Claudia, I had the opportunity to sample some of the delicious sweets crafted by the bakers at Paris Baguette. My hands down favorite was the Strawberry Croissant Muffin. A deliciously flaky croissant style top with a muffin, cake like texture on the bottom and delicious strawberry buttercream frosting inside, a bite was simply mouthwatering. Next, I sampled the Strawberry Bomb Donut and it was just as delicious. The strawberry frosting, topped with fresh strawberries was a great addition to the glazed donut. The Mini Very Berry Tart was a mouth full of delicious fresh berries, tasty buttercream and a crunchy gram cracker crust. Cocossants were my husbands's favorite that consisted of rich flaky croissants with a thin layer of Nutella baked in. The Heavenly Cheesecake was like biting into a cloud – so light and fluffy, it is the perfect gifting option. I also sampled the Macha Berry Croux was just like eating a cream puff with a green tea macha frosting inside – not my favorite.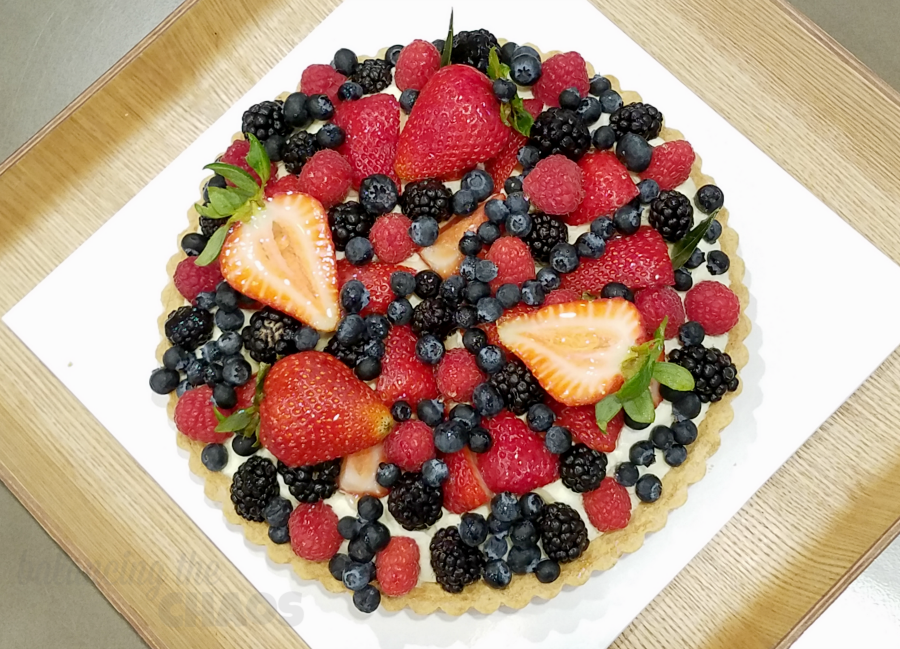 If you have a special occasion coming up, Paris Baguette is the place to go. The amazing Very Berry Tart was the perfect dessert to take to a friend's get together as it makes a simple and beautiful statement. For Mother's Day, and various holidays, they offer special cakes and pastries perfect for celebrating that are available by pre-order. I will definitely be back. With so many locations close to home, I'll be sure to bring it with me for any event as their pastries make the perfect hostess gift.
For more information about Paris Baguette, visit their Website, or connect via social media: Facebook, Twitter or Instagram.