As a blogger, we get invited to fun events or unique opportunities every so often.  One of my favorites happened just last week at Medieval Times Buena Park.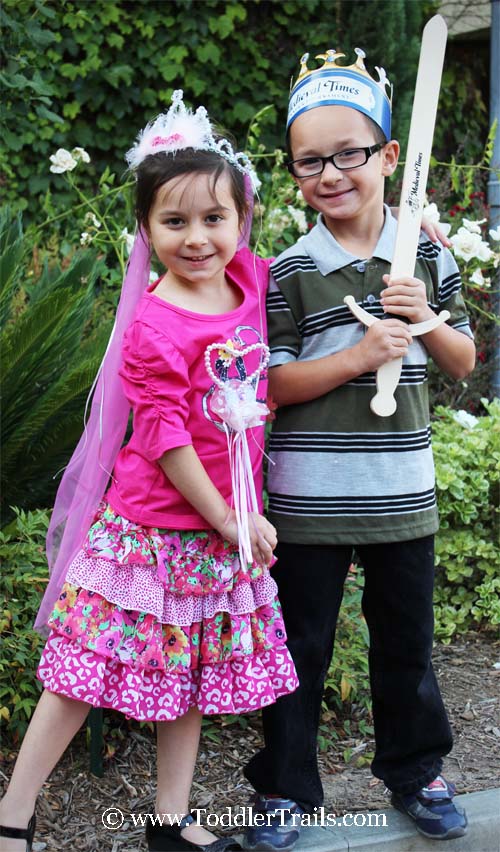 We were invited "behind the scenes" to meet the knights, horses and experience what it is like to be a part of the magic of Medieval Times Buena Park. For me, that was a magical experience because I am just in awe of the beauty of the horses and am a fan of the show.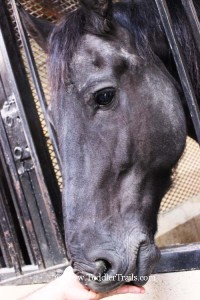 To start off the experience we were lead on a tour by one of the knights of the show – Connor.  It was a thrill to speak to him about what he loves about being a knight, how it all started for him, even giving us a snippet of what it takes to become a knight.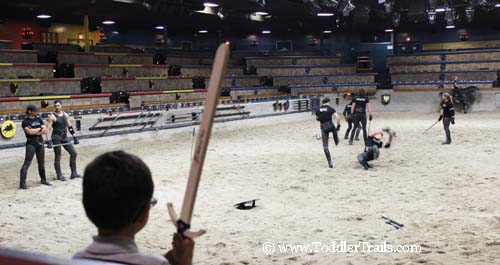 We discovered that anyone can be a knight of the realm at Medieval Times Buena Park.  It takes persistance, strength, competitiveness and athleticism.  Most of the knights you see in the show were trained on location and did not have prior experience in riding horses.  New hires start off as squires and work their way up into the knight role. Daily rehearsals before the show as well as an onsite mini gym keep the actors in tip top condition and ready for any position.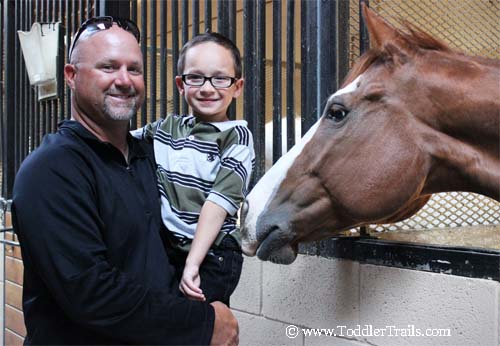 Then we had the opportunity to meet the horses.  I was thrilled to share this experience with my family – getting up close and personal with the beautiful Andalusians. One of the rarest breeds in the world, the Spanish Andalusian Stallion is the pride and joy of Medieval Times. They originate from Spain and was the royal horse of Europe with large oval eyes a rectangular, lean head and a broad forehead. Typically, these beautiful stallions are either white or grey and stand 15.2 to 16.2 hands tall. (60.8 to 64.8 inches)
One thing to note: these beautiful horses are now raised on a ranch in Texas owned by Medieval Times. Currently with more than 200 Andalusians, the Ranch is home to the horses until age three when they are shipped to Medieval Times Castles; and again upon retirement from the Medieval Times show.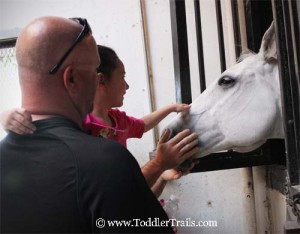 Next we were made our way toward the lower indoor area where the props, costumes and mini gym are located. This is where the riders mount their horses, maintain all battle equipment and costumes and get their daily assignments.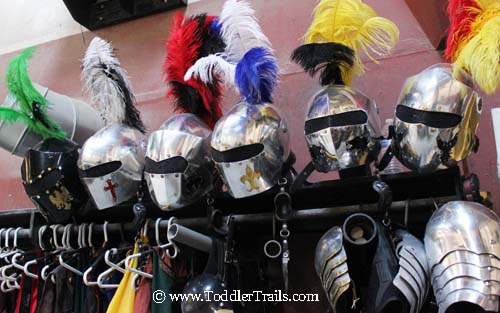 The uniforms/armour worn by the knights at Medieval Times Buena Park are cleaned and maintained on site.  Most of the padding you see are made up of the same materials as typical motorcycle racers wear.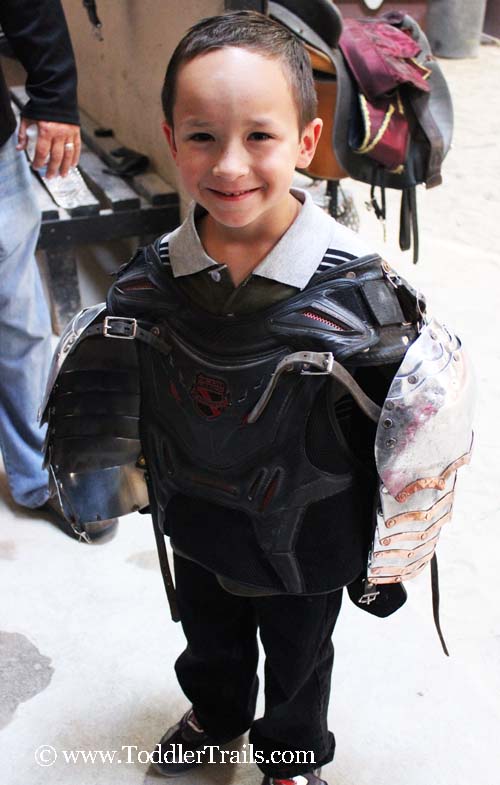 My little man was so excited to be able to handle the joust and wear the costumes.  I think he now secretly wants to become a knight after being "behind the scenes".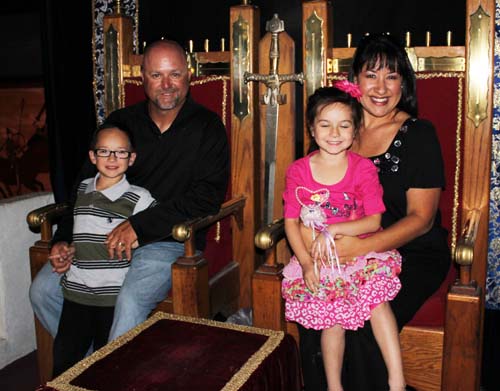 I have to admit, it was nice being treated like royalty! The staff at Medieval Times is absolutely wonderful!  I've now seen them at events outside of the castle ready and willing to speak with the public, post for photos, even doing special events at local schools. My son's school in the city of Cypress invited members of the cast to be a part of "Read Across America Day".  On their own time, two of the knights, the king and a princess went class room to classroom reading and speaking with the children ages 5 up to 12.  It certainly was memorable for all on campus that day.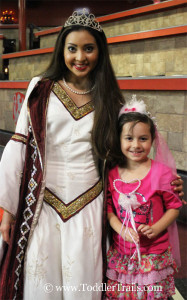 When it was time for the show, we were escorted to the main assembly area where the show begins.  Guests are invited to take part of the knighting ceremony, honoring those in attendance for special occasions.  While wandering around, a few of the Andalusians are on display; behind glass for those who want to get a closer look. While waiting for the main event to start, grab a cocktail or even a souveniour as they have a generous selection available.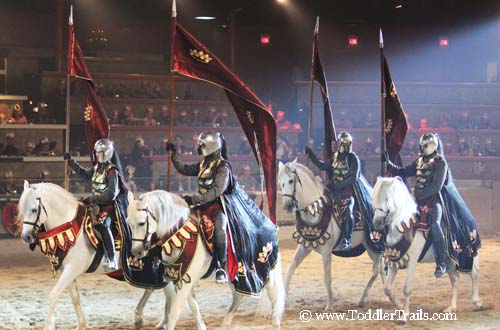 As the show begins in the center ring, servers gather around to guide you to your seats and start serving their delicous 3 course meal including chicken, ribs, potatoes, soup and more.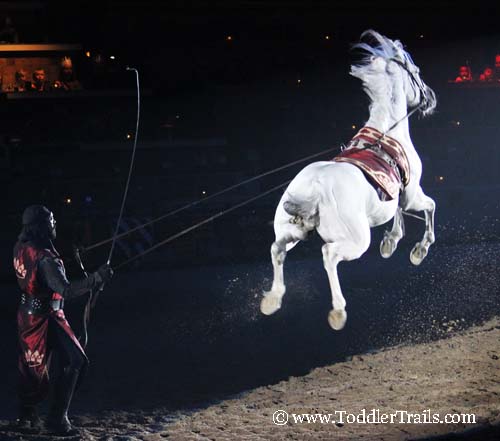 The Capriole – a precise move that dates back 2,500 years, the horse jumps from a raised position of the forehand straight up into the air, kicks out with the hind legs, and lands on all four legs at the same time.
Have a special occasion to celebrate or just want a night out with your significant other or the family, Medieval Times is the place to go.  Better yet, why not win a chance to take your family?
CURRENT PROMOTIONS:
Planning a night out with Medieval Times Buena Park? Keep an eye on their website for special promotions.  Now through Memorial Day, May 26th save $19 per ticket with discount code: MDWEB
GIVEAWAY
We are giving away a family 4 pack of tickets to enjoy an evening at Medieval Times Buena Park with dinner and the show!
Giveaway ends May 25, 2014 at 11:59 PM PST. Open to US Residents 18 and older only. Prizes cannot be shipped to PO Boxes. Winner will be selected at random and be notified by email. Winners have 48 hours to respond before a new winner is selected. Not liable for unclaimed prizes or fulfillment. Blog has represented each sponsor with the expectation they will fulfill their prize and in a timely manner. No purchase necessary to enter or win; however you must enter for a chance to win. Purchase does not increase chance of winning. Chances of winning depend on number of entries. My opinions are my own and were not influenced by any form of compensation. Facebook, Twitter or any other social media platform are in no way associated with this giveaway. By providing your information in this form, you are providing your information to this blog. I do not share or sell information and will use any information only for the purpose of contacting the winner. Winners can only win once per month. Not liable for unclaimed prizes or fulfillment.
Connect to Medieval Times, Buena Park via Website, Facebook, Twitter or Instagram
Disclaimer: We were invited to tour the Medieval Times Castle in Buena Park and enjoy the show.  No other form of compensation was received.