Last week we ended up in Brea, sampling Jimmy's Famous American Tavern which offers modern American comfort food with a creative twist in a beautiful casually comfortable, yet sophisticated neighborhood place. They specialize in a quick lunch, relaxing dinner or celebration with friends for any occasion.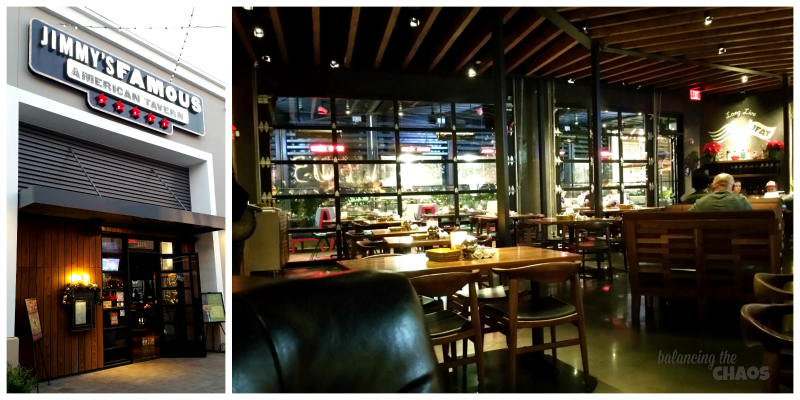 At Jimmy's Famous American Tavern, I had the opportunity to meet Ellis, the Chef who shared that all of the dishes served are created by the owners and made with the freshest ingredients available.
We started with the Brussels Sprouts. As my husband said, they were the best vegetable he ever had and shared them with my son, who has a very limited pallet. I was quite surprised that my little guy enjoyed the Brussel sprouts as well. Mixed with Applewood Bacon, Pine nuts & Maple Syrup, they are fantastic!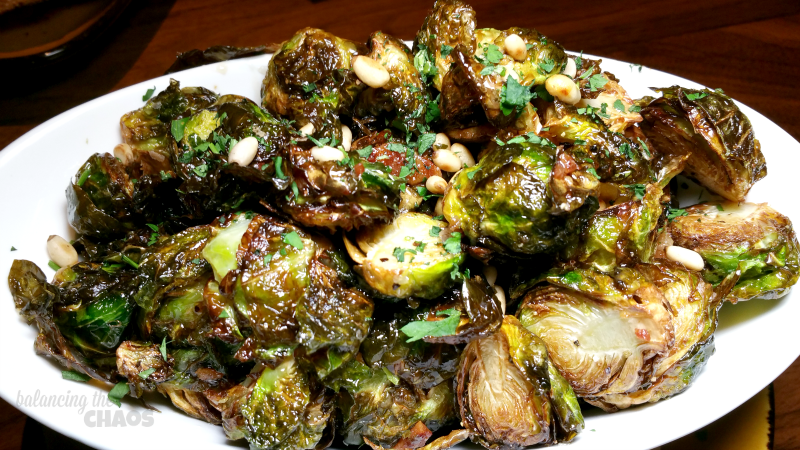 Clam Chowder being a favorite soup for us, we had to sample Jimmy's Famous American Tavern's version. Just as we suspected, my family LOVED it. With large chunks of clams and bacon in a creamy soup, I think we could live off of just the two appetizers alone. The Clam Chowder was also served with homemade chips which I didn't get a chance to try because my family devoured them!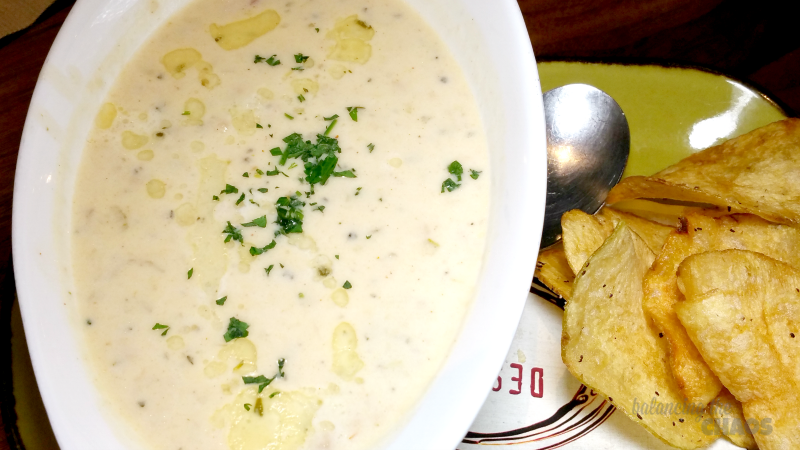 My princess selected the The Buttermilk Fried Chicken Breast. For a kids meal, they served quite a generous portion of the fried chicken, mashed potatoes and a ity bity side salad. The crispy fried chicken has a hint of Rosemary and thyme.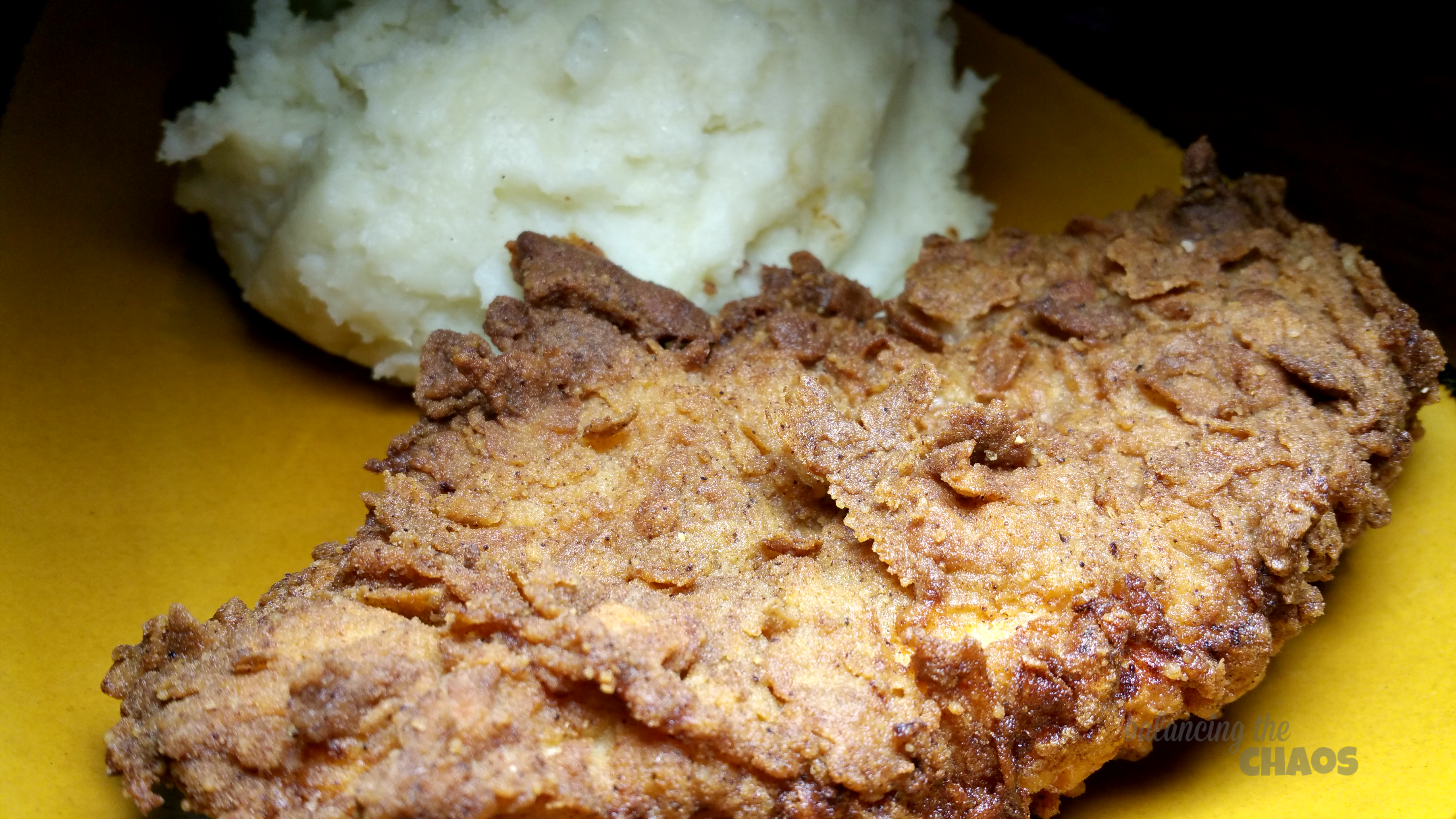 My big guy had the children's Pasta with butter and park with a side of shoe string French fries and an ity bity side salad. Curly noodles with a touch of butter was just enough to fill up my monster.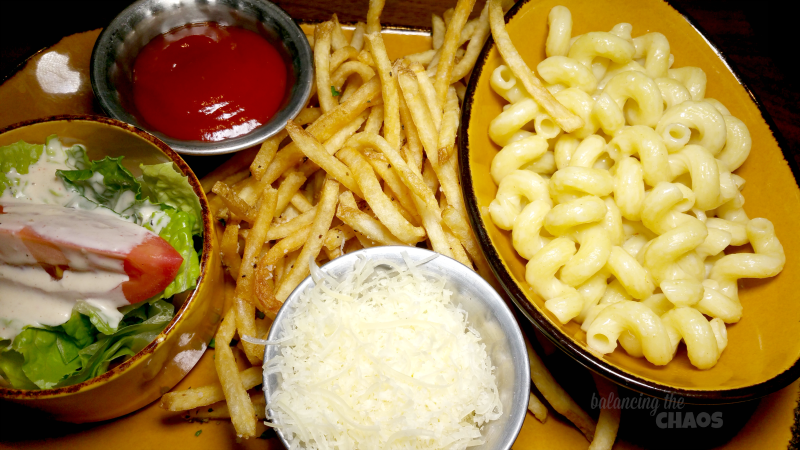 The hubster selected the Bourbon Chipotle BBQ Baby Back Ribs, really because my princess wanted to try them. The ribs were so tender and flavored just right with the Bourbon Chipotle BBQ sauce, they fell off the bone. The baby back ribs were paired with Cheddar-Jalapeno potatoes (I didn't even notice the jalapeno), baked beans with a hint of bacon, honey mustard coleslaw and a deliciously amazing slice of cornbread.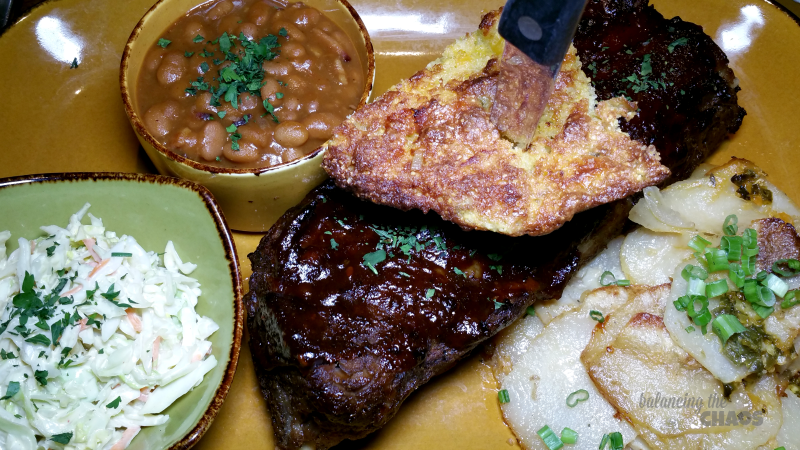 I selected the flat iron steak also called the Tavern Steak cooked to a medium perfection and served with shoe string French fries. You can select a peppercorn sauce or a "Diane" sauce with the Tavern Steak, which I sampled both and found the "Diane" my favorite – creamy and rich with slices of mushrooms; a great addition to the steak.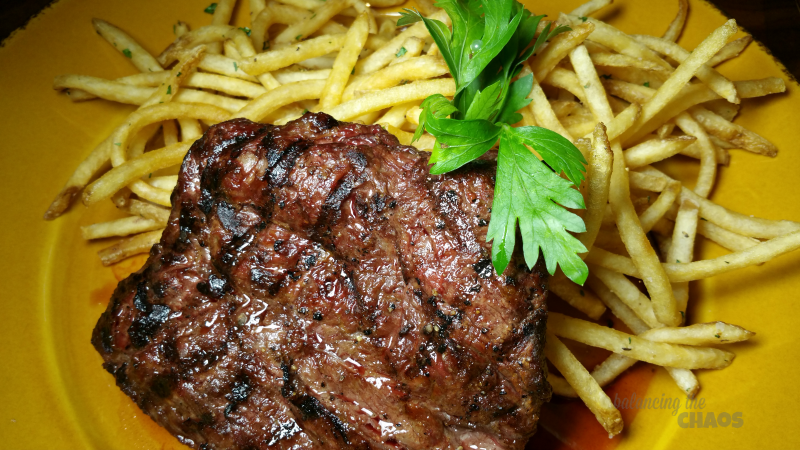 To end the evening, we devoured the Pumpkin Pecan Streusel Cake with vanilla ice cream and whipped cream that was simply heavenly. They also had a few other dessert options, but we were so full, we will have to sample them on our next visit.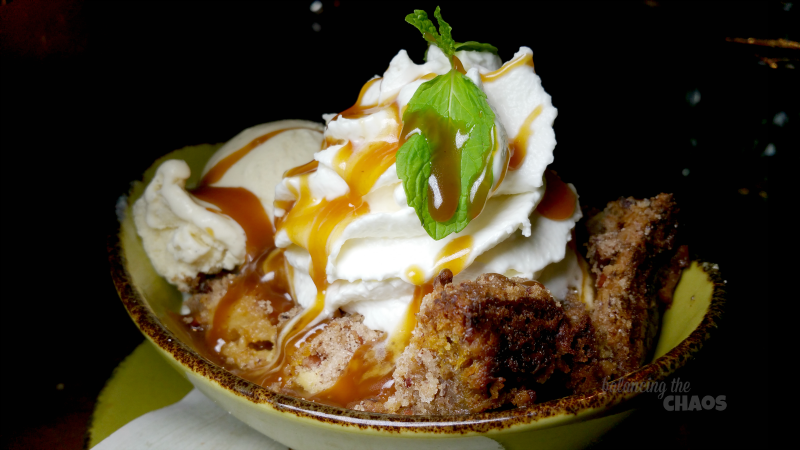 You simply have to visit Jimmy's Famous. The Brea location is the second in a chain with a new location coming in Santa Monica sometime next year.
Jimmy's Famous American Tavern
Southern California Locations include:
Brea:
Village at La Floresta Center
3325 E. Imperial Hwy.,
Brea CA 92823
Dana Point:
Dana Marina Plaza
25001 Dana Point Harbor Dr.
Dana Point, CA., 92629
Santa Monica:
The Promenade at Point Loma
4990 North Harbor Drive
San Diego, CA 92106
Have you been to Jimmy's Famous American Tavern? If so, please share your favorite dishes! We can't wait to taste your favorites.