Last week we were invited to the Irvine Improv Comedy Club to experience an all new "Laugh Fest", a family friendly comedy series. The love to laugh show features "clean comedy" with world class entertainers like Ron Pearson, who was featured on February 14th.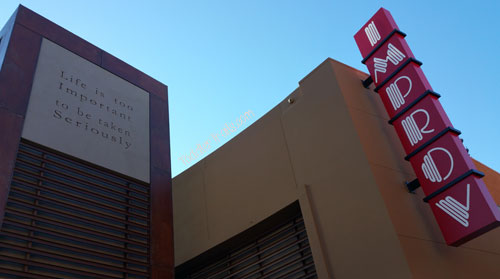 Grab the kids and get ready for some a family fun day filled with lunch and great entertainment. Once every few months, the Irvine Improv Comedy Club hosts a  weekend afternoon, kid friendly show that  includes amazingly talented of jugglers, magicians and variety performances in a state-of-the art theater.  
The recently remodeled Irvine Improv was the perfect location for an afternoon of fun. For the "Laugh Fest" series, the doors open at 12pm, which gives you the perfect opportunity to order a tasty lunch just before the show. Umami Burger partners with the Irvine Improv offering a variety of hamburgers, sandwiches and appetizers that will fill the entire family.
The tables are situated so that you can see the stage from anywhere in the theater. I particularly loved the half circle booths, because they were comfortable and towards the center of the room.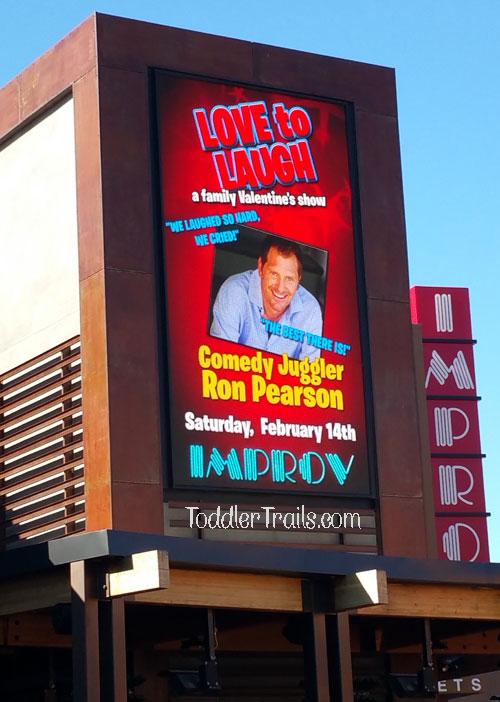 My husband and I have seen several comedy performances in the past, and as a matter of fact, we're planning on seeing Carlos Mencia next month – so excited. However, I wasn't sure how the kids would react to the show. In their words, they had the "best time ever", as they were cracking up the entire time. Ron Pearson was quite hilarious, grabbing members of the audience (children and parents) and including them in his act. From assisting him with fun juggling skits, stand up jokes and more, I was in tears because I was laughing so hard.
The one liners and g-rated jokes that Ron Pearson shared with the crowd were so funny, telling the kids "I Don't Wannnnnnaaaa", when their parents tell them to do something. Of course he turned that around on the kids, telling them parents can use the line too.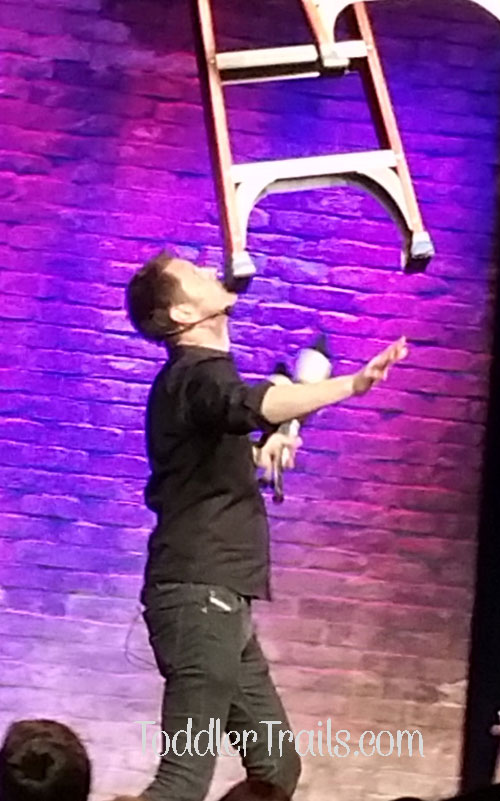 If you are free on either Sunday May 31st or Sunday, July 26th, be sure to reserve your tickets now to the upcoming "Laugh Fest" shows at the Irvine Improv.
This summer, the Irvine Improv Comedy Club is also offering summer camps for kids which will run for two weeks (July 27 – Aug7th). The summer camps will feature two age groups: 4th and 7th Graders and 8th – 12th Graders, a great option for something new and fun during the summer months.
For more information about the Family Laugh Fest, Summer Camp and more, visit the https://irvine.improv.com/
Disclaimer: We were invited to the Laugh Fest at the Irvine Improv to share our personal experience of the entertainment. No other form of compensation was received.