Last night the kids and I went to the OC Fair Grounds for the 27th Annual Hoag Summer Movie Classic.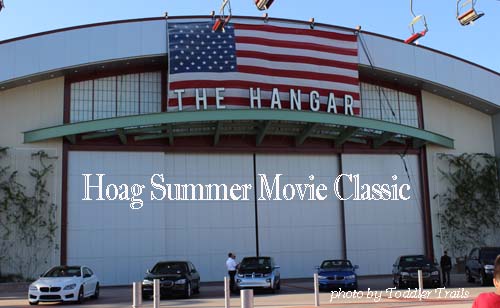 A unique event, The Hoag Hospital Foundation and its 552 Club, celebrated their 27th year of this amazing fundraiser.  Since its incepetion, the foundation has raised over $2 million dollars.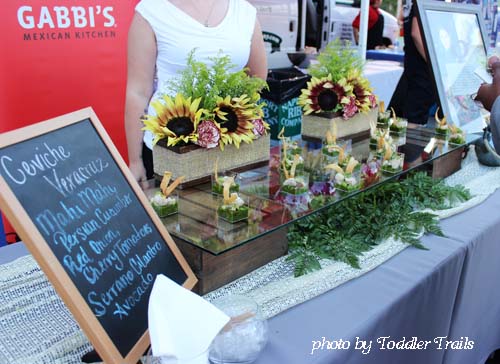 This year, The Hoag Summer Movie Classic hosted over 30 of Orange County's finest restaurants with some amazing dishes! One of my favorites was the Ceviche Veracruz from Gabbi's Mexican Kitchen.  The mix of flavors of papaya, onions, cucumbers, jicama and mango passion salsa kept me coming back for more.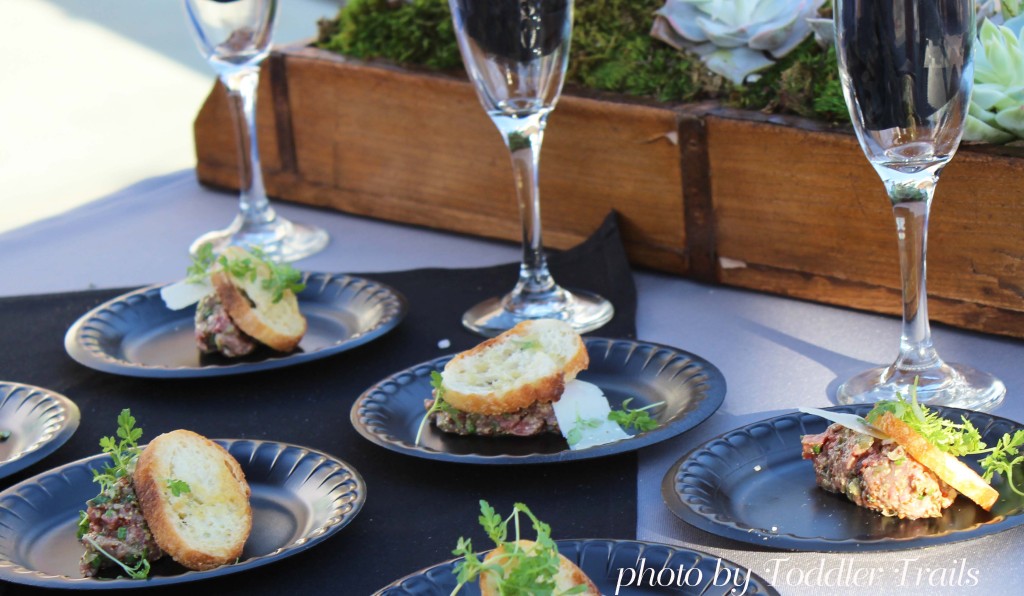 Sadly, I didn't get the opportunity to try this beautiful dish from A Restaurant.  Beautifully presented, the steak tartare with capers, black truffle, pickled mustard seed and a crostini looked delicious, but the kids kept on me about the sliders from The Counter that I was quickly sidetracked.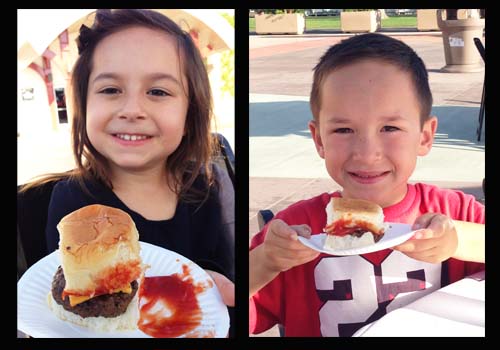 Yes, they both LOVED the sliders!  They certainly take after their mom with their love for hamburgers. One quick thing to note: The Hoag Summer Movie Classic is an adult event, however I did see a few children in attendance. Many of the items on the menu are a little more sophisticated for young palates, therefore they elected not to try many of the artistic dishes presented.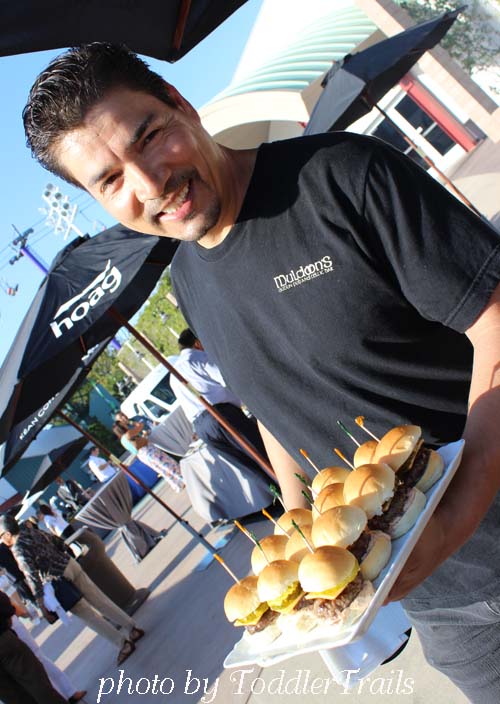 Since we already filed up on sliders from The Counter, we didn't get to try these tasty mini editions from Muldoon's Irish Pub.  However, some day soon we may be dropping in to try them out.  What I loved about this waiter – he was all over the place passing out these delicious burgers to guests.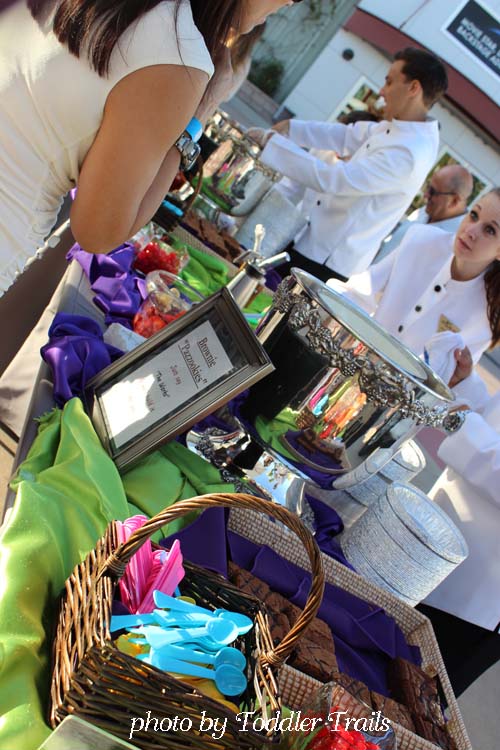 And then we discovered the decadent desserts from The Turnip Rose.  Seriously, have you tried a brownie Pazzookie?  OMG, HEAVEN!  A giant chocolate chunk brownie with a huge scoop of vanilla ice cream covered with strawberries (we passed on bananas), chocolate and caramel sauce topped with a cherry.  Sorry folks, we gobbled it down before we could get a photo.  However, since we didn't get enough sweets, The Turnip Rose also had a candy bar.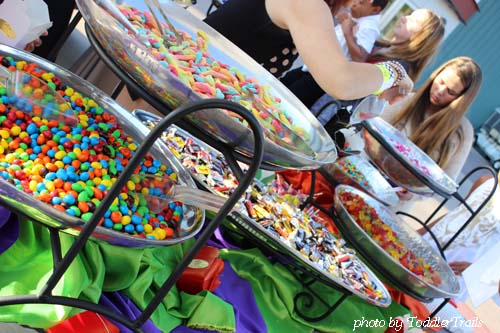 As part of the fundraiser, we were invited to purchase raffle tickets to drop into any bowl for the chance to win a number of raffle packages – the top prize – a one year leased Sterling BMW!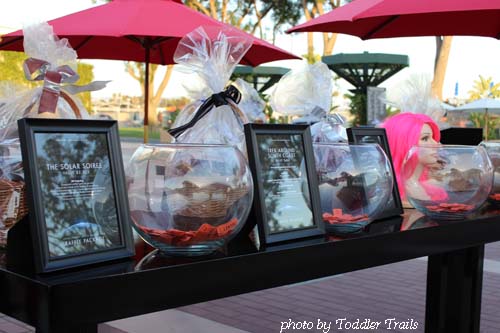 Then at 7:00pm, we were invited to the Hangar where they were showing the movie Gravity. A beautiful setting, we walked in and discovered directors chairs, beautiful candle lit tables with acrylic chairs and ushers to guide you to your designated seat.  Some of our favorite movie consessions were also available – pretzles, churros, candy bars and such.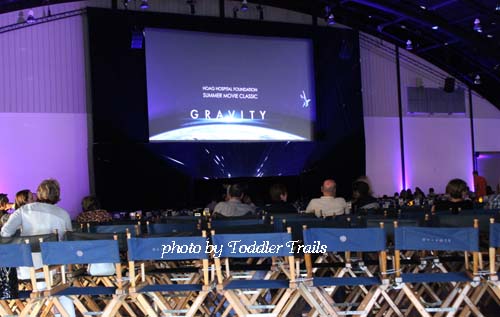 I must say, this was certainly the perfect date night.  Unfortunately my hubby had to work – as a high school teacher, he was at Graduation.  So, the kids and I had a wonderful time.  Next year we're planning on date night!
For more information about the Hoag Summer Movie Classic, visit https://giving.hoag.org/summermovieclassic2014 and make sure you keep an eye on the Hoag Hospital Foundation website for upcoming events.
About the Hoag Hospital Foundation
Thanks in large part to philanthropy, Hoag has become one of the nation's finest healthcare systems and serves a diverse and growing population.  Hoag Hospital Foundation, the philanthropic arm of Hoag (a separate 501(c)(3) corporation), is an integral partner in Hoag's vision to become a trusted and nationally recognized healthcare leader. Under the direction of a volunteer Board of Directors, the Foundation conducts campaigns and programs that generate more than $40 million per year in gifts and pledges. The Foundation is currently in the planning phase of a campaign with a working goal of $500 million by 2020. For more information, visit www.hoaghospitalfoundation.org.