Have you Shooby Dooby Doo'ed Down To Ruby's Diner recently? If not, now is the time since they're introducing a few new items to their summer shake menu!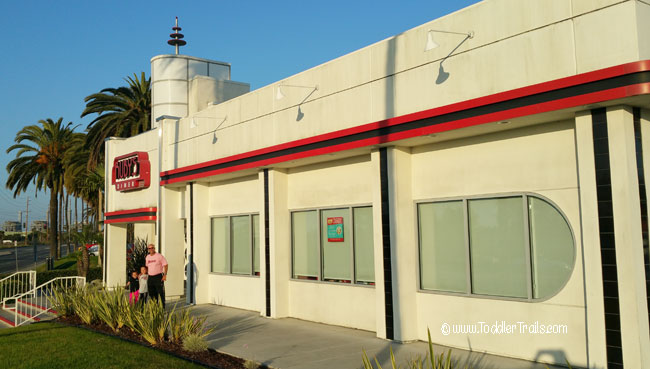 We  were recently invited to Ruby's Diner in Long Beach's Marina Pacifica Marketplace to preview Ruby's new summer shakes inspired by Hershey's.
Ruby's Diner is a family favorite. I have fond memories of heading out to the Ruby's Diner in Huntington Beach on the pier quite often while in high school. As a matter of fact, the restaurant chain was the founded by Doug Cavanaugh, who felt the architecture of the old run down building at the end of the Huntington Beach pier would be perfect for a 1940's diner. Ruby's was then opened in 1982, named after his mom.
As I've mentioned, Ruby's Diner is a family favorite – it was back in high school, and it is today. We've spent many birthdays, after game days, and just plain old no special occasion days at Ruby's for lunch or dinner.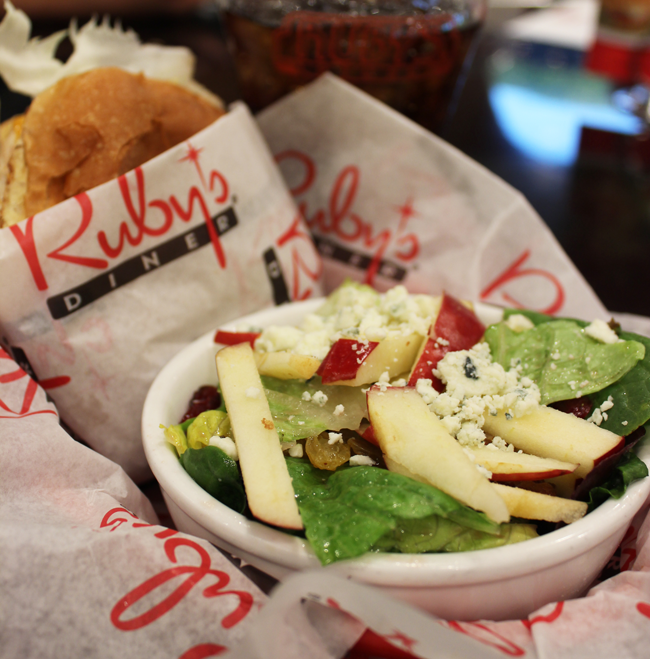 The hubster decided to mix it up a bit. Rather than the traditional fries, he ordered a Classic Ruby Burger with the traditional condiments, lettuce, tomato, cheese and a special Ruby Sauce with a Ruby's Apple, Pecan & Blue Cheese Salad. I'm not quite the blue cheese fan, but this salad looked delicious mixed with romaine, julienne apples, dried cranberries, candied pecans and golden raisins, finished off with a pomegranate vinaigrette and blue cheese.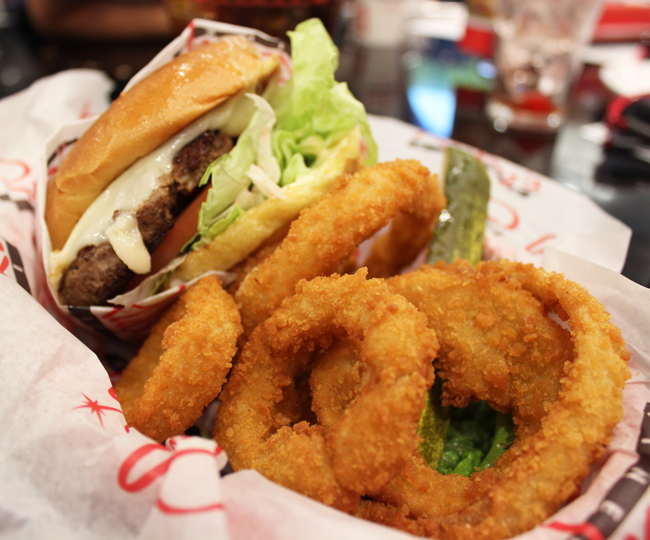 For me, I went old school and ordered up the Classic Ruby Burger with some delicious crispy golden onion rings.
For the kiddos, they have a traditional American Kids Meal: a burger, chicken fingers, BBQ chicken breast meal, macaroni & cheese, hot dog or grilled cheese paired with their choice of French apples, applesauce or sliced apples. For them the best part is building classic hot rods while they're patiently waiting for their meal.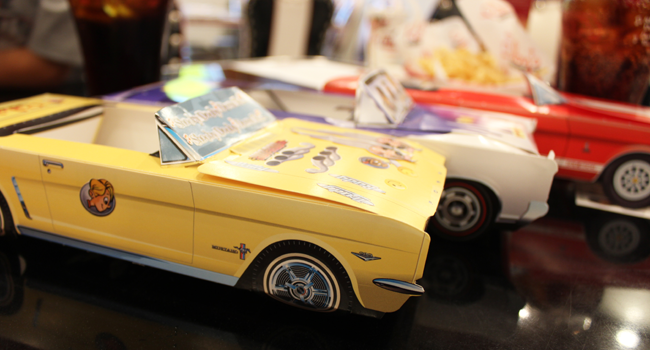 Now, when a Ruby's Diner, you must always leave room for dessert, right? Their fabulous shakes are scrumptious. We had the opportunity to sample all three: The Kit Kat shake, the Heath Bar Shake and the Double Dark Chocolate Shake. My husband liked all three, but I think he favored the Double Dark Chocolate Shake more since he loves chocolate. As for me – it was all about the Heath Bar!!! Hands down, I'd order the Heath Bar Shake all the time with tasty chunks of the caramel heath bar blended with vanilla ice cream.
They look delicious, right? Head on over to Ruby's NOW – they're arriving in diners as of June 15th and are perfect for any sort of occasion.
Disclaimer: We were invited to Ruby's Diner to sample their new summer shakes menu. No other form of compensation was received.