This morning, you're going to want to check out Nitrolado in their new location! Featuring and indoor/outdoor cafe in Little Saigon in Westminster, Nitrolado offers guests unique small bites, signature churro bowls, nitro ice cream and crafted beverages.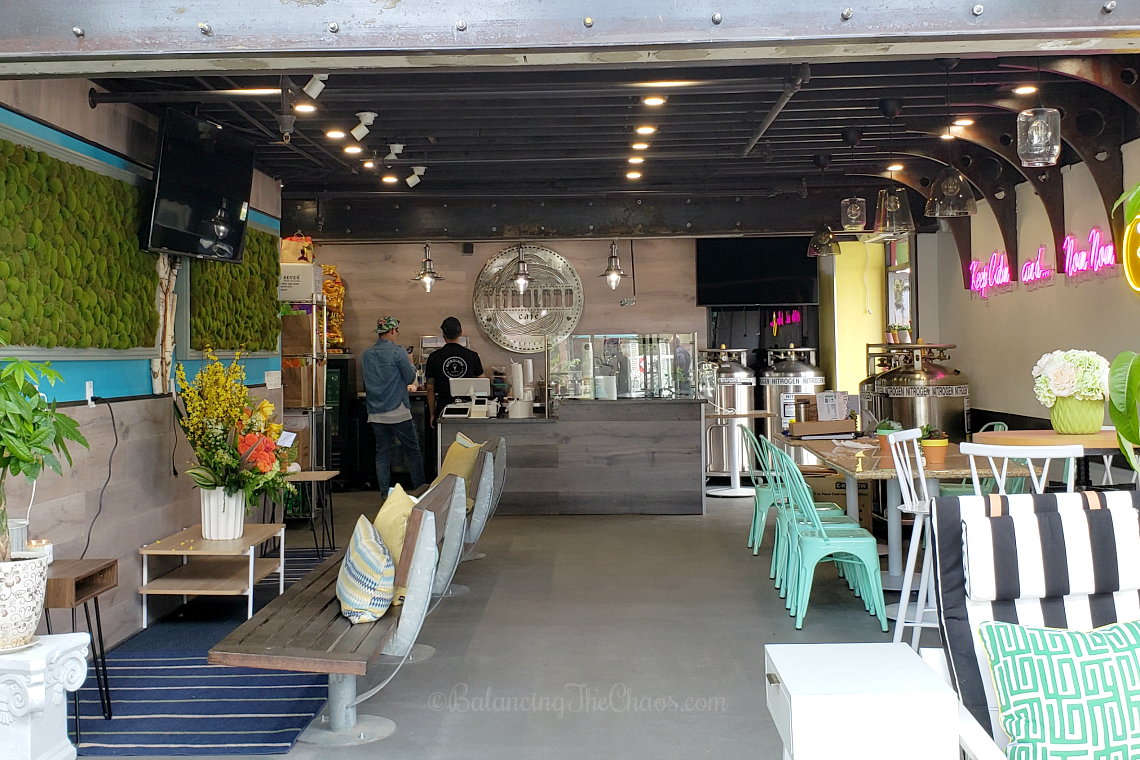 Don't miss out on the GRAND OPENING of Nitrolado, at their new Westminster location, TODAY, Saturday, June 1st, from 11 a.m. to midnight. They are giving away a TV, along with delicious food.
FIRST 50 guests in line before 12 p.m. will receive a FREE order of Cinnamon Sugar Churro Puppies, a FREE t-shirt, a raffle ticket for a chance to win a TV, and a $5 cash voucher.
FIRST 100 guests in line before 12 p.m. will receive a FREE order of Cinnamon Sugar Churro Puppies, a raffle ticket for a chance to win a TV, and a $5 cash voucher.
Stop by and celebrate their new location and ALL guests will receive a B.O.G.O. 50% off any menu item of equal or lesser value with a purchase of any item from Nitrolado's menu. This fantastic deal will be available ALL day, so don't miss out!
Nitrolado's new address is: 15041 Moran St, Westminster, CA 92683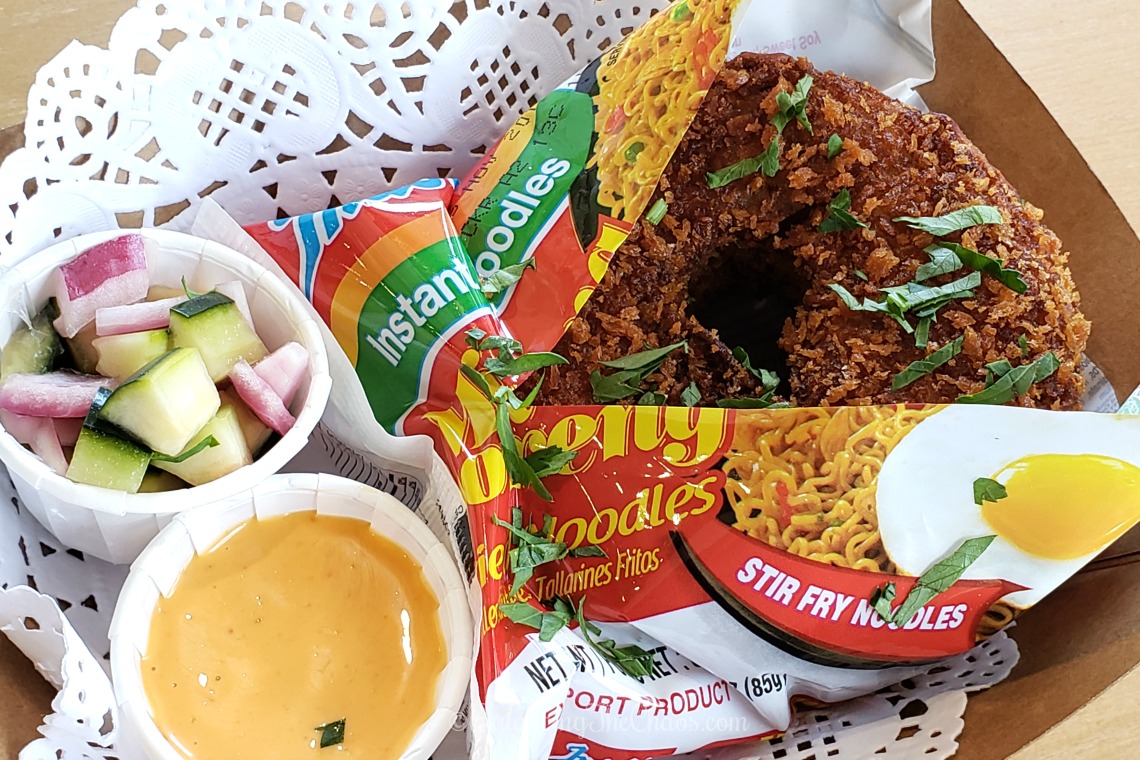 And now for the food! In talking with the owners, we heard the Doodle Nut is a fan favorite, so we had to sample it. Made from Indomie Mi Goreng Ramen, they make the noodles and add additional spices for flavor, then shape and freeze it. When ordered, they fry it up to perfection and add the sauce with has a hint of Sriracha for an added kick. Seriously, one of my favorites!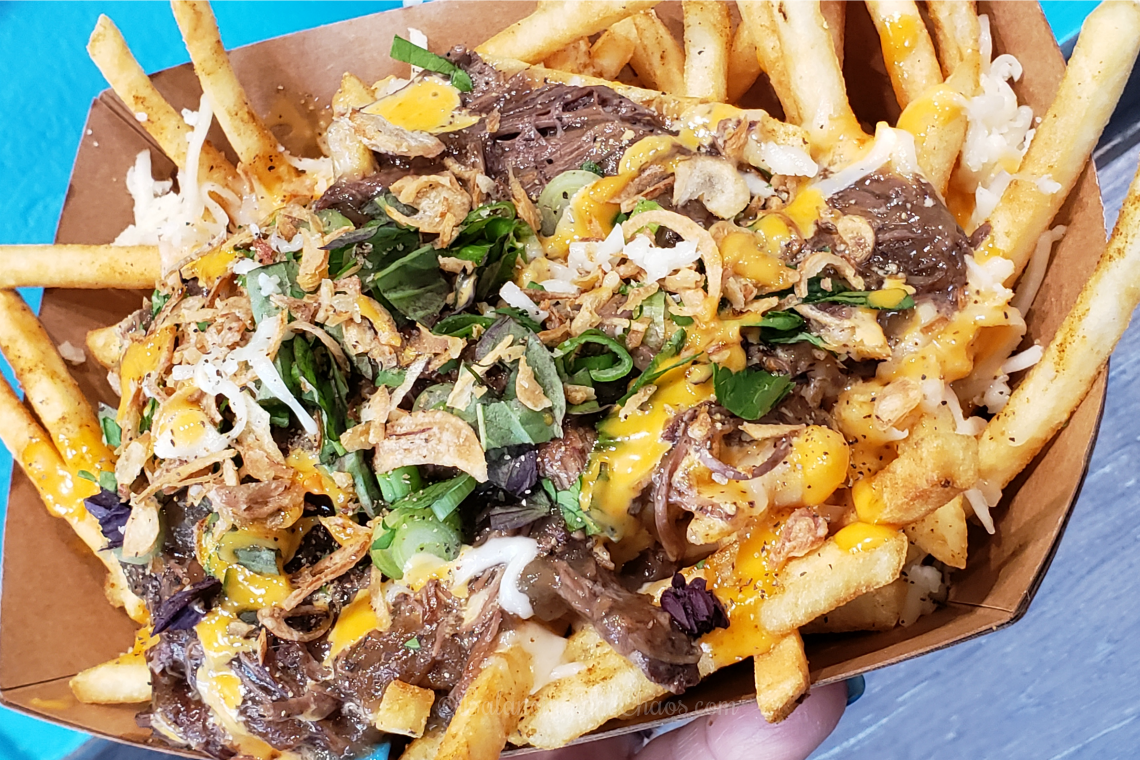 Another delicious selection is the Pho King Fries. Made with fresh brisket, gravy, cheese, a tasty house sauce and herbs, the fries were full of flavor with the right crispness. For an added bonus, add a fried egg right over the top.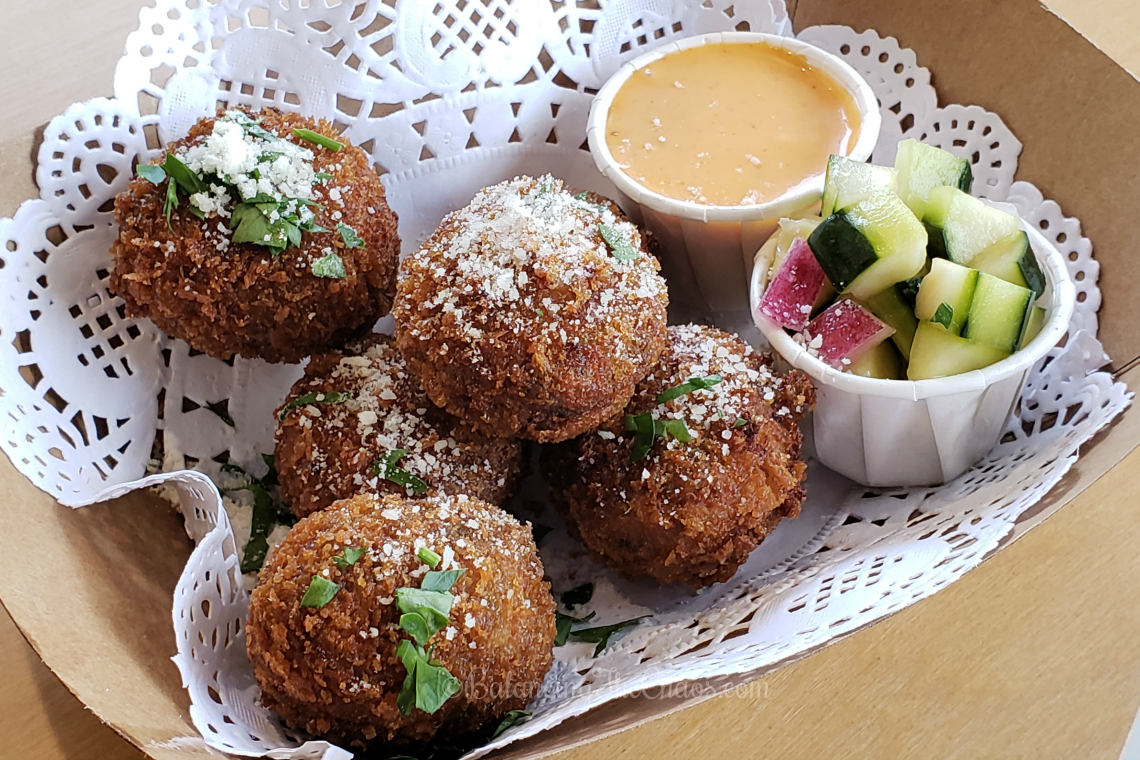 Another fan favorite is the Sticky Rice Bombs. These delicious little bites are made of Chinese sausage, cheese, shiitake, sesame oil and their house sauce, fried up into a tasty crisp ball with a soft center. The house sauce has a hint of fire because of the sriracha splash.
Besides their delicious fresh drinks like their Vietnamese Iced Coffee, their 24 Hour Cold Brew and specialties like the Iced Green Tea Hochata Latte and Thai Green Iced Tea, they also offer Nitro Ice Cream.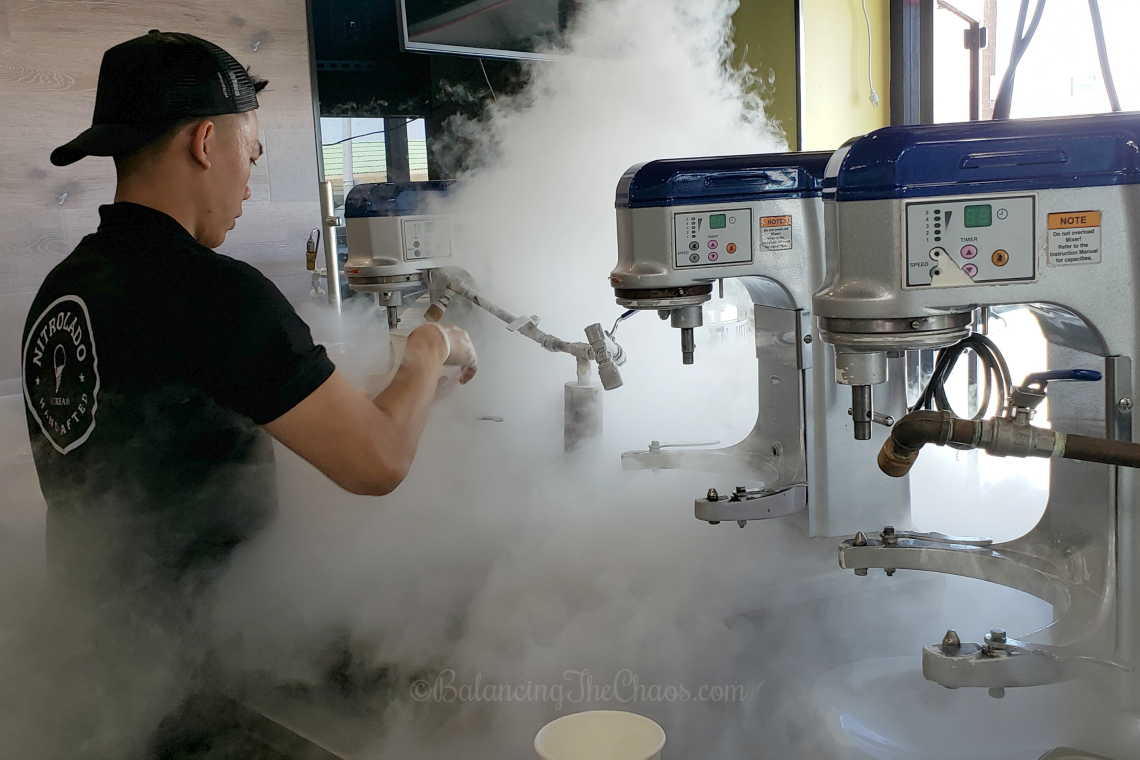 My kids LOVED seeing their Nitro Ice Cream created. They start off with a base, and stir in the nitro, which freezes the cream into a delicious dessert. Nitrolado Cafe offers their classic flavors which include:
Tahitian Vanilla Bean
Bittersweet Chocolate
Strawberry Fields Forever
Vietnamese Coffee
Fruity Pebbles
Oreo Cookies & Cream
Signature flavors include tastes like California Avocado and Nutella S'mores and Birthday Cookie Dough. We sampled the Vietnamese Mudslide which was awesome with Vietnamese Coffee Ice Cream, malted milk balls and chocolate fudge. The kids enjoy the Fruity Pebbles topped with a red velvet churro bowl.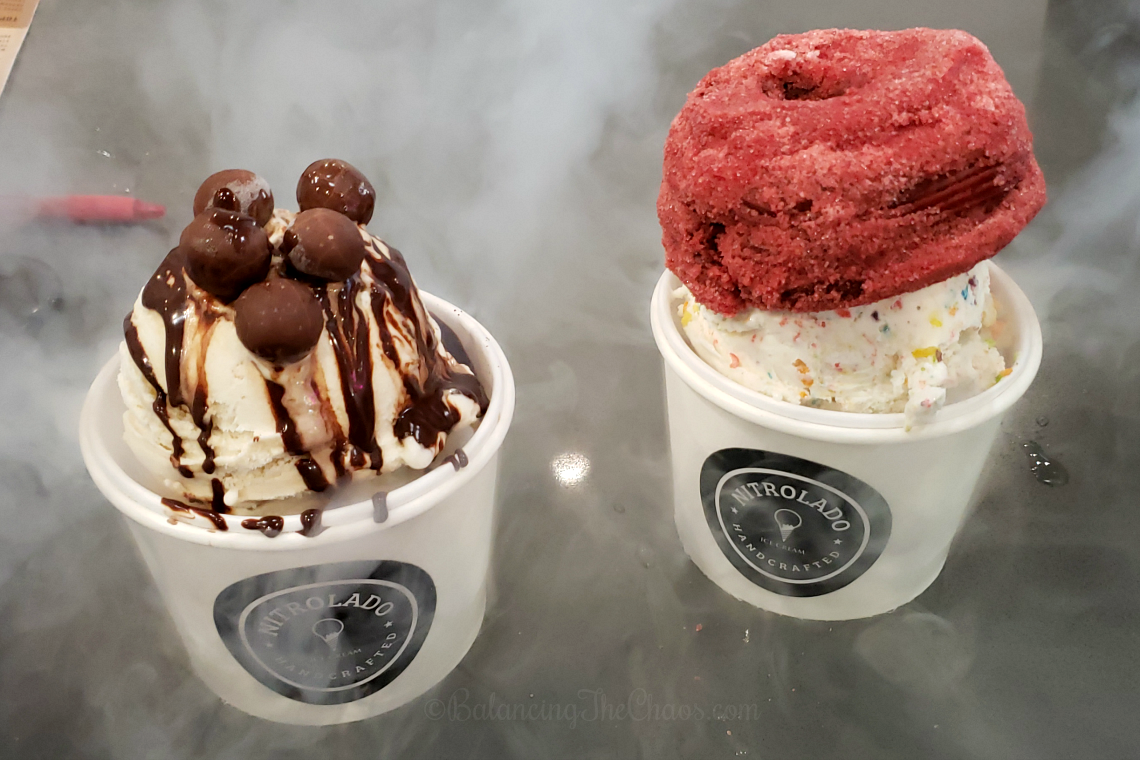 Then you can add a variety of toppings and sauces. One I'd highly recommend is the Churro Bowl that has it's own options
OG Cinnamon Sugar
Oreo
Ube
Coconut Pandan
Red Velvet
Located in Little Saigon, Nitrolado Cafe will become quite a popular hot spot in Westminster. It is located near the Asian Garden Mall, so they are expecting a lot of foot traffic. I'd recommend taking some time hanging out and walking around the area, and one big tip to remember, is that it takes time to prepare the nitro ice cream as they are all hand crafted. Patience is key!