Product Review with Affiliates: Do you have youngsters who love molding clay, but leave a mess EVERYWHERE? We've recently had the opportunity to play with Floof, and my kids' creativity took off. Floof is a new white, soft and smooth, lighter than air, moldable and stackable compound created by the makers of Sands Alive!. Floof looks like snow, feels like marshmallows, molds like clay, and can be reused every single day.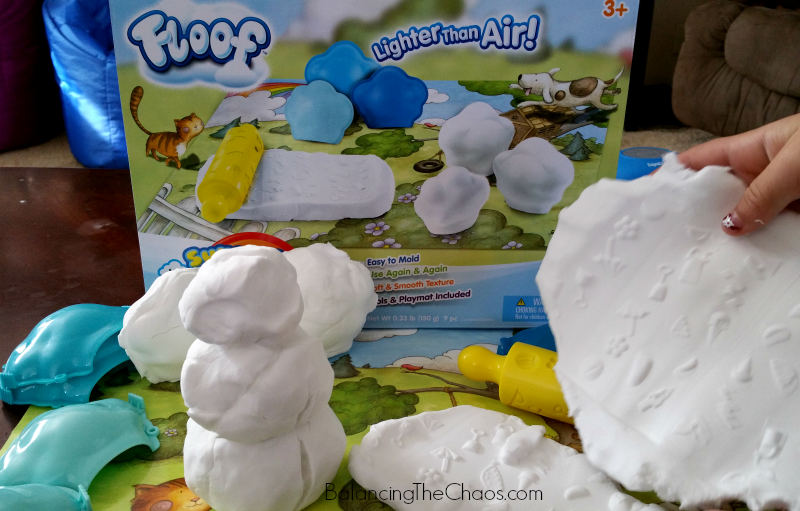 Floof looks like either a marshmallow or a cloud, and is smooth enough to mold and design into anything your imagination dreams up.
We wanted to create a product that would give people the familiar sense of Sands Alive! but with an innovative twist." said Mark Chernick, Executive Director, Play Visions. "Floof's texture and design allow for smoother creations of even bigger heights. We are excited to see how fans will explore and build."
With Floof, the process is simple: use your imagination and  mold, shape, stack and decorate your ideas into reality. All your creations including your highest towers or tallest snowmen will stand tall and will not topple over due to the compounds composite. The compound is stronger and sturdier to support all of your creations. Floof's formula ensures that creative imagination time is fun, safe, and worry free. It was very easy to clean up with a damp cloth.
The only difference with Floof and other traditional molding clays on the market is that Floof doesn't dry out. The kids left it sitting on the table overnight and were able to go back and mold their creation into something new. For storage, we keep it in a Ziploc bag in the original box it came in – quick and easy!
Floof sets come with a variety of tools and accessories. Sets include: Mr. and Mrs. Snowman, Polar Babies, Snowball Maker, S'more Party, Sunny Day Cloud and the Floof Bucket (extra Floof for extra fun! No additional molds or tools included).
Interested in picking up Floof for your littles or as a gift? Its currently available at Amazon.com:

Floof is recommended for ages 3+ and is available at Learning Express, Hallmark, Cost Plus, and Amazon.com starting at $14.95.
Update about this product: My daughter has been playing with Floof now off and on for about 9 months. About a month ago she had this crazy idea that she could mold this product into ear plugs and naturally put it in her ears. As she pulled the Floof out of her ears, it separated, leaving large sections in her ear, We tried unsuccessfully to extract the substance from her ear and ended up at her doctor, followed up with a recommended visit to an ENT for a specialist opinion. After two visits, she still has Floof in her ears. Basically it is like sand and is now in the ear canal. Eventually we hope all if it will eventually flush itself out. Naturally, if you let our child play with this substance, please make sure they are supervised. We on the other hand, have thrown it away. 6/23/17
About Play Visions Inc:
Play Visions Inc. strays outside the lines of the traditional toy business by using creativity as their fuel to bring the most innovative, unique toy designs not seen anywhere else in the impulse novelty world. Find out more at www.playvisions.com or on Facebook.