"Feed Your Fandom and Get Ready for Game Day with Foster Farms" is a sponsored post on behalf of Foster Farms.
Are you ready for game day? The biggest southern California rivalry football game takes place this weekend, November 18th, at the Los Angeles Coliseum. The Crosstown Showdown happens when UCLA takes on USC, two well known colleges that are only 12 miles apart. As a tradition, I typically get together with one of my besties and her family to enjoy the game and fierce competition because we're fans on the opposite sides of the tracks – she wears cardinal and gold while I'm decked out in bruin blue. This year I decided to add to their traditional pot luck with some of my favorite dishes with the help of Foster Farms.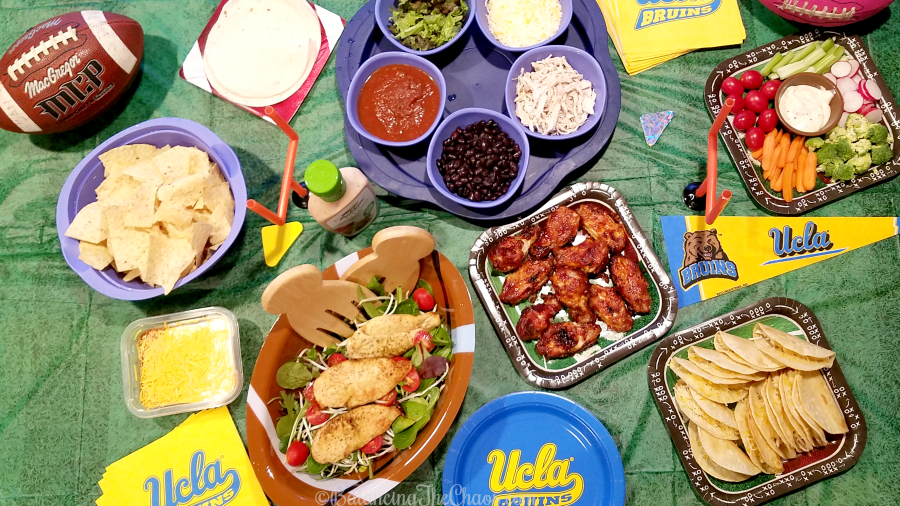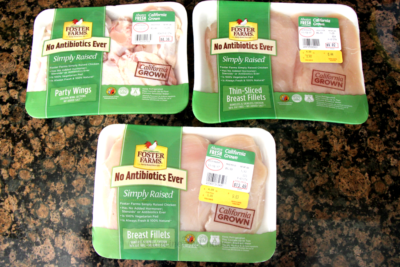 While I didn't attend UCLA, I was born and raised a fan because of my parents. They were college sweethearts who met while attending UCLA. And before my father graduated with his business degree, I came along. Years later, my brother also attended UCLA, following in their footsteps. As a CSUF Titan, I've continued to cheer on the Bruins since my alma-mater doesn't have a football team.
For as long as I can remember, my bestie's parent have hosted this annual potluck viewing party for the "Big Game". Her family and most of their friends, all USC fans, have loved teasing me and the few UCLA loyalists that attend. The annual tradition typically consists of a huge potluck with the main dish – enchiladas. This year, since I had time to plan ahead, I decided to come up with a couple of dishes to bring along. Whether it's a platter filled with wings, nuggets and corn dogs, Foster Farms has me covered. For the win, I figured Foster Farms chicken wings basted in my favorite sauce and cooked to perfection would compliment any UCLA vs. USC game day viewing party.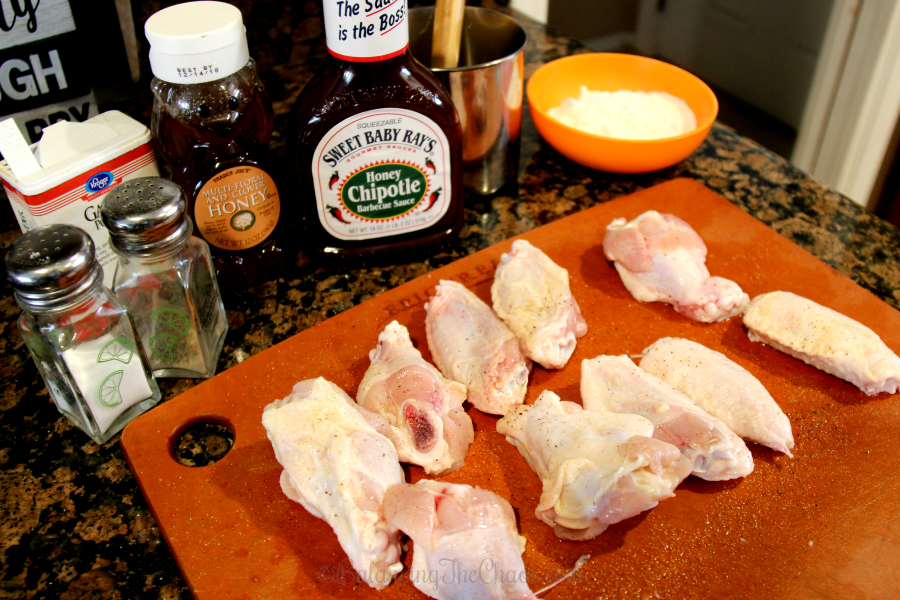 Since my husband is a big fan of chicken wings, I decided to attempt to create my own barbeque chicken wings in my air fryer. This recipe was actually quite simple.
Ingredients:
1 package of Foster Farms Simply Raised Party Wings
1 1/2 cup your favorite barbeque sauce
1/2 cup of honey
3/4 cup flower
salt, pepper and garlic powder to taste
I made sure my chicken wings were rinsed, and patted dry, then I sprinkled a little salt, pepper and garlic powder to taste. Next, I dunked each wing into flower to make sure they were fully covered. Next, I gently placed them in the air fryer that was coated with pam spray so they wouldn't stick. I combined the barbeque sauce and honey in a bowl and basted the wings. They baked in the air fryer for approximately 15-20 minutes then I turned them over and basted them again. They baked for another 15-20 minutes. For crispier wings, I'd add an additional 10 minutes.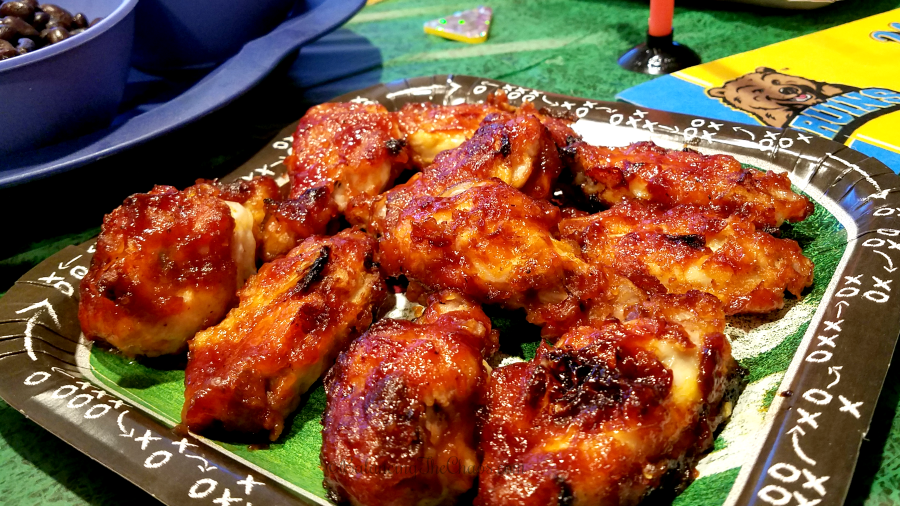 Next I decided on my sister's favorite recipe of quick chicken tacos.
Ingredients:
2 Foster Farms Simply Raised Chicken Breasts –  boiled
Package of corn tortillas
1 package of grated Mexican cheese
tablespoon of season salt
Once the chicken is cooked, shred and coat with seasoning salt. Place a small spoonful of chicken in the center of corn tortilla and fry them in hot oil until desired crispness.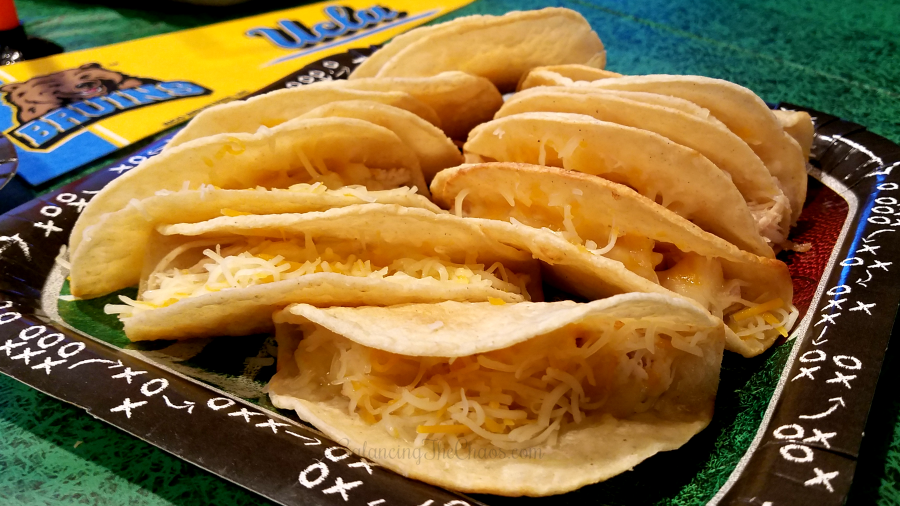 Finally, I decided on a quick salad topped with grilled chicken: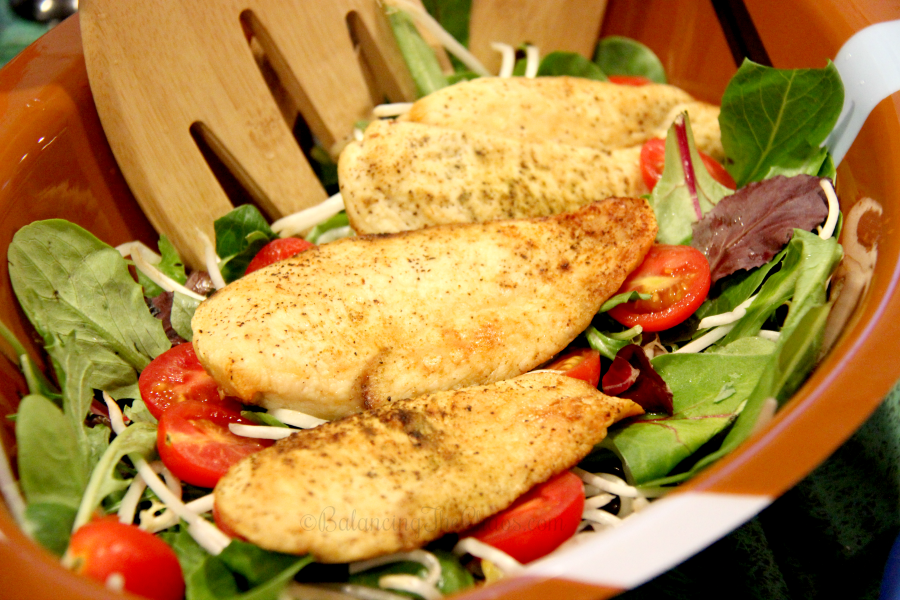 Plan your game day or upcoming get together menu with Foster Farms. Starting December 1st at participating supermarkets, be on the look out to find a code to scan on specially-marked Foster Farms packages of fresh chicken, ground turkey, and lunchmeat and on signs in the frozen food aisle that will connect to up to $7.50 in savings. Plus Foster Farms will be offering great game day recipes on the packages and online too.
Feed Your Fandom this college football season with Foster Farms, and don't forget to watch the exciting year-end action when the Pac-12 battles the Big 10 in the Foster Farms Bowl airing on Fox Sports on December 27th and enter our giveaway below!
GIVEAWAY
We're giving away $60 in Foster Farms coupons (5 of the Foster Farms Fresh Chicken Coupons, up to $12 in value)
Giveaway ends November 30, 2017 at 11:59 PM PST. Open to US Residents 18 and older only. Tickets will be mailed directly to the winner's home (or mailing) address. Winner will be selected at random and be notified by email. Winners have 48 hours to respond before a new winner is selected. Not liable for unclaimed prizes or fulfillment. Blog has represented each sponsor with the expectation they will fulfill their prize and in a timely manner. No purchase necessary to enter or win; however you must enter for a chance to win. Purchase does not increase chance of winning. Chances of winning depend on number of entries. My opinions are my own and were not influenced by any form of compensation. Facebook, Twitter or any other social media platform are in no way associated with this giveaway. By providing your information in this form, you are providing your information to this blog. I do not share or sell information and will use any information only for the purpose of contacting the winner. Winners can only win once per month. Not liable for unclaimed prizes or fulfillment.