"Exploring Kybella" – A sponsored post written by me (a CosmetiCare Mom) on behalf of CosmetiCare.
For a while now, I've been a little self conscious about my chin. Something I've inherited, my double chin is one thing I've been trying to hide for many years. I've learned how to angle my face while being photographed so that you can't even tell. Now, there is a way to reduce the appearance of the extra chin I've been trying to hide, without surgery. I have been exploring Kybella, a non-surgical injectable used for reducing moderate to severe fat on the upper neck, otherwise known as a "double chin".

I decided to start exploring Kybella because I had heard from my friends at CosmetiCare that it is a great way to reduce my chin without going under the knife – which I wasn't ready to do. Kybella is an FDA approved injectable that basically melts away the fat by administering deoxycholic acid, a fat eating molecule that occurs naturally in the body. It is applied to the submental fullness or excess fat under the chin. To find out more information, I decided to meet with Dina from CosmetiCare to discuss my options, as well as to find out potential side effects and what the procedure entails.
Questions I posed:
Am I a good candidate?
A good candidate for Kybella is one that has firm skin and fat below their chin that can be pinched with their fingers. Patients with good elasticity of their skin also makes them a better candidate. Patients with saggy skin should choose the surgical option.
What happens during the treatment?
A topical numbing cream will be applied to the chin area to assist in comfort during the procedure. Once you are numb, a template will be placed in the same area to mark the injection sites. Two Kybella vials will be injected into the fat layer just below the skin. The numbing takes approximately 20 minutes, while the injections take about 5 minutes.
How many treatments would I need?
Most patients need between 2-4 treatments that are spaced 6-8 weeks apart. Occasionally patients with a large amount of fat may need up to 5 treatments, however excess amounts would have quicker results with the surgical option.
Are the results permanent?
Yes, however weight gain and/or your skin losing its elasticity with age can cause double chins to reoccur.
What are the side effects?
After the treatment, you may have swelling for 3-14 days. Many people experience bruising, redness, firmness, tenderness and numbness for 2 weeks. The side effects tend to lessen on subsequent treatments. Other rare side effects can include difficulty swallowing during the first few days, possible nerve damage causing an uneven smile or facial smile muscle weakness, hyperpigmentation and small areas of beard loss in men.
What do I need to do to prepare?
To reduce the risk of bruising or swelling, avoid aspirin, ibuprofen, vitamin E, fish oil and other similar meds for 1-2 weeks before treatment. Arinica Montana starting the morning of the treatment or immediately after may help reduce bruising and swelling.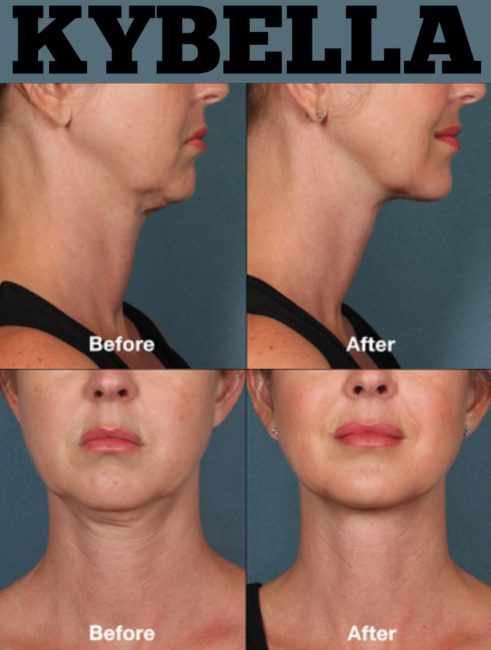 What will I feel after the treatment is complete?
At the end of the treatment you will feel a burning sensation for approximately 15-20 minutes. You will receive an ice pack/chin strap to help the discomfort. It is good to ice the area for a few hours after the treatment as needed. The area will feel numb, tender and swollen, but will slowly go away after 3-4 days (bruising) and 2 weeks (swelling/numbness).
After speaking with Dina, I felt more comfortable about the treatment and what I was getting into so I scheduled an appointment. I'll let you know how it goes…
Looking to tackle a few cosmetic issues you may have? The team at CosmetiCare is quite amazing and can give you great ideas on how to look your best, keep your skin young and rejuvenated as well as skin care options and more.
Newport Beach Office

1101 Bayside Drive, Suite 100
Corona Del Mar, CA 92625

Long Beach Office

2664 Atlantic Avenue
Long Beach, CA 90806
Make an appointment today: https://www.cosmeticare.com