At Tanaka Farms in Irvine, you can spend the day at the farm, harvesting, creating, and enjoying an entire meal. Go on a Tanaka Farms' Cookout Tour and have the opportunity to go on a guided walking tour around the farm. You are given a basket/colander and are invited to pick your very own seasonal veggies. Once you make it back to the benches, you will wash and prepare your veggies to be BBQ'd along with seasoned chicken if you choose. Its an absolutely great family day!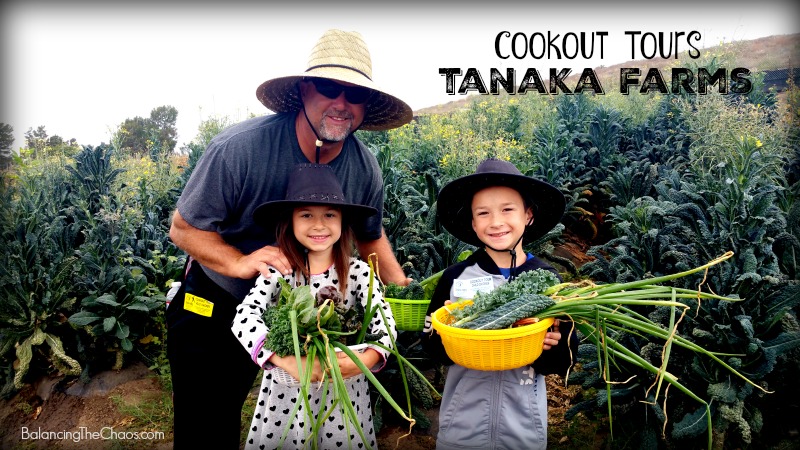 We were invited to check out Tanaka Farms' Cooking Tour with a few of our blogger friends. I felt it was a great way for my kiddos to see and appreciate the vegetables I have been asking them to eat (which they typically don't). We arrived at the farm and the first thing they saw was the strawberries. They were ready to pick them right off the vine, but we told them we had to wait. We had much bigger things in store for them.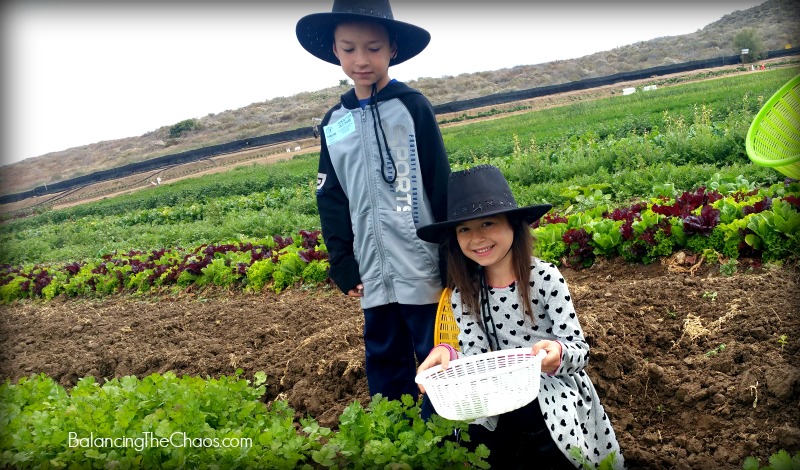 We got checked in since we were already pre-registered (a requirement to take the Cookout Tour), and were on our way. Cilantro was our first ingredient for our "FRESH" lunch. Our guide told us the proper way to clip the cilantro and all the other vegetables we chose for our amazing BBQ cookout. As we toured around the farm, we invited to harvest Baby Maui Onions, Curly Kale, Dinolacinato Kale, Swiss Chard, and Green Beans.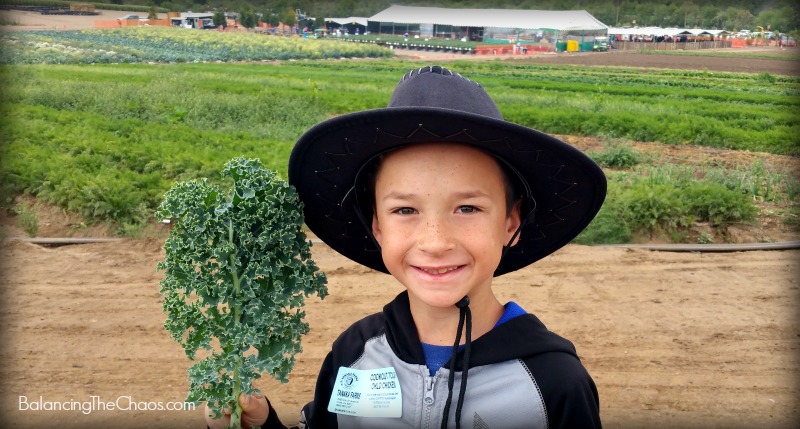 One thing to note about the tour, it lasts 2-3 hours. Be sure to wear closed toe shoes that you don't mind getting dirty because you'll be walking in the fields on uneven ground, and possibly even muddy areas.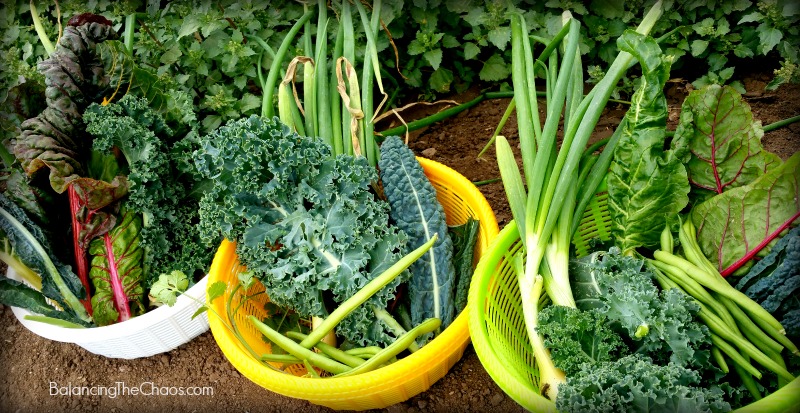 As we made our way through the farm, I kept thinking that I shouldn't pick what we didn't need or won't eat. However, I forgot that the greens "shrink" when you cook them, so pick a lot! Check out baskets of beautiful fresh vegetables we harvested. The kids were having so much fun, they kept telling me that they were picking items for my basket. Little did they know that they were going to try it too.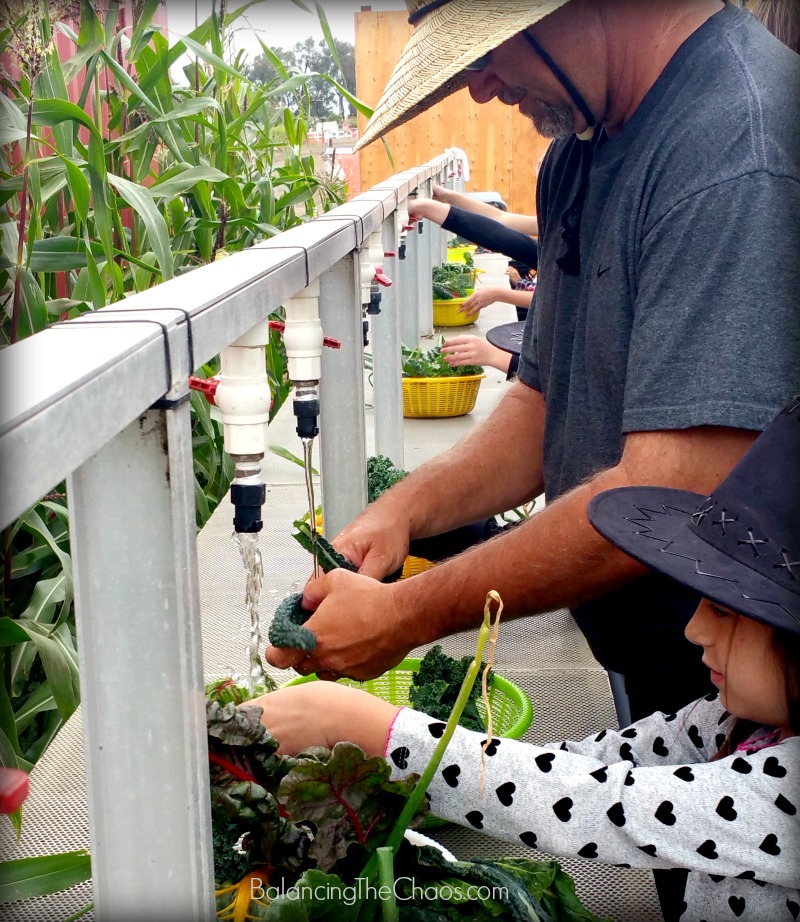 After harvest, it's time to wash and chop. My kiddos got right to work as the Hubster showed them how to wash all of their vegetables to make sure they were dirt free and ready for cooking. Tanaka Farms also provides cutting boards and plastic knives for all to prepare their veggies. They offer plastic knives for the safety of our youngest farmers so they were able to cut up their own ingredients and season them they way they wanted.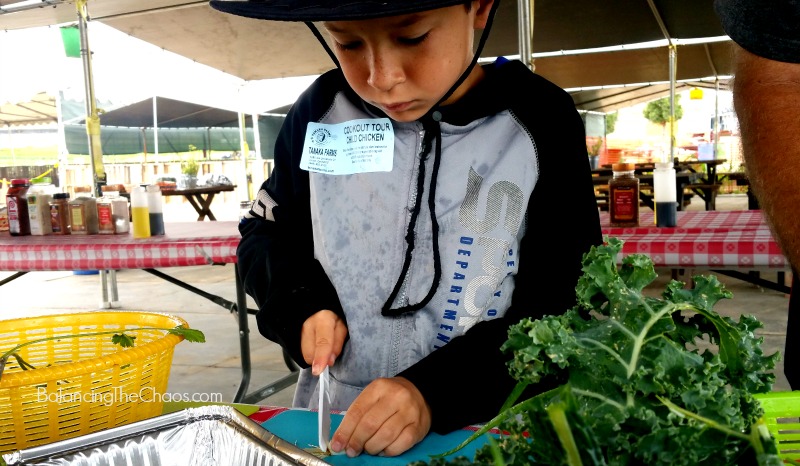 Once the veggies and chicken were ready, it was time to eat! Our tour guides also brought an amazing Curly Kale, Strawberry and Raspberry salad along with fresh beautiful strawberries for all of us to nibble on during the final cooking stages. And then the test was on. My daughter LOVED her veggies. My son wasn't so daring, but he did eat his fair share of green beans! I think they took the most pride in knowing that they harvested and prepared their veggies themselves.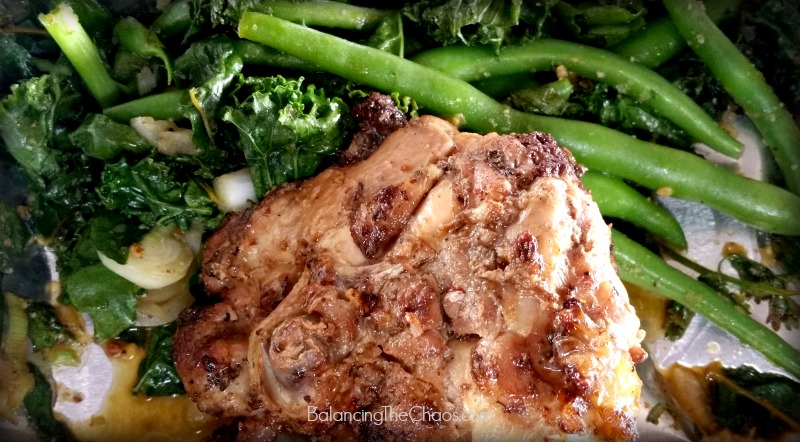 Tanaka Farms is a 4th Generation family run farms that started in Orange County in 1940. Did you know that at Tanaka Farms, they do not use animal based manure? They mulch up all of their unused plant products and put it back into the soil. Also, all of their produce is sold directly from the farm. You cannot get Tanaka Farms produce in any local markets. Looking for the freshest ingredients for your next meal? You have to take a trip on over to Tanaka Farms. They also offer Strawberry Tours, Melon Tours as well as all kinds of fun right around Halloween and Christmas.
5380 3/4 University Dr.
Irvine, CA 92612
If you like the kids' hats, they are available at Tanaka Farms at the produce stand! Make sure you either bring your own hats OR pick up some before you go out on tour.