A post written on behalf of Cinepolis Luxury Cinemas by contributor Heather Skille
Happy Hunger Games! And may the odds be ever in your favor! The odds were certainly in my favor when my friend and I were invited to see the premiere of Mockingjay: Part 1 at the Cinepolis Luxury Cinemas in Rancho Santa Margarita. As a HUGE Hunger Games fan, I was really excited to see the movie on opening night, and even more excited to see it at such an amazing movie theatre!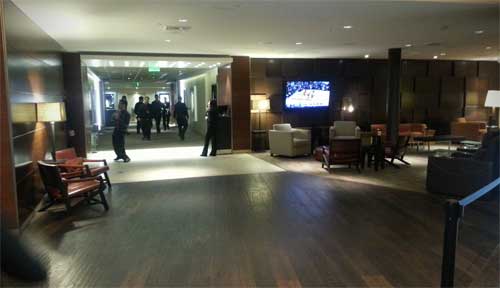 Upon entering, I could immediately tell that this wasn't your standard movie theatre. Hardwood floors and cozy chairs greeted us as we walked in the door, TV screens placed around the lobby showed sporting events, and there was even a bar for the 21 and over crowd.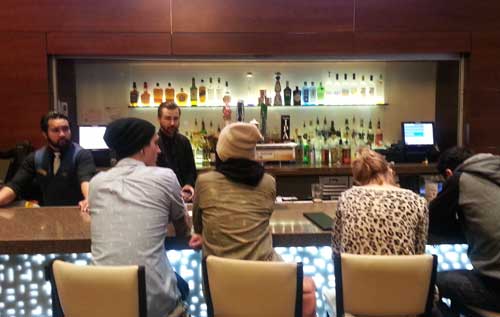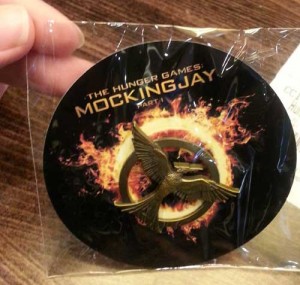 We were greeted warmly by the staff, and I was handed a goodie bag of treats, including popcorn, movie tickets to Cinepolis Luxury Cinemas, and my very own Mockingjay pin! As people emptied from the theater, which was in the midst of a Hunger Games marathon (showing The Hunger Games and Catching Fire before the premiere of Mockingjay: Part 1), the party was in full swing. We posed with silly props on the red carpet, in front of a Mockingjay backdrop. There was a raffle wheel to spin, where you could win anything from free popcorn to a special movie package. There were also people on hand to apply glitter Mockingjay tattoos, and face paint.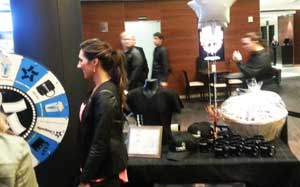 One of the hallmarks of the Cinepolis Luxury Cinemas is the food. This is much better than your standard movie fair of popcorn and Junior Mints. Cinepolis staff walked around the area with an assortment of delicious appetizers, including mozzarella sticks, mini corn dogs, chicken and cheese quesadillas, and pizza. They also served a signature mocktail, the Mockingjay, which was a tasty concoction with a cinnamon bite to it.
After all of the festivities out in the lobby, it was finally time for the main event. Time for Mockingjay: Part 1! When we walked into the theatre, we were welcomed by row upon row of comfortable, reclining leather chairs. If you so choose, you can put the armrest up and the chairs serve as a loveseat, so that you can snuggle up with that special someone. The chairs were equipped with side tables, lamps, and buttons which reclined your chair to the desired angle.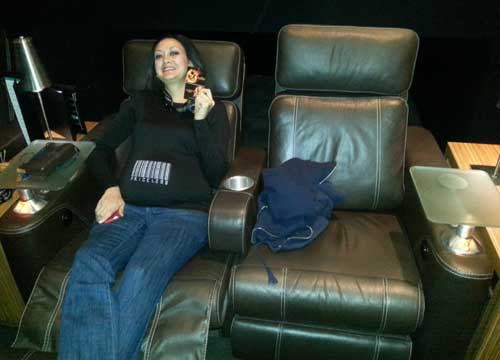 And if you're still hungry? The menu is amazing. From starters like mozzarella sticks and artisan cheese plates, to salads, to main courses of burgers and paninis, to brownies and cheesecakes, there is surely something for everyone. And the best part? They bring it right to your seat! And with reserved seating, you're sure to get a seat in your favorite part of the theatre.
Overall, it was a great experience, and I can't recommend it enough. The next time you're looking for a special treat, look no further than your nearest Cinepolis Luxury Cinemas!
You can connect with Cinepolis via social media: Website, Facebook, Instagram or Twitter.
---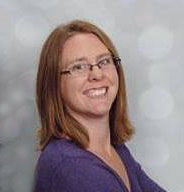 Contributor: Heather Skille
Heather is a mother of 2 boys, with a third due in February. She lives with her boys, her husband Steve, and one very fat cat, in Southern California. In her spare time, she enjoys reading, going to theme parks, and finding fun things to do with the family.