Does your little one absolutely love to dance? Then you may want to check out Baby Loves Disco!
Baby Loves Disco has been transforming the hippest night clubs across the world into child proof discos as toddlers, pre-schoolers and parents looking for a break from the typical playground. It's an afternoon of crazy fun featuring music spun and mixed by a real DJ, dancing to classic disco tunes from the eras us parents love best: 70's, 80's and today's hottest tracks.
Little dancers will get into the fun with props like bubble machines, baskets of scarves and egg shakers and more. Had a little too much activity, there is also a chill-out room with tents, books and puzzles to take it down a notch. Diaper changing stations are available to make it convenient for parents and they also offer a full spread of healthy.
BLD SIZZLE from Zack Roscoe on Vimeo.
At its core, Baby Loves Disco is a community event that brings kids together with kids and parents together with parents. Started by professional dancer (and professional mom) Heather Murphy, the idea was to create an alternative to the pre-packaged world of entertainment for young kids. "We're parents, we're always looking for something new and different to do with the kids," says Murphy whose lifestyle (like most of the baby disco parents) was changed when she gave birth to her 4 year old son Max.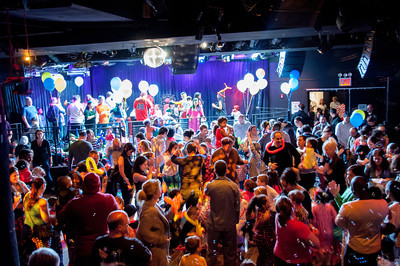 The monthly event, which started in Philly where it has sold out club Fluid since inception, caught the ear of Brooklyn based music guy Andy Hurwitz who brought the party up to New York City in the fall of 2005: "my kids had a blast, but the real bonus was that my wife and I had a great time too," said Hurwitz, founder of Ropead­ope records and father of two young boys. He added, "It's more than just something to do for the kids, Baby Loves Disco is fun for parents, we get the chance to mingle with other parents, dance with our kids and have a Saturday afternoon cocktail to boot."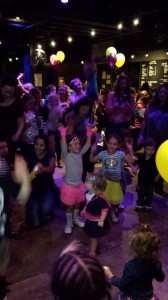 Now, Baby Loves Disco had spread coast to coast and now takes place in over 21 cities. Get in on the fun with their upcoming event in November!
Saturday, November 23rd at
333 Live
333 S Boylston street, downtown LA
1 -3:30pm
GIVEAWAY
One lucky Toddler Trails Family will win family passes to Baby Loves Disco, a $60 value.
Valid for US Residents only. All fans have an equal chance to win, however, you must enter to win. Winners will be randomly selected via RaffleCopter and be notified via email. They have 48 hours to respond or a new winner will be randomly selected the same way. Winners can only win once per month. Not liable for unclaimed prizes or fulfillment. 
Connect with Baby Loves Disco via Website, Facebook or Twitter