Last week we had the unique opportunity to see one of my favorite bands as a kid – Alvin and the Chipmunks Live at the City National Grove of Anaheim as they entertained kids of all ages; singing and dancing to today's music.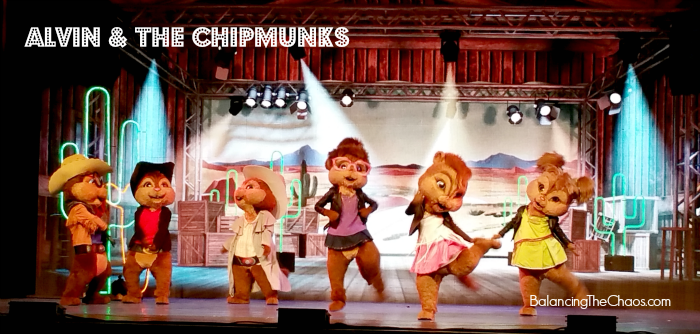 Alvin and The Chipmunks were accompanied by the Chipettes with a  world-class production, music, special effects, and immersive interactivity to encourage families to get up and dance.
We had a blast jammin' to a live rock concert performed by the Chipmunks singing a few of our favorite hits by One Direction, Maroon 5, Carly Rae Jepsen, Elvis Presley and more!
The storyline was really cute as Alvin, Simon and Theodore as they sang and danced their way across America en route to their big charity concert. Along the way they stumbled across a few road blocks like snow….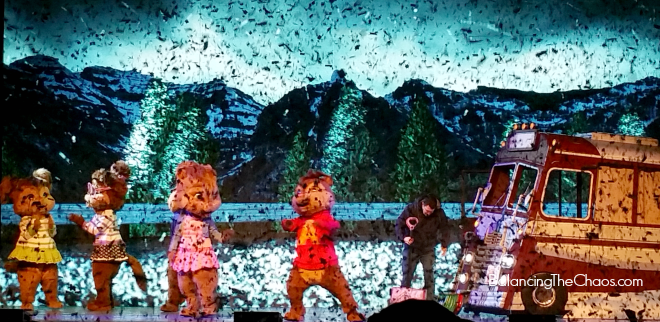 Hard to see in the above picture, but the flecks in the image is actually pieces of paper, some tissue, others shiny that were made to look like it was snowing in the City National Grove of Anaheim.
What made the concert unique was the digital imagery. Since Alvin and his buddies traveled in their tour bus, the digital background was so realistic and had such clarity that it really felt like we were in the different cities portrayed as well as the hotel rooms.
Such a great way to kick off the fun of the anticipated release of Alvin and The Chipmunks, The Road Chip movie that will be in theaters December 18th. For more information on the upcoming release, visit: https://www.foxmovies.com/movies/alvin-and-the-chipmunks-the-road-chip.