This week, Whole Foods Market opened it's first North Orange County location in Brea with a mix of innovative items in a beautiful 38,000 square foot retail market  that offers specialty shopping, grab and go food options, dining and entertaining along with kid friendly spaces and interesting culinary classes and experiences. The Whole Foods Market Brea is exactly what the locals wanted and more.
We were invited to the media preview a few days before Grand Opening (February 17th) to get a first hand look of all that the new Whole Foods Market Brea has to offer. The first stop was the NOOC, a unique family friendly restaurant/bar that is great place to grab a quick affordable lunch while picking up groceries with a menu of assortments of small plates such as salads, flatbreads. Vegan and vegetarian options are also available.
Want to grab happy hour with friends? The NOOC is a great spot that will host live music and entertainment every Friday and Saturday evenings. With flex casual seating, you place your order at the bar and find a relaxing spot for your food to be delivered while you enjoy the entertainment or a minute to unwind and chat with those in your party. The Whole Foods Market Brea also has an upstairs mezzanine giving the entire location the ability to seat up to 220 guests.
As we went on a tour around the Whole Foods Market Brea, we discovered the prepared foods department with so much to choose from. Have a craving for hot ramen and mazenmen? You can get that and more at the new market. In the meat department we had the opportunity to sample the fresh poke along with several varieties of fresh guacamole in the produce aisle.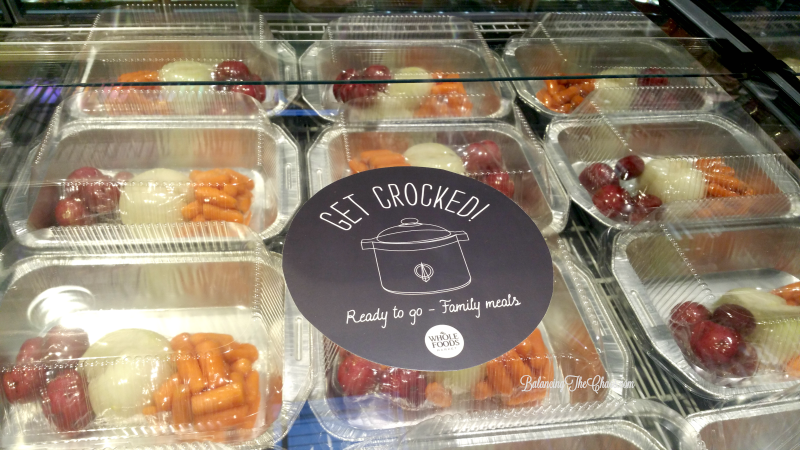 One of my favorite discoveries is the "Ready to Go – Family Meals". Select your favorite meat, and herbs and grab one of the vegetable trays as pictures above and you have a crock pot meal ready to go. As a matter of fact, you don't need the crock pot! The vegetables come in a self cooking tray! Pop your meal in the oven and you're set – along with an easy clean up since everything is disposable. Simple, customizable and convenient – what more could you ask for?
A new feature with Whole Foods Market Brea includes the two additional rooms in the upstairs mezzanine. The lounge is a large space that can be rented out for events and private parties. The community kitchen will be used to host tastings, pairings, special cooking and community events. Its certainly a great spot for kids cooking birthday parties. The ideas are already spinning in my head about my daughter's upcoming birthday.
Whole Foods Market Brea Store Highlights:
Prepared Foods: Whole Foods Markets chefs work in the "in house kitchen" and prepare pizza, sushi, chips, custom made sandwiches and more.
Coffee, Juice and Smoothie Bar: A beautiful coffee bar with custom hand-crafted drinks and made to order smoothies and juices.
Produce: Organic fruits and vegetables that are locally grown along with exotic foods like veggie pasta noodles.
In Store Bakery: Custom in house cake decorating artisan hand made bread and Non-GMO items created from scratch.
Seafood: Made to order poke and hand sliced salmon daily. They offer sustainably sourced fresh fillets, steaks and local and seasonal seafood.
Meat: The highest quality meats are available from farm raised animals without the use of antibiotics and added hormones with top rated Global Animal Partnership's 5-step Animal Welfare Rating System.
Whole Body: Protein powders and a variety of supplements for an "active living"
Specialty – beer/wine/cheese: Over 1,000 varieties of wines, a large assortment of cheeses and a 32 foot cooler of chilled beer and local craft beers.
For details on all upcoming events and activities offered at Whole Foods Market Brea, visit their website at https://www.wholefoodsmarket.com