It seems like every couple of months I'm running out getting new shoes for my munchkins.  I was jumping for joy when I received the opportunity to sample the new Etnies Kids Scout Shoes.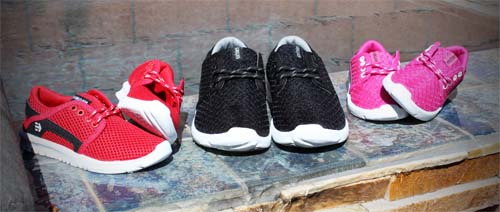 The new Etnies Kids Scout Shoe is just plain awesome.  With 4 perfect colors, I was able to make both my munchkins happy.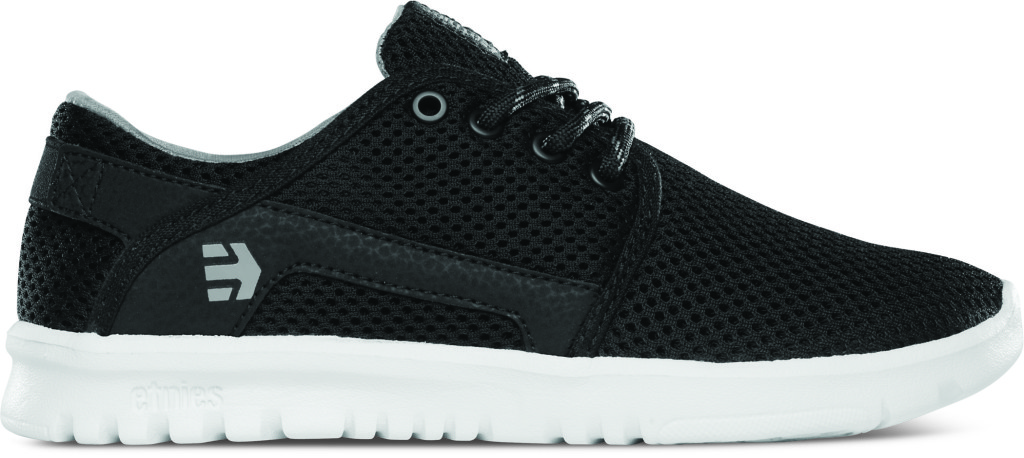 Best part about Etnies Kids Scout Shoes – they are really comfortable, stylish and really light weight. Have you ever had a shoe that breathes? Scout shoes keep kids feet cool and free of odor with STI Evolution Foam™  midsole and the Ortholite outsole, which features a patented salt-based antimicrobial that fights against fungus, bacteria and odor, makes this shoe perfect for your kiddo to hit the ground running.
Typically shoes take a long time to air out and dry, which is what causes that horrible odor.  I was able to test out the Scouts first hand, one because while taking a photo, I knocked one into the pool.  Layed them out in the sun to dry out and was shocked to see that it dried up within 30 min.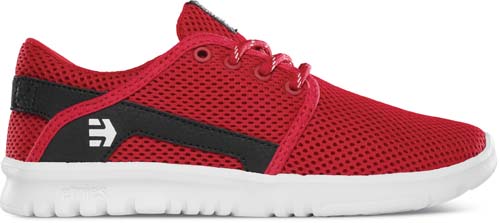 The kids and I have been wearing our Etnies now for over a week. I have black, Handsome Boy LOVES red and my Princess went with the pink.  Let me tell you, I'm in LOVE!!! These shoes really are comfortable.  I've been wearing them without socks – because I really wanted to put them to the test.  Have to admit, they are holding up!  For a week – no odor at all!  Now that I'm into my second week, I've noticed a little odor once I take them off, but it's gone after airing out for a few minutes.  The kids have been wearing their shoes with socks – no odor at all.
Both of my kids have been wearing their shoes to school and I've had several compliments from their teachers and volunteer parents. They're ready to go out and get their kiddos a pair because they LOVE how stylish they are.
 available onetnies.com.
Etnies Kid Scout Shoes are made by a sustainable, no-waste molding process, the shoe is a new addition to etnies' Buy A Shoe Plant A Tree (BASPAT) initiative. For every pair of Scouts sold, a tree is planted with the Trees for The Future Foundation in Brazil.  etnies' BASPAT reforestation program helps kids see that their happy feet means a happy forest.  For more info, visit: etnies.com/buyashoeplantatree
DISCOUNT!!!
Act now and order your Etnies on line and get 25% off through July 1st 2014.  
ETNIESKIDS4U
(Discount does not apply to items on sale.)
Connect with Etnies via Social Media: 
Website
,
Facebook
,
Twitter
, and
Instagram
About etnies:
Established in 1986, etnies is the first skateboarder-owned and operated global action sports footwear and apparel company. etnies not only pushed the envelope by creating the first pro model skate shoe, but it pioneered technological advances  and changed the face of skateboard footwear forever. Today, etnies' vision, led by owner and skateboarder Pierre-André Senizergues, is to remain the leading action sports company committed to creating innovative products that provide the most style, comfort and protection possible.  etnies stays true to its roots by sponsoring world class skateboarding, surfing, snowboarding, moto x, BMX and auto teams and continues its dedication by giving back to each of these communities.  For additional information, visit etnies.com.
  Disclaimer: We received samples of Etnies Scout shoes to wear and give our honest opinion.  No other compensation was received.