Do your kids love turtles and tortoises like mine do? You may want to take them to the Turtle and Tortoise Show on Sunday, August 28th at the La Habra Community Center. Guests will have the opportunity to see a giant Galapagos Tortoise as well as over 30 different species.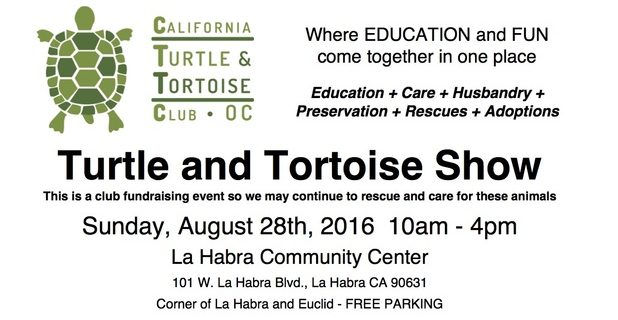 As a turtle owner, the Turtle and Tortoise Show is a great opportunity to get educated about caring for these animals. Also, have the opportunity to get up close to some of the more exotic species. Thinking about taking one home? Find out what you'll need to take one of these amazing reptiles home.
Turtle and Tortoise Show Details:
La Habra Community Center, 101 W. La Habra Blvd., La Habra, CA  90631
Parking: Free and on site
Cost:   5 and under free,  6-12= $1 each, Adults and those over 12 = $3 each, Seniors = $2 each
By attending the Turtle and Tortoise Show, you'll learn about caring for these unique pets while being a part of the fundraising event it helps  care for the animals received and find them new homes.