So I as looking back through old pictures the other day and came across my princess's Yo Gabba Gabba 3rd Birthday party.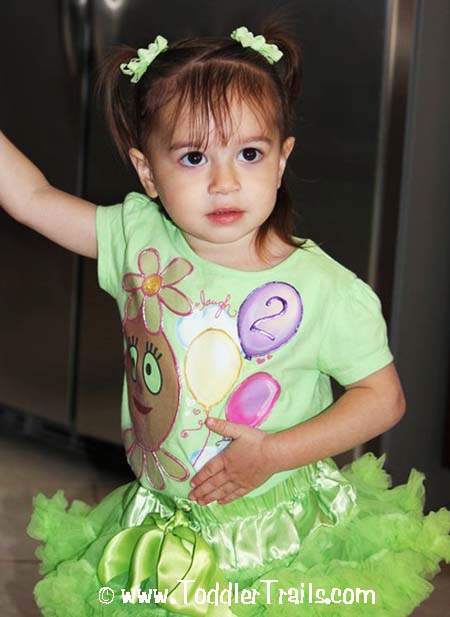 If you have a toddler, and are a fan of Nick Jr., then you already know about Yo Gabba Gabba.  Once my princess saw these crazy fun colorful characters, she was hooked!  Therefore we just HAD to plan a Yo Gabba Gabba Birthday Party to ring in her 3rd.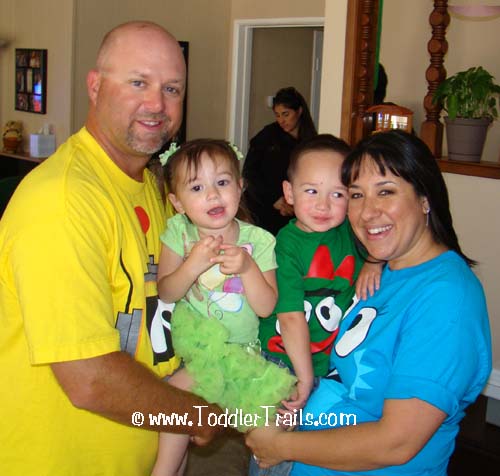 Back when life was a touch simpler and I wasn't juggling all the hats that many stay at home moms do, I had time to plan an awesomely creative birthday party.
First task at hand was to create her outfit.  I just HAD to have a pettiskirt, so I took to Ebay to find the perfect one.  I was lucky enough to find one that matched her (handmade) shirt.  I discovered Walmart had cute t-shirts that year with balloons on it, which was perfect! I printed Foofa's face on a clear backing iron on paper and placed it on the shirt while outlining it with puffy paint.
Then I decided the family also had to match as characters of Yo Gabba Gabba, which began my search for the character T-shirts.  Honestly, I can't quite remember where I picked them up, but I'm thinking the internet was my source.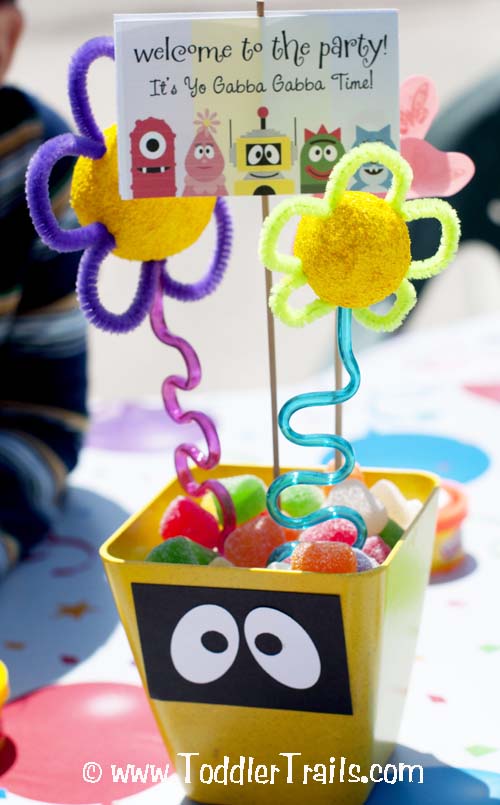 Then the focus switched to the centerpieces.  I discovered these adorable little plastic pots in the exact colors I needed at the Target Dollar spot.  All I needed to do was add the eyes to create the characters.  Construction paper and a little glue completed the faces.  I loaded them with styrofoam covered with tissue paper and added gum drops to top them off.  Crazy straws, styrofoam balls and chennile sticks were the materials used to create the flowers and printed off themed cards attached to skewers to finised off our Yo Gabba Gabba character center pieces.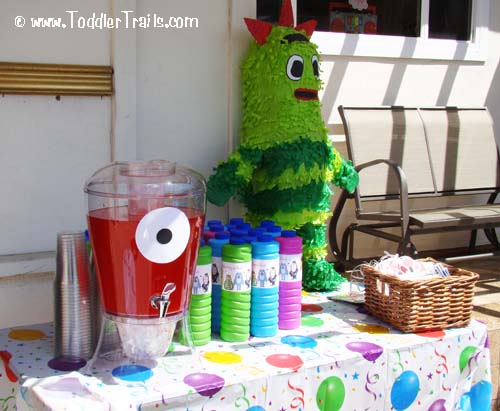 To cover the tables throughout the party, I used simple balloon/confetti table cloths found at the Dollar Tree and Party City.  The Muno (Hawaiian) punch was created with a beverage despenser purchased at Bed Bath and Beyond. The Brobee pinata was purchased at Party City and Bubbles were from Walmart for $1.00 – a GREAT party favor for our little guests.  I just created and printed a label with character graphics found on the internet.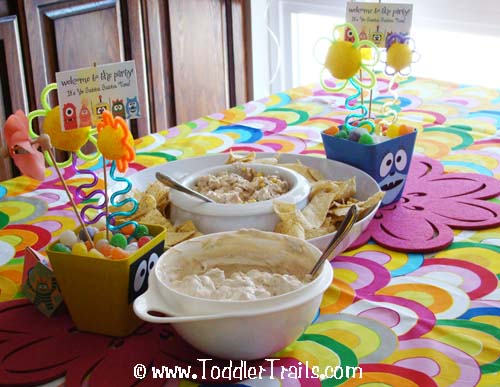 Sometimes, the craziest finds make the perfect party decorations. My Mother-In-Law had this crazy fabric in her cabinet with the wild circle colors.  Not one of my personal favorites, but it was absolutely perfect for this party!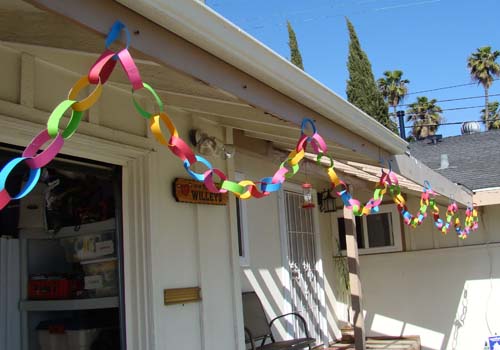 I have to thank one of my friends for the creative idea she came up with for the streamers we used to decorate the front of the house. We took scrapbooking card stock, cut them in strips and stapled them into streamers. Simple and colorful!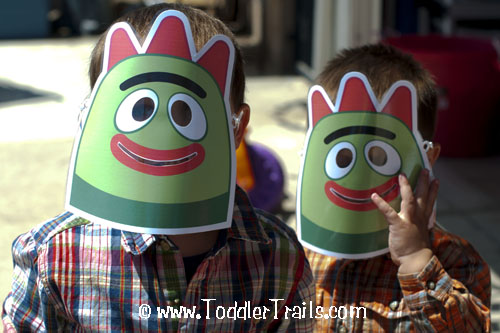 I figured the kids would LOVE to get into character after I discovered these cute printable masks at the Yo Gabba Gabba/Nick Jr. website.  Be sure to check it out if you're creating your own Yo Gabba Gabba party for fun, crafty ideas!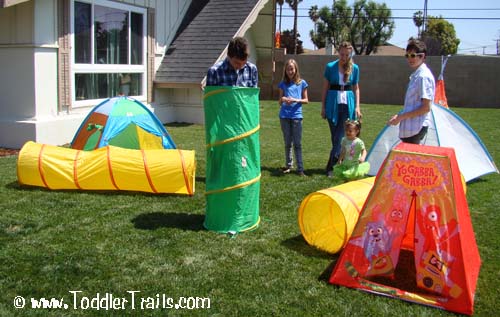 Colorful pop up tunnels, tents and a bounce house rounded off the activities we provided as fun for the kids. Even the older kids were getting into the fun.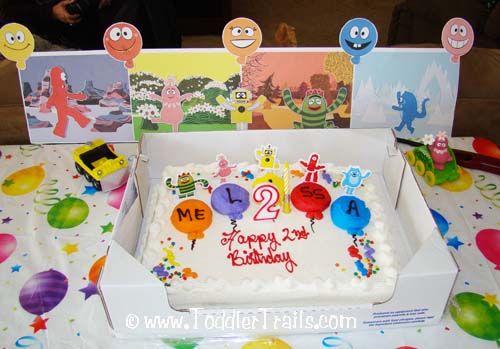 And finally, the cake!  I just love Costco – maybe because I worked there during my college years, but they always have what I'm looking for.  This simple cake was perfect!  I found cute Yo Gabba Gabba characters on line that I used to complete the cake decorations as well as printables to create the back drop from the Nick Jr. website found HERE.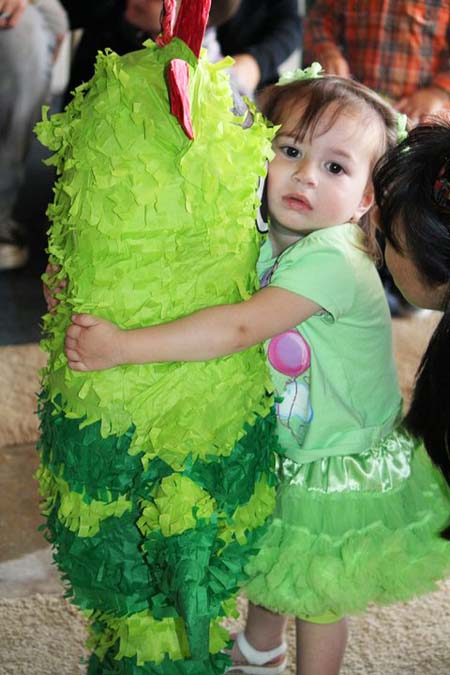 The best memory of this party!  My daugher absolutely flipping out because everyone wanted to hit her friend Brobee! Love her!!!