The Smurfs are back in a all new high flying adventure that is now available on DVD from Sony Pictures Home Entertainment.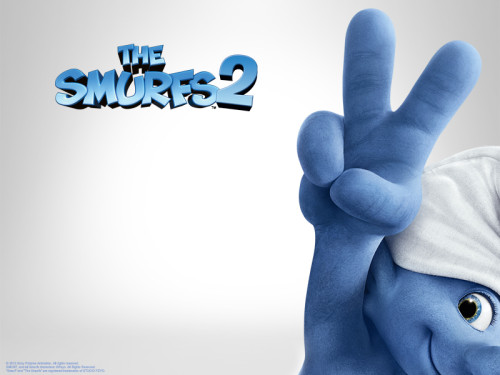 Find out about the ancestry of Smurfette.  Trivia – do you know who her real Father is?  Gargamel created Smurfette to sneak into the Smurf village and discover the secret formula of how to make the smurfs blue.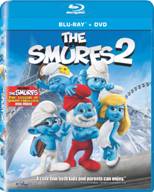 In order to "Take Over The World", Gargamel must get his hands on the secret formula, re-create it and suck the essence out of the Smurfs.  This harnessed essence is then placed in his "Mirwanda" and used to rule the world.
In order to get the secret formula, Gargamel devises a plan to capture Smurfette with his so called children –  his creations: Vexy and Hackus.  Vexy captures Smurfette while Papa, Grouchy, Clumsy and Gutsy rush in to save the day with the help of Patrick and his family.
Now I've always been a fan of the Smurfs from when I was a kid.  So it's fun watching my favorite little blue characters with my munchkins.  Now, you can get "interactive" with the Smurfs with the new Smurf-O-Vision 2 app from Sony Pictures Home Entertainment.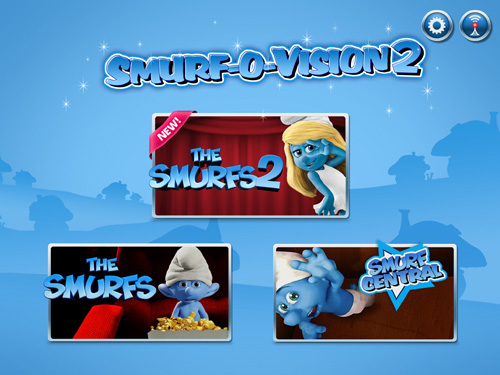 The Magic Movie Maker  lets you creat your own customized mini movies of the Smurfs.  You can customize mini-movies with back drop selections and being able to include your own dialogue, music and majic spells.  
Then the Smurfy Seek and Find, lets you dive into the movie by syncing the app to THE SMURFS 2 2D Blu-ray and interacting with key scenes from the film. The game challenges you to find hidden Smurfs and objects within each scene on the television. Each level unlocks new characters, backgrounds, sound effects, magic spells and more, which can be collected to make the Smurf-iest of movies possible with the Magic Movie Maker.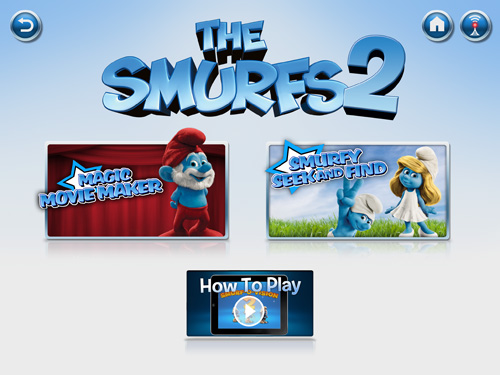 I LOVE that Sony has made the Smurfs interactive, and the kids will want to continue watching the movie over and over again while interacting with the iPad app.
Only included on the 3D and Blu-ray combo packs is Sony Pictures Animations' animated Smurfs mini-movie, "The Legend of Smurfy Hollow" that we gave away last month. So, if you didn't win, here is your chance to get both movies in time for the holidays!
Where can you get the DVD?  It's available as of today at your local retailers like Walmart and Target. It's the perfect "stocking stuffer" size!
Disclaimer: Thanks to my friends at Sony Pictures for our review copy of the Smurfs 2.  We love it!