In honor of St. Patrick's Day, Farrell's is celebrating in style with the luck of the Irish – a little blarney and a lot of green!!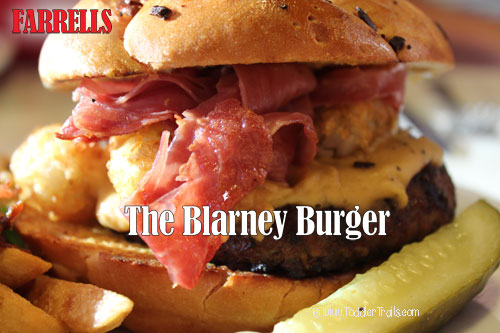 Over the weekend, we were invited to Farrell's to sample their March menu items: The Blarney Burger and the Pot 'o Cold Sundae. We were quite lucky that my BFF and her family were visiting from Texas, so we decided to celebrate the occasion, Farrell's style!
The Hubster and I went straight for the Blarney Burger. I have become quite a corned beef and cabbage fan – due to my mother-in-law's fabulous recipe she cooks up once a year just for me (YES, I'm spoiled!) Back to the burger….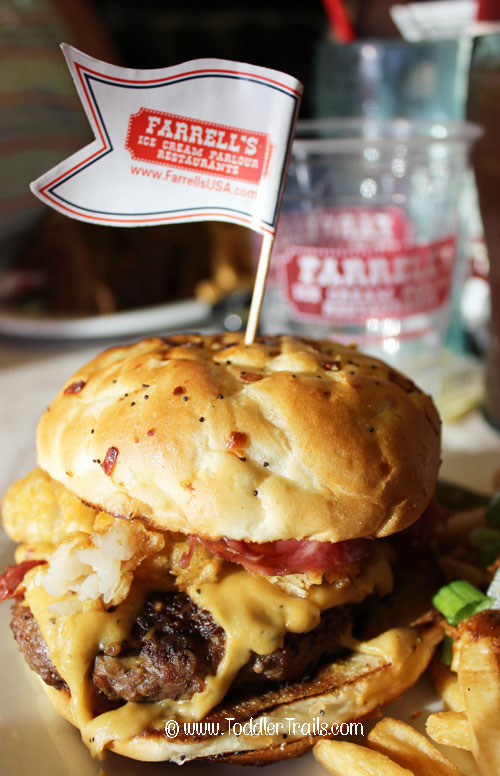 The Farrell's Blarney Burger starts off with a fresh 1/2 lb. all-beef patty topped with Farrell's made-from-scratch Guinness® cheese sauce, which I thought was quite tasty. They also add crispy Tater Tots®, succulent corned beef, and a house-made horseradish mustard and cabbage slaw. I felt that the corned beef was just enough that it didn't overpower the flavors of the cheese sauce.
On the side was Farrell's take on St. Patrick's Day Irish nachos: french fries covered in Farrell's finger-licking Guinness cheese sauce, bacon and green onions – this was a fan favorite. My husband and I both agreed that we would have loved another order of those babies. But alas, we saved room for dessert.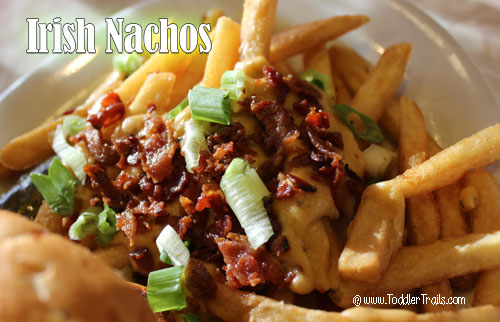 Now the rest of the gang ordered some of their favorites – Adult Grilled Cheese, Fish Tacos, Mac N Cheese and more. All quite delicious and devoured ever so quickly so as we could get on to the celebration, my bestie's daughter's birthday.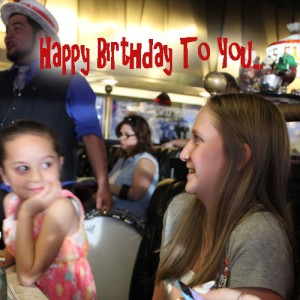 We loved having the opportunity to embarrass her just a little bit. The entertainment at Farrell's is so much fun as we had an opportunity to meet the entertainer of the evening as he was pushed around on a wheeled chair through the aisles.
Then we finished off the evening with a St. Patrick's Day "Pot 'O Cold". Imagine, a giant sundae with two-scoops of Mint Chip and one-scoop of Chocolate ice cream swirled with hot fudge, freshly made green whipped cream and topped with rainbow sprinkles, a mint cookie and a cherry!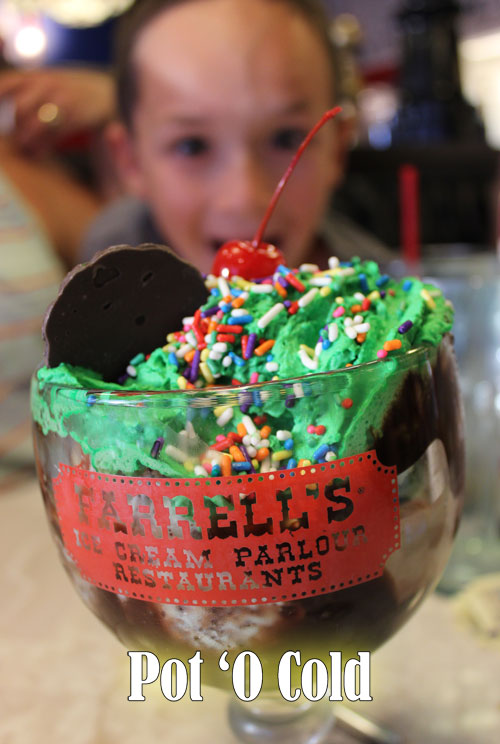 Farrell's is a great place to celebrate a family friendly St. Patrick's Day with their Blarney Burger ($12.99) and the Pot 'O Cold Sundae ($8.99). Plan ahead, make reservations online via, FarrellsUSA.com
Disclaimer: We were invited to sample the new Farrell's menu items and share our honest opinions. No compensation was received regarding this review.