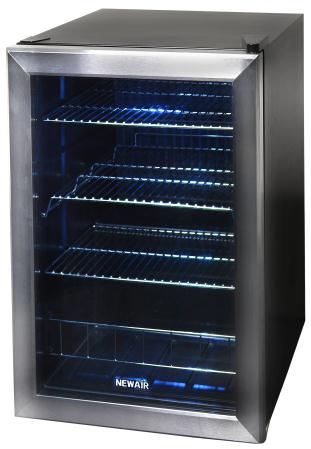 Have you ever had a day where you're just trying to get that one thing done around the house, whether it is laundry, dishes, or another chore where you just need a few more minutes to finish? However, the task at hand seems impossible because the kids NEED a snack because they're STARVING!? I've finally found a solution, and am in love with my NewAir AB-850 Beverage Cooler because it has made my life just a little bit easier.
I've recently taken a jump and have become an Ambassador of sorts for a company that has fun and exciting products for the home. This is how I met and have come to rely on the NewAir AB-850 84 Can Beverage Cooler. This awesome little refrigerator has saved me from my nagging, starving children in the fact that they can now grab their own drinks, snacks, whatever tickles their fancy when we arrive home from school.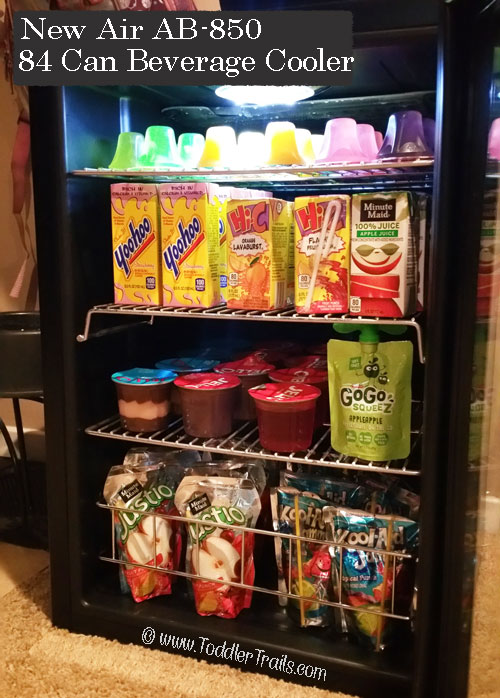 I set this little baby up right next to their little homework stations for easy access. When they walk in the house, they know to hang up their backpacks, grab their homework, a snack and get to work. This leaves me free to finish up the laundry, dishes, and pick up whatever they have left laying around the house from the morning. (Yes, I'm still picking up after them as I haven't yet learned my lesson!!!)
Rather than soda, I preferred to add juices, some chocolate milk, jello, pudding, fruit and whatever else may tickle their fancy. Next, I plan on adding baggies of grapes, carrots and celery for their extra daily dose of fruits and veggies.
Now we have a small house and not a lot of room for extra appliances, but we managed to find a home for our NewAir AB-850. The best part is that it is small enough for me to move around the house. At one time, I had it closer to the dining room, even up on the counter. Wherever is more space effective works best. It is 25 inches high, 17 inches wide and 18 3/4 inches deep.

Since we like to throw big celebrations or have friends over all the time, our NewAir AB-850 is perfect for entertaining. The neighborhood kids already know they are free to grab a snack whenever they are over (as long as their mom says it's okay). And with parties, we can load it up with beer and soda and our gets are free to help themselves. It really is quite convenient.
The beverage cooler has a stainless steel and glass door so you can see your selections clearly. There is even a thermostat you can control to adjust the desired temperature. A LED light with a switch allows you to illuminate your beverages so you can see what you have on hand. If you need to store a larger bottle, the shelves can easily be removed to accommodate any size.
The NewAir AB-850 84 Can Beverage Cooler is available at the following retailers: AirNWater.com, Amazon.com, Walmart.com and Bestbuy.com.
Disclaimer: As a NewAir Brand Ambassador, I've received product to facilitate an honest review. No compensation was received.