Disclosure:  I invited by Disney/Dreamworks to an advanced screening of Delivery Man, the movie.  All opinions are my own.
Last week I had the opportunity to an advanced screening of Delivery Man starring Vince Vaughn at the Walt Disney Studios.  So excited to visit the studios AND see the movie, I just couldn't say no!
If you've seen the trailiers, you may already know a little about the movie.  David Wozniak, played by Vince Vaughn, is  an underachiever looking for his purpose in life.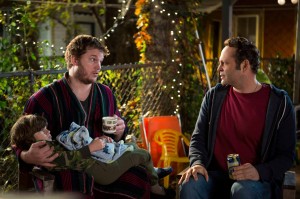 Working as a meat delivery truck driver for his father's meat deli, he is a middle-age man who discovers he has fathered 533 children throughout the years through anonymous donations to a fertility clinic 20 years ago. When 142 of his offspring file a class-action lawsuit to reveal their Dad's identity, he must decide whether he is going to come forward and be a real father.  Through this journey, he finally finds his purpose in life.
Isn't that what our children are all about?  They are our purpose in life! This is a fun loving movie that takes you through the journey of fatherhood.  
Pictured above, one of my favorite scenes that depict a father of 5 who feels in over his head and trying to convince David that he should not take on the role of "dad" to these children, that he just isn't ready. Delivery Man opens in theatres everywhere on November 22nd.  
For more information on Delivery Man, visit:
Website, Facebook or Twitter