A sponsored/affiliate post by me on behalf of Revere® and World Kitchen.
You know, I realized that I do most of my cooking when I'm in my RV. When we're home, we're too busy! We tend to eat out with friends, grab a quick bite to eat, or make something simple at home. Having a great set of pots and pans for our RV has been a tall order! Saving space is of the upmost importance with RV living, but the new Revere® Stainless Steel Copper Confidence Core™ Cookware fits into our camping lifestyle perfectly.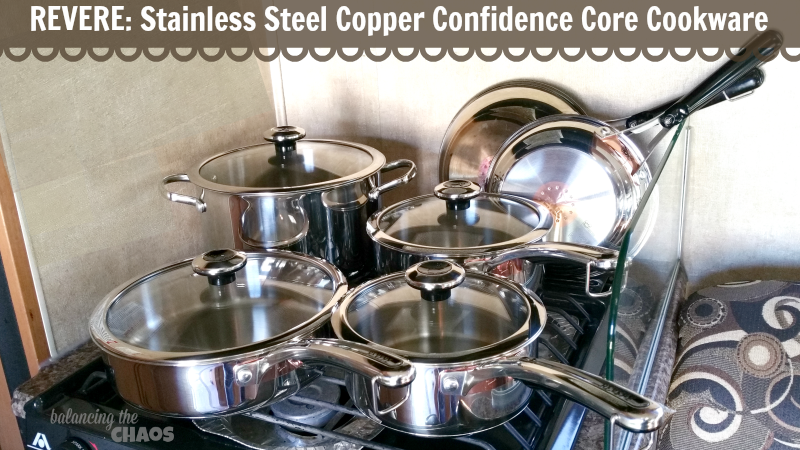 When it comes to camping with my family, I really don't like to spend a lot of time in the RV cooking. Honestly, I'd prefer to have the hubster barbeque, but having different options we can quickly throw together without having to run to the store makes our stay more enjoyable. One of our favorite "go to" meals is pasta.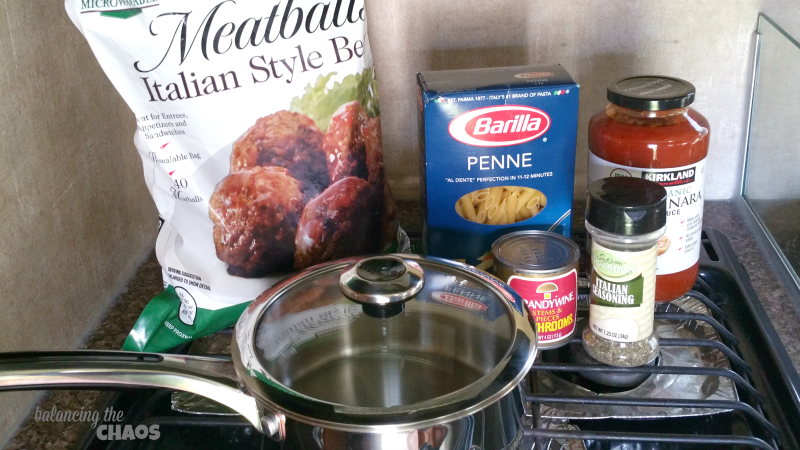 We always have the following on hand:
Kirkland Marinara Sauce
Italian Style Meatballs
Italian Seasoning
Brandywine Mushrooms
Noodles
Now that the kids are older, I love to get them involved in cooking our meals when we're camping. The kitchen in our RV is just their size, making reaching the stove convenient. Since our camping pasta is quick and easy, they enjoy being part of the meal preparation which includes the Revere® Copper Confidence Core™ 2-qt Stainless Steel Sauce Pot with lid. We combine the marinara sauce, mushrooms and about a teaspoon of the Italian seasoning. If I have a can of stewed tomatoes or diced tomatoes I also add them along with a medium onion or a bell pepper. With the Copper Confidence Core™, the cookware helps heat our meal quicker and more evenly, heating up to 50 percent faster than hard-to-handle heavier gauge cookware. That means less time in the RV cooking – more time outside enjoying the family.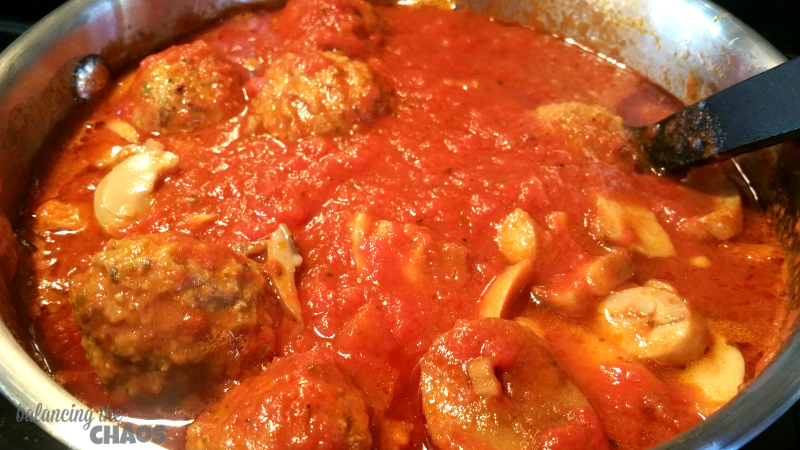 Next, I add meatballs and brandywine mushrooms and let it simmer for about 20 minutes. In the meantime, we prepare the pasta noodles. My favorite piece of the 10 piece Revere set is the Revere® Copper Confidence Core™ 6.5-qt Stainless Steel Stock Pot with Lid. I had previously prepared pasta with a smaller 2-qt pot while camping, and it was quite difficult. I ended up making 2 pots of pasta, taking twice the amount of time. With our new 6.5-qt stock pot, I've cut the time in half!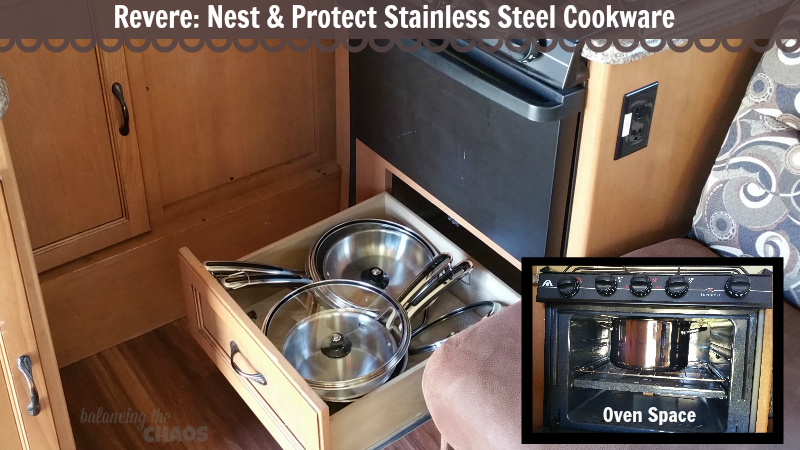 The best part about our new Revere® Stainless Steel Copper Confidence Core™ 10 pc Stainless Steel Cookware Set is that it includes a Nest & Protect™ product feature. With my limited space, I can stack and nest the fry pans and sauce pans, locking the handles together so they don't rattle around and slide while stored in this drawer under our oven/stove. The 6.5-qt stainless steel stock pot fits snugly into our oven for storage as well.
Tips for the Revere® Stainless Steel Copper Confidence Core™ Cookware:
It can be used on gas, induction and electric coil ranges.
The copper bottom should NOT be used on glass-top ranges and may cause permanent staining.
Never let the cookware boil dry (without water) or use on high heat.
The cookware can be used in a pre-heated oven up to 350°, but do not use in a broiler.
Always use potholders – handles and knobs may get hot
Do not use cookware over a campfire, in a microwave oven or on a gas grill.
Dishwasher safe
Limited Lifetime warranty
Get the new Revere 10 Piece Set, One Size, Stainless Steel
 on Amazon.com or from ShopWorldKitchen.com.
GIVEAWAY
Win a Revere® Copper Confidence Core™ 2-pc Stainless Steel Stainless Steel Medium Frying Pan Starter Set
About REVERE®:
Legendary, reliable and long lasting REVERE cookware delivers more than 130 years of expertise and the freedom to cook with confidence. With a nod to the famous line that dates back to 1930s, the Copper Confidence Core™ cookware helps heat quicker and more evenly, heating up to 50 percent faster than hard-to-handle heavier gauge cookware. The new REVERE cookware also features the patent pending Nest & Protect™ interlocking handles. Pots and pans store efficiently, seemingly floating above each other, without touching or scratching the interior or exterior surfaces.
Giveaway ends November 8, 2016 at 11:59 PM PST. Open to US Residents 18 and older only.  Tickets will be mailed directly to the winner's home (or mailing) address.  Winner will be selected at random and be notified by email. Winners have 48 hours to respond before a new winner is selected. Not liable for unclaimed prizes or fulfillment. Blog has represented each sponsor with the expectation they will fulfill their prize and in a timely manner. No purchase necessary to enter or win; however you must enter for a chance to win. Purchase does not increase chance of winning. Chances of winning depend on number of entries. My opinions are my own and were not influenced by any form of compensation.  Facebook, Twitter or any other social media platform are in no way associated with this giveaway.  By providing your information in this form, you are providing your information to this blog.  I do not share or sell information and will use any information only for the purpose of contacting the winner. Winners can only win once per month. Not liable for unclaimed prizes or fulfillment.