This weekend, families are invited to take part in the first annual Pumpkin Glow at Pavillion Park in Irvine.

Thousands of glowing pumpkins, carved by the community, will illuminate Pavilion Park on Saturday, October 25 at the Great Park Neighborhoods first-ever "Pumpkin Glow." This new legacy event for residents and the community is also the first of its kind for Orange County, and you're not going to want to miss out on all the excitement and help set a Guinness World Record!
Plan on spending an amazing night with the family checking out carved and sculpted pumpkins, participating in the Pumpkin Glow sculpture competition, featuring pumpkin-related art. You can even vote for your favorite sculpture and the top three vote-getters will be awarded prizes.
1st Annual Pumpkin Glow
at Pavillion Park in Irvine
Saturday, October 25th
6:00pm – 9:00pm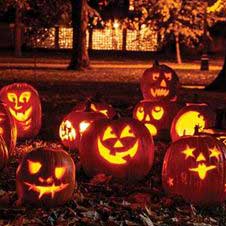 Pumpkin Glow is a unique, fun, and family-friendly event that brings the community together for a magical autumn evening. Music and refreshments will be available on the Pavilion Park Visitor Terrace, along with expert pumpkin sculptor Scott Gerber who will entertain visitors with live carving demonstrations.
Want to show off your own pumpkin carving skills? Join in the "Pumpkin CarveOff" on Friday, October 24 from 8:30 am to 6 pm. Participants' pumpkins will be placed on display during Pumpkin Glow. In addition, local schools have been invited to carve pumpkins for the Pumpkin Glow's attempt to break a Guinness World Record for the longest line of carved pumpkins, which currently stands at 1,301.
"It's great to be part of the first Pumpkin Glow, and we look forward to it becoming an annual event," said the Kellick family of four who recently moved to the Pavilion Park neighborhood.
Humzah, age six, added, "It will be my first time carving a pumpkin!"
For more information about the event or to register and let us that you are going to be donating a carved pumpkin for Pumpkin Glow, please visit https://pumpkinglowgpn.com/
Be a part of breaking the Guinness Book of World Records for the longest line of continual carved and lit pumpkins. It will be 1500 pumpkins long and we will have 3000 total pumpkins on display.  It's going to be absolutely GORGEOUS. It will not be scary Halloween, but more harvest style carvings.  It will be held at Pavilion Park – the very first Great Park Neighborhood.  It will be lit for one night only, so you will NOT want to miss it…it's perfect for the family.  There will be complimentary refreshments on site.
Disclaimer: No compensation was received for this post. Information was received from a press release.